Hello beauties!
MAC Trend Forecast Spring 2015 Lip and Cheek Palette (official info, promo photos) was launched last fall and includes six standout shades which range from bright orange-red to light pastel peach. These are limited edition lipstick shades and represent this Spring and Summer most popular lip colors which were used the fashion shows. If you are into lip palettes the new MAC Trend Forecast Spring 2015 Lip and Cheek Palette offers versatile shades suitable for every skin color, as they can be mixed and matched to your desire.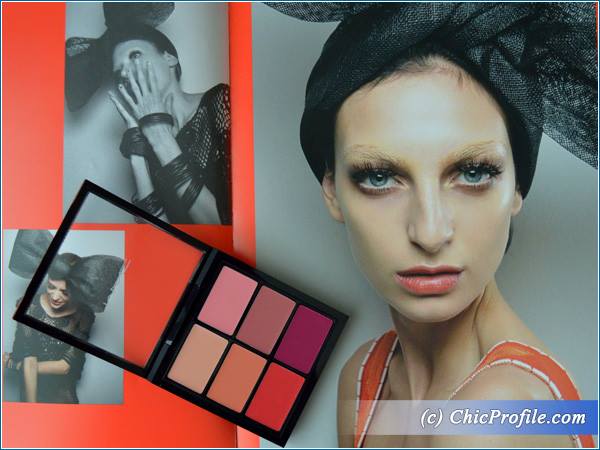 Availability
U.S. Launch Date – now @maccosmetics.com and MAC stores
Romania Launch Date – now at MAC Locations
MAC Trend Forecast Spring 2015 Lip and Cheek Palette ($40.00/ €41.00/ £35.00 for 6 g / 0.21 oz) features a variety of nudes but also bright and pigmented shades which are perfect for summer. As a light skin tone I'm leaning more towards the softer shades, the first two, but I would also try that bright magenta. All the lip colors also double as cheek colors for those who prefer a creamy lip blush and they have a good color payoff with a glossy finish.
I have a combination skin type so I would rather wear these as lip shade as on my cheeks they will look to shiny and they can emphasize my pores and honestly I'm more into powder blush formulas.
Shades:
Seasonally Peach – light pastel peach with pearl
Must Have Melon – soft peachy coral
Bang On Red – bright orange red
Spring Sensation – light pink with pearl
Go Guava – mid-tone rose
One To Watch – magenta
My personal favorite is Spring Sensation lip color, definitely a soft baby pink with semi sheer color coverage that gives your lips a fresh, natural look and that adorable girly girl appearance. All the shades seem to have a good pigmentation, a nice glossy finish but more on the natural side and they glide easily on the lips.
I had one hour wear with this formula as after that my lips begin to feel dry and dehydrated so I had to apply a lip balm. Even though at the beginning the formula seemed emollient, after 1 hour wear it tends to suck up the moisture of my lips, emphasizing lip lines.
Lip palettes like this one can be perfect for travel, take it with you in your suitcase or easily drop it in your purse if you want a quick retouch throughout the day. The only downsize with this type of palette is that it doesn't have a lip brush included or a mirror encased so you'll have to carry those with you as well. Of course there's also the option of using your finger to apply the color but that's not to hygienic in my opinion so I never do it. Personally I love the shades, a very versatile palette, which offers a tones of combinations for lips and cheeks but I feel that's mostly destined for makeup artists rather than normal customers.
I personally prefer my MustaeV Lip Cream Pro Palette (review, swatches) instead of MAC Trend Forecast lip / cheek palette as the MustaeV one has an acrylic plate included which allows you to mix the shades together and has also a lip brush, not to mention the lipstick formula doesn't dry out your lips so I find more suitable for day to day use.
Enjoy more photos…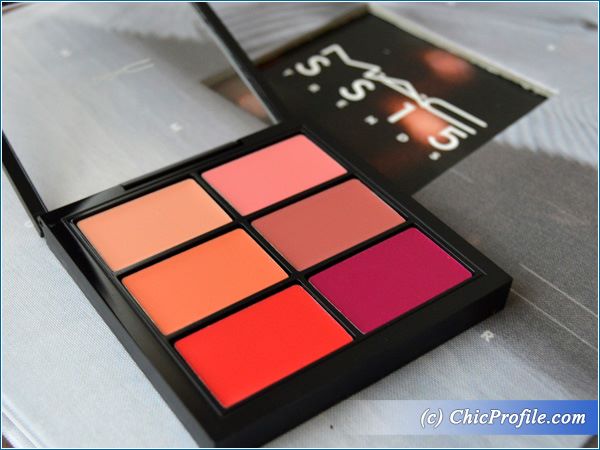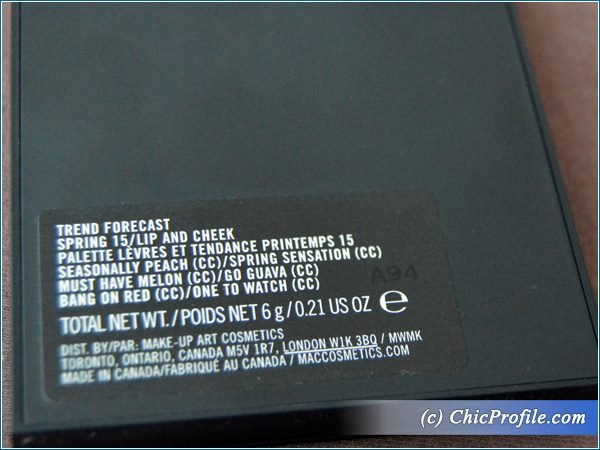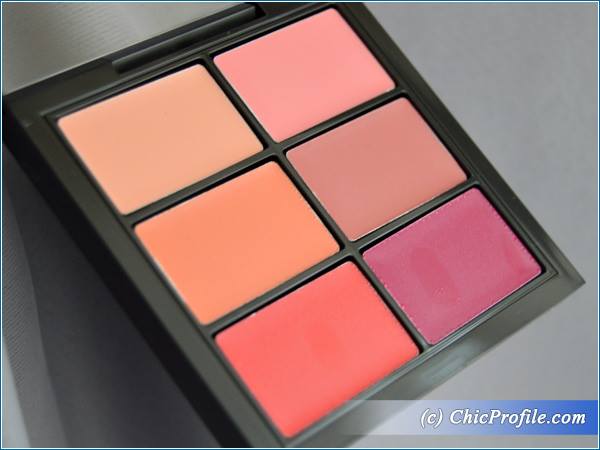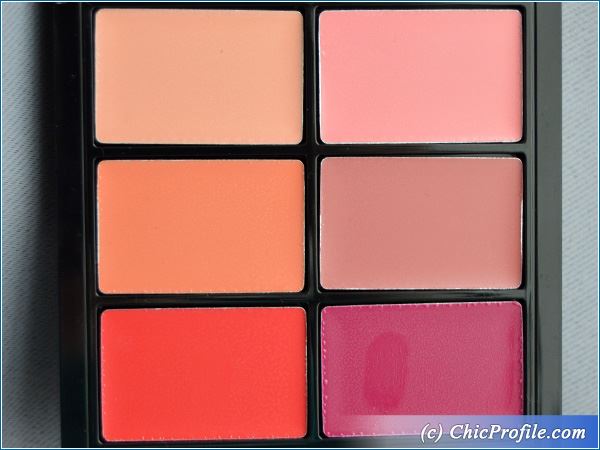 MAC Trend Forecast Spring 2015 Lip and Cheek Palette Swatches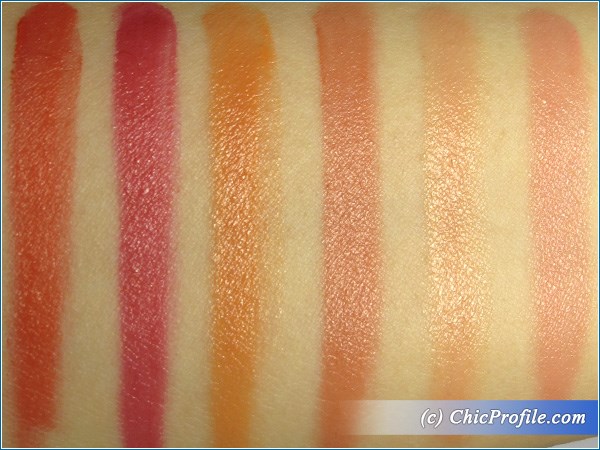 Swatches from LEFT to RIGHT: Bang on Red, One to Watch,  Must Have Melon, Go Guava, Seasonally Peach, Spring Sensation