Hello beauties!
A youthful and joyful makeup collection…this is what Lancome From Paris with Love Spring 2016 Makeup Line (more photos) means to me. While some countries are already enjoying the products, here in Europe we are still looking forward to seeing the products up close. Another collection inspired by one of the most romantic cities in the world, Paris, is a new reason to indulge in guilty makeup pleasures this season. I just love the soft, pastel nuances of this joyful collection and I could say, just in time, as Lancome is really making a comeback this year and launches extraordinary products. I hope you haven't forgotten about Lancome Juicy Shaker, have you?!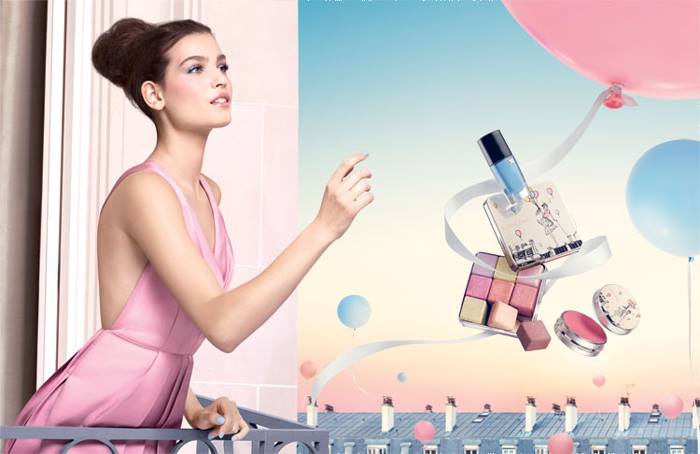 Welcome to a a trendy, retro-futuristic Paris: in a universe full of poetic surprises, in a world where nothing is as it seems, the imagination and creativity sparked … this imaginary journey of Grace inspired Lancôme to make new the Collection Spring 2016. The heroine of the Parisian tale finds its way back to your childhood and conjures with rediscovered, carefree sensuality as delicate and elegant looks that seduce you with beguiling textures and heavenly shades neo-pastel tones with a touch soft pop. – and always with a surprising, modern ultra-Twist.
Availability
UK Launch Date – January 2016
U.S. Launch Date – 11 January 2016 at department stores
Europe Launch Date – February 2016
Lancome From Paris with Love Collection 2016
Lancome My Parisien Pastels – New & Limited Edition – €56.00
A shimmer cube featuring 9 versatile shades that can be used as eyeshadows, illuminators, correctors, blushes and even bronzers.
Lancome My Parisian Blush – New & Limited Edition – €35.00
Available in two shades:
No.01 Corail de Ville
No.02 Rose Haussmann
Lancome Hypnose Palette – New Shades & Limited Edition – €52.00
DO12 Paris Merveilleux

DO13 Paris en Rêve
Lancome Khol Hypnose Waterproof – €22.00



Shades:
No.10 Bleu Ciel Parisien

No.11 Brun Metropolitan

Lancome Lip Lovers – New Shades – €24.00
Shades:
No.406 Aube de Printemps
No.407 Corail de Ville
No.408 Rose Hausmann
Lancome Rouge in Love – €28.00
Shades:
No.406 Aube de Printemps

No.407 Corail de Ville

No.408 Rouse Hausmann

Lancome Vernis in Love – New Shades – €17.00
No.146 Rose Hausmann

No.148 Corail de Ville

No.149 Jeune Grands Boulevards


No.153 Bleu Ciel Parisien
Head over HERE for close-up photos or enjoy these beautiful visuals…