Hello beauties!
I posted earlier on Instagram a sneak peek of the upcoming La Mer Cushion Foundation. So many of you were interested in this new product, that I decided to make a quick post. I don't have too many details at this point but I'll tell you what I know. Asian bloggers and magazines have already published this news. You can find more close-up photos on my Instagram as well.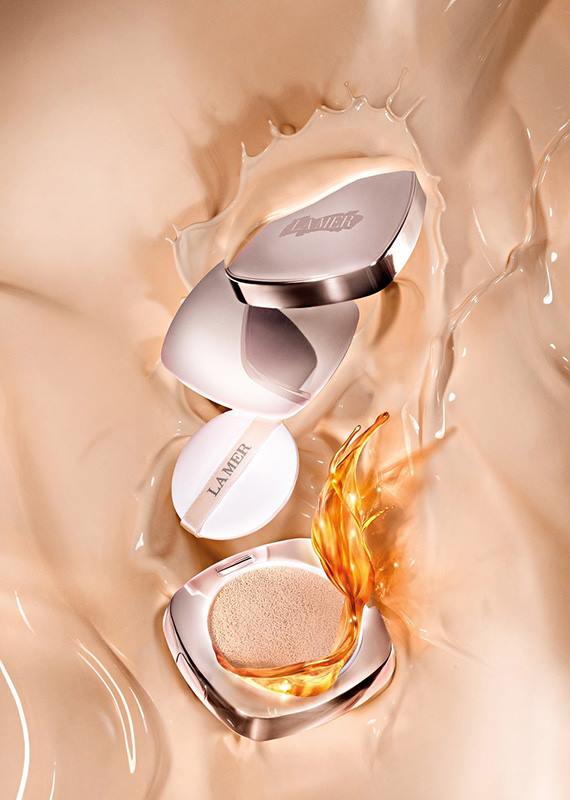 Availability
UK Launch Date – mid Spring 2018 at Selfridges (TBA the launch date)
La Mer Cushion Foundation 2018
You can think just like me that we are passed the era of cushion foundations. Well La Mer promises a new air cushion powder. What is special about this foundation is not only the formula but the applicator puff as well.
The disadvantage of many air cushion foundations is that in time they become dry, the puffs dirty and the result is a dull complexion. La Mer Cushion Foundation formula contains the most powerful cream of concentrate essence which helps the skin to resist oxidation.
The cushion applicator is special and has an unique structure. Each time the cushion puff is pressed to pick up the foundation, the amount that flows out is evenly distributed in the sponge. Is a breathable puff with a cool feeling. I imagine it to be similar with a seabed, as strange as it might sound. Maybe a memory foam cushion puff? 🙂 What do you think?
There will be 15 shades available, ranging from translucent to pink and warmer skin tones. As far as the coverage goes I understand that is easily buildable. I'm thinking of a medium coverage, definitely something more than just a touch of color. Some Asian websites describe it as having the perfect coverage. I wouldn't go that far and assume that is full coverage as Asian women are not really into the full-coverage foundation trend.
I'm definitely intrigued by this new foundation and I hope we'll be seeing it internationally as well.
In the early years of my blogging life I remember using La Mer Treatment Fluid Foundation (review, swatches). Well, I used it a couple of time then gave it to my mum as it made my complexion oily after just a few hours. I remember that the formula was a bit too rich for my combination skin type. The coverage was medium and felt lightweight on the skin. My mother loved it from the first use! She has dry skin so for her the moisturizing formula, medium coverage and  texture went on like a dream.
So I'm really curious now to try out the cushion foundation and see how I'll get along with it. 🙂