Hello beauties!
I'm proud to announce the launch of a new beauty brand, L.O.V. by Cosnova, which has also the famous drugstores brands Catrice and Essence that I'm sure you are already familiar with.  The new decorative cosmetics brand from the house of Cosnova offers a comprehensive range of exclusive products. The demands on quality and design of a premium brand combined with availability in selected drugstores at an attractive price. Sensuality meets upon performance, femininity upon strength.
I'll be returning soon with new info and a tone of photos of L.O.V. Makeup Collection which is really amazing and has some products that I personally felt in love with on the spot.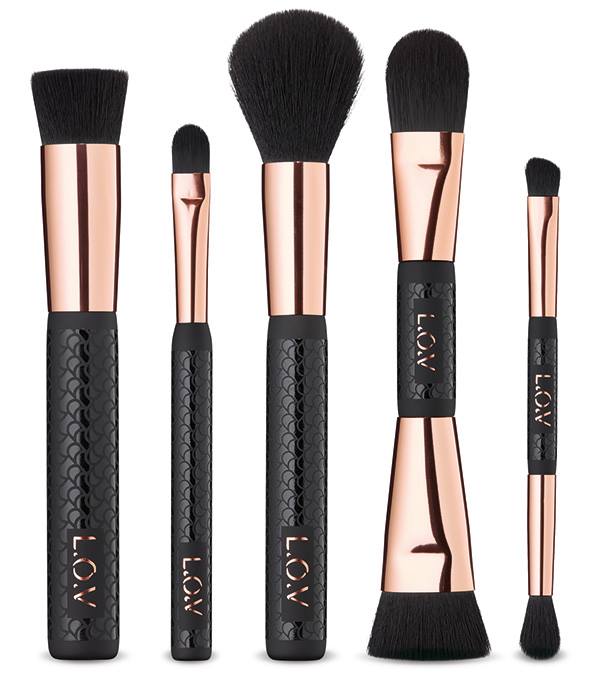 An exclusive and limited brush collection for the face and eyes, inspired by the unique textures and vibrant colors of L.O.V. A perfect fit: the perfect tool for every product – from powder and blush to foundation and concealer through to eyeshadow and contouring textures. Elegant packaging: the bristles of the five brushes are made of soft, high-quality synthetic material – the black, embossed brush handle is wooden with a rosé golden metal bristle containment.
Availability
Germany, Switzerland and Austria Launch Date – end of August 2016 in Stores, Douglas Perfumeries and @douglas.de
L.O.V. The Brush Collection
EVENelegance Foundation Brush – New & Permanent – €9.99
There is no easier and smoother way to apply liquid foundation!
Especially designed for the EVENelixir, this brush guarantees flawless results
HIGHLYconfidential Concealer Brush – New & Permanent – €6.99
Mission Possible – the accurate, narrow head of the brush with synthetic bristles ensures a perfect application of the CONFIDENTIAL camouflage concealers
Small skin imperfections and dark shadows disappear instantly
PERFECTional Duo Contouring Brush – New & Permanent – €12.99
Defining the facial features should be left to the experts!
The double-ended brush has been especially developed for the application of the creamy and powdery textures of the PERFECTitude contouring palette
THEfeminine Duo Eyeshadow Brush – New & Permanent
Perfect teamwork – the slanted head of the brush allows accurate contouring while the rounded bristles are for effortless blending
Especially developed for the application of THE Sophisticated and UNEXPEXTED Eyeshadows
LOVfly Powder Blush Brush – New & Permanent – €8.99
Luxurious, soft and rounded bristles turn this brush into an all-round talent
Especially designed for the application of the HEARTful healthy glow blush – it adds just the right amount of color to the cheeks
Also suitable for use as a powder brush thanks to the broad brush head
Enjoy more photos…