Hello beauties!
Jill Stuart releases a few skincare limited edition items, just for summer 2017, that will help you get through those hot days. All the products have a fresh fruit cocktail fragrance and will fill your body and mind with energy. They are packed with vitamin-rich fresh fruit like kiwi, lemon and orange to create a wonderful fruit cocktail.The lemon yellow, refreshing cut-fruit package design is as cute and gorgeous as freshly plucked fruit. The arabesque patterning is intertwined with kiwi and lemon, creating a superlative limited-edition feel.
You love the summer, and want to spend this glorious season steeped in even more luxurious comfort. That's why you should bring the vitamin power and moisture of fruit to your sun-exposed skin. Super refreshing skincare items now appear, packed with the blessings of kiwi, lemon, starfruit and more, like a brilliant summer cocktail for your body. Surrounded in a sweetly tart, fruity fragrance, keep your skin at its best through all the scintillating rigors of summer.Turn the glittering sun into your ally and fully enjoy this wonderful season.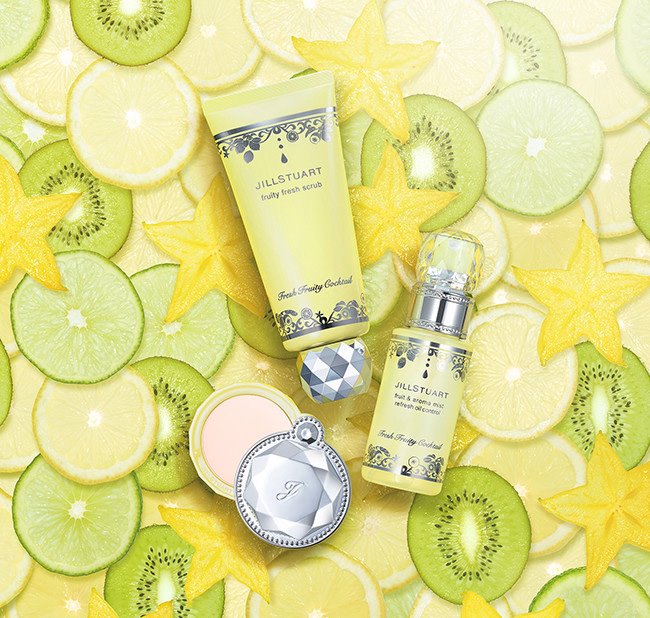 Availability
International Launch Date – 7 July 2017
Jill Stuart Summer 2017 Skincare Limited Items
Jill Stuart Fruit & Aroma Mist Refresh Oil Control – Limited Edition – 60 ml
Product Features:
A mist lotion packed with the blessings of fruit, providing a spreading feeling of fresh comfort. A delicate mist shower gently, evenly envelops your entire face, delivering moisture across all of your skin.
Formulated with a delicate powder derived from amino acids. Maintains silky smooth skin and the balance of moisture. Furthermore, reduces stickiness due to sweat and skin lipids, preventing patches of shininess and makeup slippage.
Also formulated with ingredients that both provide a cool sensation and help to maintain it, providing a comfortably cool sensation that lasts even during the hottest days of summer.
Formulated with Hamamelis leaf extract (moisturizer). Tightens skin even with pore concerns, making skin healthy and clear.
Refreshing Fresh Fruit Cocktail Fragrance.
Jill Stuart Smooth & Oil Control Essence – Limited Edition – 40 g
Product Features:
A smooth, single application for skin with pore concerns. A paste beauty serum that creates a uniform layer while instantly transforming into a silky smooth powder to hide pores.
Spreads smoothly with a light touch, providing perfect coverage exactly where you desire it. Creates a uniform layer while preventing uneven foundation, heightening its application and hold.
A variety of powders smaller than skin pores provide flat coverage over the unevenness of pores. A new formulation of lipid absorption silky smooth maintenance powder and organic cotton powder prevents patches of shininess due to lipids and makeup slippage, maintaining half matte skin.
A light pink base that blends well with the skin naturally covers the appearance of pores and brings you bright skin.
Refreshing Fresh Fruit Cocktail Fragrance.
Jill Stuart Fruity Fresh Scrub – Limited Edition – 125 g
Product Features:
Gently warms the skin while bringing blackheads and dirt to the surface and smoothly washing them away. After washing your face, a cool feeling will spread as though tightening your skin.
As the gel base maintains a perfect thickness during face washing, is allows for care without placing any burden on your skin. Scrub of various sizes and textures relax your tightened skin, making it wonderfully soft.
The soft and spongy mannan scrub loosens the skin, while the large peach kernel and cellulose remove excess keratin. Furthermore, delicate apricot kernel and walnut kernel unblock pores, leaving skin smooth and roughness free.
Use at bath time will allow you to further appreciate the changes from warm to cold, bringing you vital and translucent skin.
Refreshing Fresh Fruit Cocktail Fragrance.
Enjoy more photos…