Hello cuties!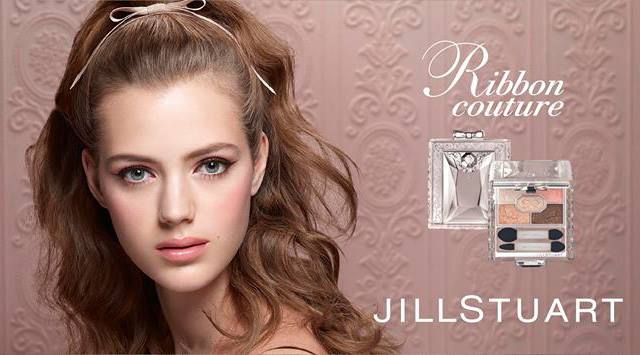 Jill Stuart Ribbon Couture Collection for spring 2015 is in my opinion probably the most feminine, sweet and lovely collection of the season. I always had a weak spot when it came to makeup products in girly-girl packaging and Jill Stuart provides the best in this area.
Ribbons are a girls' all-time favorites. Simply tying a bow instantly turns anything to become sweet, elegant and mature, a lovely motif that realizes the perfect "cuteness" to meet any desired expression. This spring, Jill Stuart offers you a makeup collection to create "lady-cute", a combination of both elegance and cuteness. With gradation that mixes light and shadow, five eye colors allow you to dress up your eyes. Charming blush clings to traces naivety, accompanied by the lipstick of a real lady.
Like tying on a ribbon, laced with girly flair and feminine nuance, leading all who wear them to a unique and special expression. Once the magic of a gentle ribbon is cast it is like butterflies bringing spring and happiness, leading you to an expression overflowing with brilliance that you cannot help but love.
Availability
International Launch Date – 9 January 2015 in Stores
Jill Stuart Ribbon Couture Spring 2015
Ribbon Couture Eyes – New
01 Engagement Lace
02 Floret Tulle
03 Vintage Satin
04 Gemmy Cashmere
05 Hydrangea Chiffon (Limited Edition)
Layer Blush Compact
07 Fringe Flower (New Shade)
Lip Blossom
14 Sweet Kalmia –  a petal pink inspired by cute kalmia flowers (Limited Edition)
15 Viola Mist – mild reddish-pink like charming violas
16 Pure Clivia – light coral like gorgeous clivia
17 Feminine Lilac – feminine deep red like rosy lilac
18 Elegant Peony – mature pink beige inspired by peonies
Lip Jewel
23 Crystal Bijou – twinkle crystal inspired by the sparkle of crystals (Limited Edition)
24 Ruby Bijou – twinkle ruby inspired by the sparkle of rubies (Limited Edition)
Blooming Blossom Curl Rush Mascara
02 Rich Brown – a brown that brings you gentle eyes with real depth (New Shade)
Nail Lacquer R
35 Shimmer Pearl – pearl white with an elegant shimmer (Limited Edition)
36 Beading Ring – sweet and sparkling pink
37 Noble Corsage – noble and gorgeous purple (Limited Edition)
Enjoy more photos…