Hello beauties!
Who doesn't like to read news about Jill Stuart's launches? For me this is one of the most feminine beauty brands as it is easily seen in the packaging details and soft shades but this article is a reminder that Jill Stuart Relax Summer 2014 Collection (preview, new photos) will be soon available.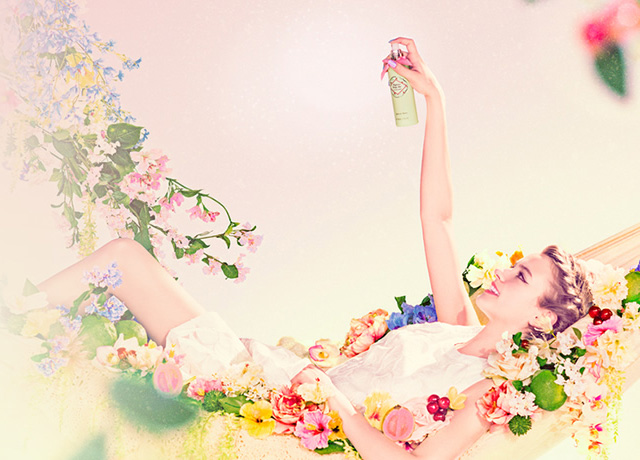 Mornings, as you awaken from slumber, and time you spent reflecting on yourself. Bring sweet reverberation to everything; all that you touch, all that you wear, the very air that fills the space around you. The tropical fragrance that surrounds you, heightening the feeling of summer, is luxuriously packed with the blessing of lychee and guava, fruit fresh from a sun-kissed country on the equator. Like bursting fruit juices, a refreshing translucence soothes your body and mind, sinking you into a feeling of total relaxation.
Put on a new fragrance in the same way that you change your dress, then take a deep breath accompanied by a rush of summer air. While revealing in the comfortable feeling of being enveloped by a tropical sky, enjoy the liberation that only fragrance can provide.
Availability
Japan  Launch Date – 6 June 2014
Jill Stuart Relax Collection for Summer 2014
Jill Stuart Fragrance Body Mist – New & Limited Edition – 200 ml/ 6.7 fl oz
A limited edition body mist, boasting refreshing moisture and a gentle fragrance. A juicy fragrance, like sun-ripened fruit, envelops your skin. Provides you with comfortably penetrating moisture, bringing you highly translucent skin. Includes lychee extract, hibiscus extract and acerola extract, bringing you smooth, moisturized skin, free from any stickiness.
Jill Stuart Hand Essence – New & Limited Edition – 30 ml/ 1 oz
Moisture for you hands to resist the hot rays of summer. Hand essence that bursts with freshly picked fruit.
Jill Stuart Lip Essence SPF 18 – New & Limited Edition – 10 ml/ 0.33 oz
Like a mouthful of sweet fruit. Lip essence that protects you lips from UV rays and dryness.
Enjoy the beautiful visuals…