Hello beauties!
Isadora has created Volume & Curl Super Easy Removal, the new push-up mascara for spring 2014 which forms tiny tubes around each lash. I read about the tube technology, the brush and formula and looks pretty familiar with Blinc Mascara which is a great product and is recommended by many women. There's been so many similarities between the new Isadora Volume & Curl Mascara and Blinc Mascara which makes me believe Isadora took a serious peek at Blinc before creating this new product, as even the idea of super easy removal with warm water is the same.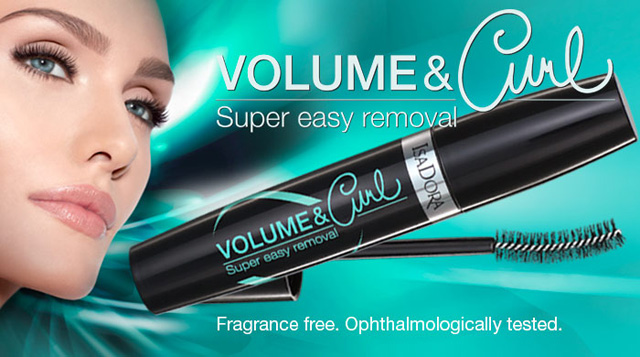 Availability
International Launch Date – mid February 2014 at Douglas and online @douglas.de
Isadora Volume & Curl for Spring 2014
Tube technology
Special flexible polymers which form tiny tubes around the lashes for maximum volume, curl and hold. Once applied the tubes cling to the lashes like shrink wrapping and the mascara stays put all day long without running, smudging, flaking or clumping. Super easy removal – warm water and gentle pressure (no need for eye make-up remover) will slide the tubes easily off your lashes.
Curved shaped brush
The curved shape of the brush makes the application ergonomic, following the natural shape of the eye and with an immediate effect at the first stroke along the complete lash line. The curved shaped brush has a push-up effect: the densed packed fibres on the inside of the curved brush push up the lashes to a curled shape.
Volume & Curl effect
The combination of the special developed brush and mascara mass gives both a volume and a curl effect. The lash gets a curled shape upon application with the curved brush – it pushes up the lashes and they stay in place when the mascara dries.
Shades:
No.10 Black
No.12 Black Brown