Hello beauties!
This week Inglot Cosmetics opened its first store in Bucharest so I couldn't miss the occasion of being part to the opening ceremony and checking out all the makeup items and tools this brand has to offer. Even though Inglot products are available in Romania for a while now, I could only see their products in person when the brand attended beauty fairs here in Bucharest.
The new Inglot store is located in Baneasa Shopping City mall 1st floor, right above MAC Store so I'm sure makeup lovers will easily find it. Quite spacious, the new location provides all the permanent products of the brand as well as new and limited edition collections. You have to check it out for yourselves to fully understand that I felt overwhelmed by the variety of makeup and nail products as well as an impressive collection of false lashes and makeup brushes.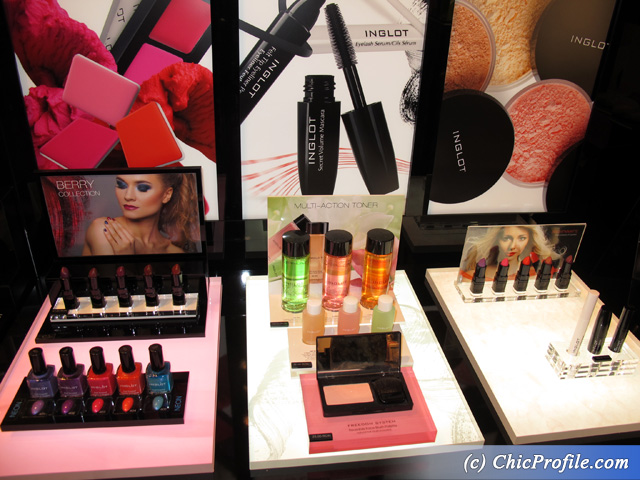 Inglot Cosmetics offers products for makeup artists and beauty lovers as well so when you'll be paying a visit to the new store you can swatch and test everything your heart desires but I personally recommend you to try the blushes, eyeshadows, the large variety of lipsticks and pigments.
Availability
Now at Baneasa Shopping City (Bucharest), Maritimo Shopping Center (Constant) and online @inglotromania.com
I will definitely return to Inglot store very soon for a closer look as at the opening was very crowded and I couldn't quite take my time to swatch and photograph every shade I wanted. The prices are also affordable considering the quality of Inglot products so a few examples would be Lipstick (47 Ron), Trio Eyeshadow (32 Ron), Single Eyeshadow (25 Ron), Lipstick single pill (21 Ron), YSM Cream Foundation (87 Ron), Cream Foundation (83 Ron), AMC Multicolour System Highlighting Powder (79 Ron), HD Illuminating Loose Powder (98.00).
I have a couple of items from Inglot sitting in my makeup drawer for a while now, that I never got to use so this week I'm going to put them to the test. I shall return soon with new articles regarding my Inglot eyeshadow, pigment and mascara.
Enjoy more photos…