Hello beauties!
To my favorite 2016 fall collections I'll add the new and exclusive limited edition Illamasqua Vanitas Collection. The promo images are splendid but the new lipsticks are absolutely gorgeous and definitely on my wishlist. Illamasqua Vanitas is inspired by the dark romance of 17th century still-life painting. Washed-out rose tones blended with heavy purple hues and burnt warm browns allow you to create a pairing of both delicate and dramatic make-up looks. Dipped in rose gold, this capsule collection includes a neutral eyeshadow palette alongside a selection of romantic lipstick shades.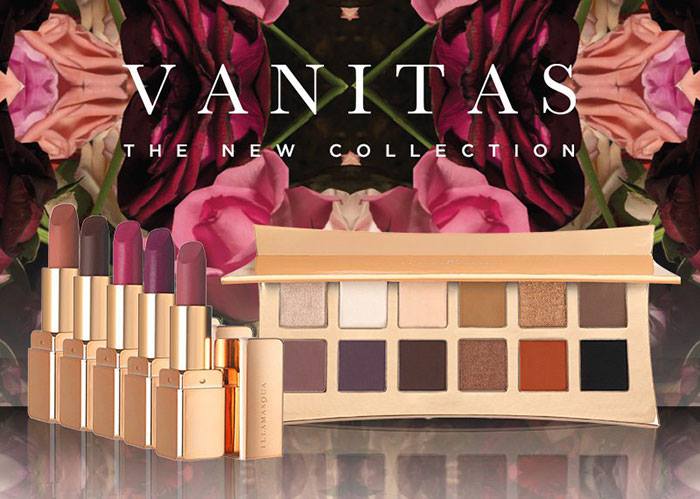 Availability
International Launch Date – Now @illamasqua.com
Illamasqua Vanitas 2016 Fall Collection
Illamasqua Rose Gold Palette – New & Limited Edition – £44.00 / $59.00
An essential nude palette that offers a variety of champagne hues to deep purples and browns. Including 12 of our best-selling shades while introducing a new plum and black coffee shade to the Illamasqua offering. The Rose Gold Palette includes both matte and shimmer powder shadows designed to work beautifully with all skin tones.
Shades:
Slink (Champagne)
Stealth (Buttermilk)
Servant (Eggshell)
Vernau (Yellow Ochre)
Bronx (Bronze Gold)
Wolf (Chocolate Brown)
Forgiveness (Chocolate Plum)
Fist (Deep Plum)
Rim (Black Coffee)
Tango (Rich Copper Bronze)
Terra (Earth Clay Red)
Obsidian (Rich Black)
Matte Lipstick – £22.50 / $30.00
A dreamy collection of nude, rose, plum and brown lip shades that deliver immediate colour pay off. The creamy texture laces lips in moisture while providing a smooth matte finish that lasts all day.
Shades:
Born (Nude)
Moth (Chocolate Brown)
Resist (Dusky Rose),
Shard (Red Violet)
Wanton (Lilac Rose)
Enjoy more photos…