Hello sweeties!
Illamasqua Embellish Vintage Metallix is one three shades of this new creamy eyeshadow formula that was released last year as part of Illamasqua Once Collection (info, photos). In case you missed my previous article you can check out here a quick preview with photos and swatches of all these three shades that I'll be reviewing separately this week.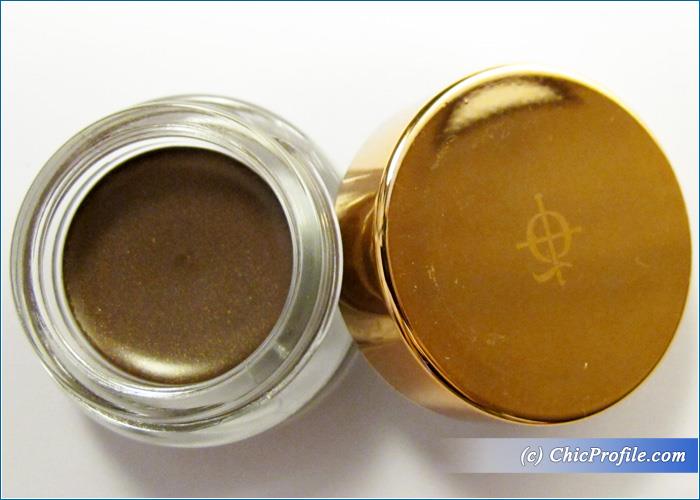 Availability
U.S. & International – Now at Illamasqua Boutiques and online @illamasqua.com
Illamasqua Embellish Vintage Metallix ($26.00/ £17.00 / 112.00 Lei for 5 ml / 0.18 fl oz) is officially described as a vintage brown. I see it as a medium chocolate brown with fine golden shimmer. It is a rich color, which adds a touch of elegance and glamour to any makeup and can be used as a simple eyeshadow applied on the crease or in the corner of the eye or as an eyeshadow base to intensify your eye makeup.
I absolutely love the packaging as each Illamasqua Vintage Metallix comes in a round transparent jar with a reflective gold twist-off cap. It contains the same amount of product like MAC paint pots but the jar opening is not quite as large as MAC's but you can easily use your finger to pick up product and apply it on the lid. I personally prefer to use my ring finger to apply product but you can use a brush if you feel like it.
The metallic cream-gel texture is amazing, like none I've tested before as it feels so creamy, silky and soft to the touch. Once you apply them on the lid they feel dry but you can still play with them, blend as you like and choose your pigmentation. Applied in one layer you can get a sheer color payoff and work your way up to a fully opaque color after 2-3 layers. If you choose to use this as an eyeshadow base than one layer should be enough but if you want to use it as a crease color then you need to layer it.
I tested Illamasqua Embellish Vintage Metallix with an eyeshadow primer and I used UD Eyeshadow Primer Potion and Too Faced Shadow Insurance Primer but also without one and the results proved that this has truly a long lasting formula that doesn't crease or fade and stays put for up to 7-8 hours.
When I tested this product on its own without a base or eyeshadow primer, the color started to slightly fade after 7 hours but with a primer it remained perfectly from beginning to end.
A perfect dupe for this shade would be MAC Eclair Paint Pot so if you already own it you can have a pretty good idea about this color right here, the only difference lays in the formula.
Enjoy more photos…