Hello pretties!
I was approached to test Ice Skincare 4P Max Eye Gel about two months ago. It is a new product for me, from a new brand so I excepted after I saw the ingredients. I wanted to put this product to the test and see how well it performs. The price is also an important factor so let's check out Ice Skincare 4P Max Eye Gel review right after the jump.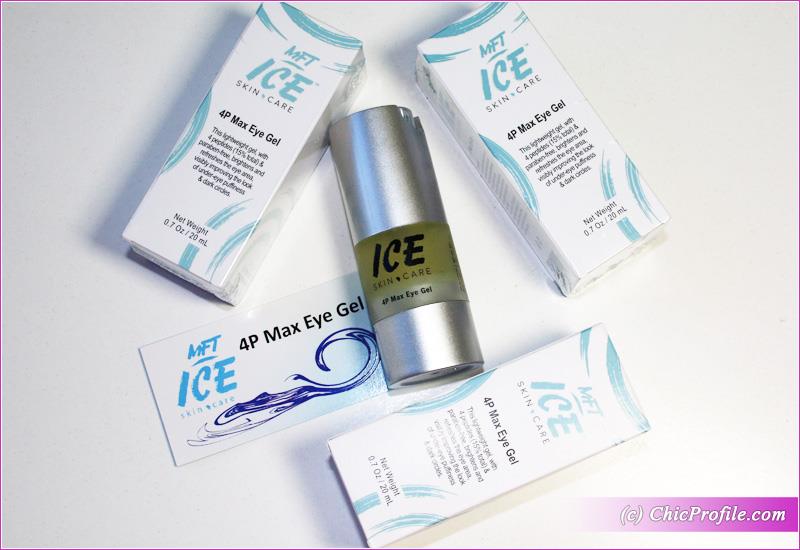 Where to buy:
U.S. & International – Now at Amazon | soon at www.iceskincare.com
Ice Skincare 4P Max Eye Gel ($160.00 for 20 ml / 0.7 fl oz) is a potent blend of 4 peptide actives (Eyeliss, Haloxyl, Regu-Age & Tetrapeptide-21) (15% total), botanicals and vitamins. It is lightweight and paraben-free.
I've been using this product constantly for about two months now. In the beginning I used it morning and evening. This went on for about a month and a half since a bit before Christmas I changed my skincare routine. Since then I didn't use it twice a day.
Ice Skincare 4P Max Eye Gel Review
Let's start with the simple things, shall we? The first thins is the packaging. Totally hygienic, easy to use, a pump dispenser and a transparent bottle. It's great as I can see how much is left. I'm a fan of the pump dispenser when it comes to skincare (foundations as well) but this one is a bit tricky. The thing that I don't like is that it dispenses way to much product for a single application. I try to press it easily but I still have too much product on my finger. I use the excess of product on my face without any problems. This eye gel is great for the entire face and not only for the eye area.
Next, let's talk a bit about it's main ingredients. The key performance peptide ingredients of 4P Max Eye Gel are Eyeliss, Haloxyl, Regu-Age & Tetrapeptide-21. They are supported by scientific data as furnished by reputable companies like Sederma of France, DSM and Evonik of Germany. 4P Max Eye Gel is formulated at the maximum recommended levels of all of these 4 powerful peptide actives.
I'm not too much of an expert when it comes to skincare ingredients, but I recognize the main ones. If you want a more detailed and scientific review you should check out Beautiful with Brains. She knows everything about every skincare ingredient out there and her review covers the scientific part of this product.
At a first look I'm seeing quite a few beneficial ingredients, like peptides, Green Tea, Niacinamide, Glycine Soia (Soybean) and many more. Ingredients that moisturize my skin and promise to do something about my fine lines are always welcome in my skincare routine.
Now let's talk about the texture and consistency of this eye gel. Of course being an eye gel, means that is lightweight and easily absorbed by the skin. All true here. It doesn't leave an oily film and it feels hydrating. Please keep in mind that I have a combination skin so for me gels, lotions and lightweight formulas are a blessed. If you have dry skin you may want to follow up with an eye cream.
I like the refreshing sensation this gels gives me right upon the application. I would definitely use it in the summer as well. It is efficient in blurring out my fine lines and depuffs my under eye area. When I don't get enough sleep and I have dark circles it really helps brighten up the area. On the other hand, I can't say it's really efficient against dark circles.
I like to consider it a great primer for my eye area as well. It minimizes fine lines and crow's feet and my concealer just applies so much better. The skin feels so smooth to the touch. After 30 minutes wear if I touch my under eye area (when I'm not wearing makeup) I feel it's slightly tacky. I'm not bothered by it as it doesn't feel dry in any way.
My under eye area it feels totally moisturized and hydrated throughout the wear. I used it on my entire complexion a few times as my morning routine. It gave me an instant radiant and healthy look.