Hello pretties!
Huda Beauty Winter Solstice Highlighter Palette is a new and limited edition one, part of Huda Beauty Winter Solstice Holiday 2017 Collection. As part of the same collection is also Huda Beauty Winter Solstice Mini Lip Strobe Set (review). This new 3D highlighter palette features one melted cream highlighter and three powder highlighters. The cardboard packaging is sleek and slim. It doesn't come with a mirror inside but you get a plastic foil for extra protection.
"I was really inspired by the ice queen persona, so I wanted to create something that would give an ethereal glow for the winter. The palette is made with white pearls, which have an iridescence and gorgeous duo-chrome effect. I spent a lot of time in the lab perfecting the formula, and the final result is an all-in-one palette that gives the most gorgeous, subtle wintry glow."—Huda Kattan, Brand Founder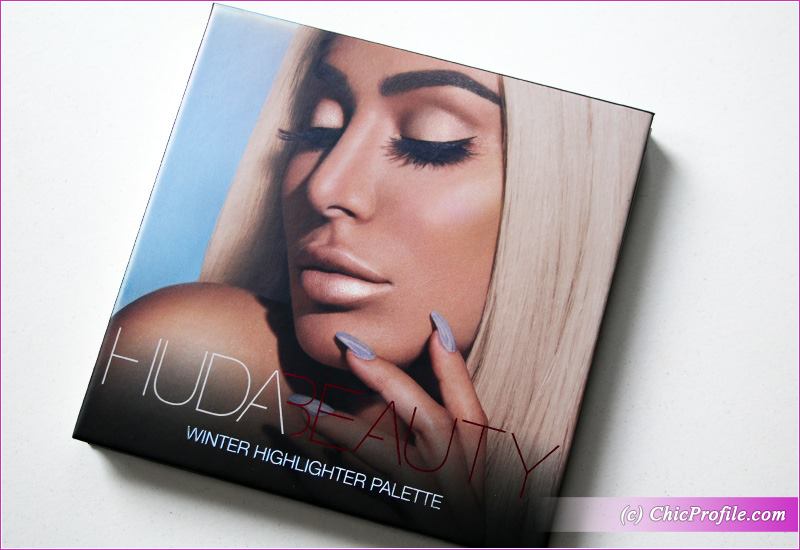 Where to buy:
U.S. – Now at Sephora, CultBeauty
UK – Now at Selfridges, Harrods, CultBeauty
Huda Beauty Winter Solstice Highlighter Palette ($45.00 / £40.00 for 1.10 oz) features powder highlighters in Arctic Glow, Northern Lights, Winter Rose and the poured melted strobe in Frosted Kiss. I like the color combination of this palette as I feel it goes well on any skin tone or color. If you have a fair or light skin tone like me you don't need to apply much color. On the other hand if you are medium to darker skin tone you can easily build up the colors and intensify them. You can use this palette for day or night time looks.
Huda Beauty Winter Solstice Highlighter Palette REVIEW
Frosted Kiss Melted Cream Highlighter (0.21 oz/ 6 g ) is an icy iridescent pink. I see a very light pink with iridescent pearl. The consistency is very light, creamy and feels very emollient. It melts instantly into the skin or underneath my fingers when I swatch it. The coverage is buildable up to a medium. I like the pearl sheen effect it gives to the skin. The application was a bit tricky for me. I used a brush, beauty blender and my fingers.
The best results were when I patted the color with my fingers. It has such a light creamy consistency but doesn't work well with brushes. I prefer to use it as a base and apply the powder highlighters on top. When I patted it on top of my foundation it looked well, but if I apply it after I set everything with a loose powder it tended to look a bit cakey. On me it lasted for a bit over 7 hours.
Arctic Glow Powder Highlighter (0.25 oz/ 7.5 g) is described as warm blue multi-tonal illuminator. Is a light blue-lavender with cool undertones and a pearl finish. The color appears different, shifting its pearl finish depending on how the light hits. It has a fairly good pigmentation, easily buildable to a full coverage if you want. The consistency is creamy, just a bit dense and easily blendable. It is easily blendable and I like to use my beauty blender. It looks a bit intense on my light skin tone so for me one layer is enough. I got almost eight hours wear before the color started to fade.
Northern Lights Powder Highlighter (0.25 oz/ 7.5 g) is described as a holographic highlighter with duo-chrome tones in soft gold and bronze. Is a medium gold with warm duo-chrome tones and metallic finish. It has a good pigmentation and intense shine. It can easily show an opaque coverage even on bare skin. This is the one shade from the palette that I don't really use as a highlighter. On my light skin tone I prefer to use pink or purple highlighters and keep this color for my lids. It has a dense texture so it took a bit of an effort to pick up the product on the brush. Again for this one a beauty blender did the job for me. It is easily blendable and wore well for almost eight hours on me.
Winter Rose Powder Highlighter (0.25 oz/ 7.5 g) is officially presented as a dusky pink infused with a shot of silver. Is a light pinkish coral with warm undertones and a duochrome effect. I absolutely love this shade and is my favorite from the palette. I've been using Winter Rose quite a lot since I got the palette as I like how the color looks in different angles of the light. The texture is very soft, just like the others, feeling a bit dense. It feels comfortable on the skin but again it tricky to get it into your brush. I prefer the beauty blender. You can easily intensify the color to a more opaque coverage if you have a medium or darker skin. For me a light hand and just one layer of color were enough. The formula wear well for almost eight hours on me.
SHOP THIS POST