Hello cuties!
As you know Huda Beauty Winter Solstice Mini Lip Strobes are a new release part of Huda Beauty Holiday 2017 Collection. They launched globally last week so after a few days wear here comes my review. You will get a set of 4 limited-edition mini strobing metallic lip glosses with a frosted color combination. I think is only fair to mention there's a considerably price tag difference between U.S. and UK. In both countries they retail for 33.00 but you can't compare currencies as the sum of $33 doesn't equal £33. I personally consider that we should have got them for £25 in UK. So my review will be also based on the UK price since I bought them from here.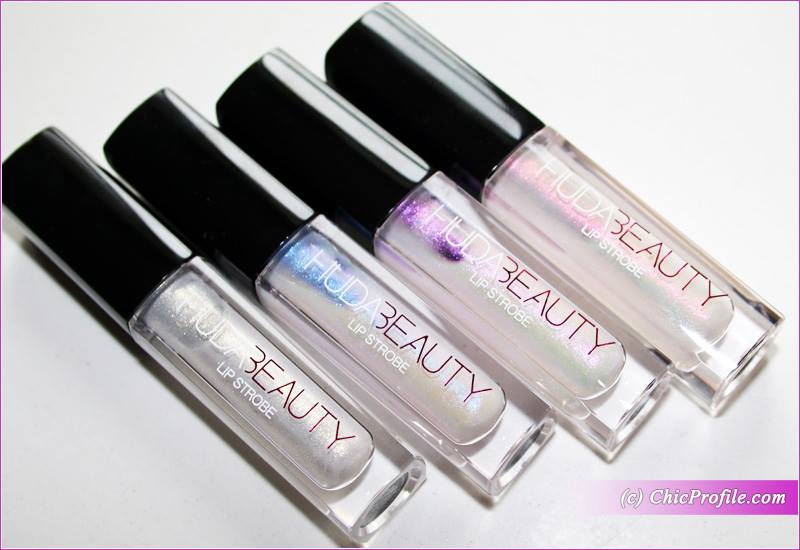 Where to buy:
U.S. – Now at Sephora, CultBeauty
UK – Now at Selfridges, Harrods, CultBeauty
Huda Beauty Winter Solstice Mini Lip Strobes ($33.00 / £33.00 for 4 x 2ml / 0.068 fl oz) features 4 mini lip strobe glosses in a limited shade. These shades match the ones from Huda Beauty Solstice Highlighter Palette (upcoming review).
Each of these shades has a unique combination of iridescent shimmer, glistening litter and duo chrome pigments. As a lip gloss lover I really love the effects of these new lip strobes. They change your natural lip color but they don't come on very pigmented. I like that I can wear them on their, mix them together or apply them over lipstick. If I want a casual and quick look I just simply glide one of these shades over my lips. If I want a more sophisticated look and long lasting effect I like to apply them on top of a matte liquid lipstick. They do tend to last longer and even when the lip strobe color wears off it leaves behind enough shimmer to keep a sparkle effect.
Before moving on to a more detailed description I want to point out that these are not going to last you a long time. They are a mini size format and being lip glosses you'll apply them more often than lipsticks. Obviously you'll finish them pretty fast. This is where my judgement about the price tag difference between U.S. and UK comes along. To get only 4 mini size lip strobes for the price of £33.00 I think is a bit much, not over the top but still. I already used them like 4 or 5 times each over the past week so at this rate I don't think they'll last me more than a month. It would be a good option maybe if they would make the shades permanent as you got to try them all and decide which color in full-size you are going to get.
On the other hand I'm down for the mini size format as they are super travel friendly, they don't took up to much space. I can fit one of these in a small clutch or purse and retouch my lips on the go.
What I absolutely love about each and every color is the ethereal gleam an duo chrome effect paired with iridescent shimmer. These babies really glow and give you a beautiful wet lips effect. I did picked my favorite colors already. Well is not hard when you love pink and purples. I might be subjective on Bewitched, Charmed and Hypnotic. 🙂
Huda Beauty Bewitched Lip Strobe is a light-medium purple with warm blue undertones, fine sparkling particles and opalescent effect. It has a semi-sheer coverage with a light feel. It does cover the lips with a multi-tonal strobe but it shows a bit of your natural lip color as well. The fine sparkle makes your lips glow, attracts the light and gives different effects. Comes with a light consistency, doesn't feel sticky, maybe very slightly tacky. It doesn't emphasizes or sinks into lip lines which is great. It gives me a plumped lip look, very fresh and juicy. I like to wear it on its own or applied over other matte liquid lipsticks. I had around 3 hours wear with this formula. Once I start eating, the color is gone. A slightly shimmer will remain but I definitely needed to re-apply the color.
Huda Beauty Charmed Lip Strobe is a light coral with pink and gold shimmer and a glossy finish. It comes semi-sheer on the lips and shows a warm coral with beautiful sparkles. It has the same light  and comfortable formula, non sticky feel, just a bit tacky. The color looks nice on its own or over any other lipstick. This is one of my favorite colors, as it's very light, casual but it gives a nice shine to my lips. I really like the effect of a strong glossy finish. Unfortunately it doesn't last for more than 3 hours on my lips.
Huda Beauty Hypnotic Lip Strobe is a light purple-pink with cool undertones and silver sparkle. It creates a super metallic and glossy effect. By far this is my most favorite shade. You'd say is similar to Bewitched but this one is my pink while the other leans more to violet. The color is semi-sheer, just like the others, as well as the consistency and formula. It feels light on the lips, doesn't emphasize lip lines, plumps lips but doesn't last long. I had about 3 hours wear with this formula.
Huda Beauty Starcrossed Lip Strobe is a light white-gold with bronze sparkles and super shiny effect. I'm not to keen on this color so I wore it mostly over other lipstick shades. On its own it looks a bit more sheer than the others, because it's a lighter shade. It gives  lips a nice luminous and natural finish. I say is the perfect color for any given day when you just want to have a luminous, fresh look without the fuss. Just a simple natural makeup and a bit of Strarcrossed on the lips and you are done. Again same formula and consistency with 3 hours wear.
I really enjoy wearing this shades but I wish they would last longer. They leave a sparkle behind when the color disappears but you'll definitely need to reapply. Is cool that they are mini-size lip strobes, easy to put them in your bag or luggage when you travel. The price is a bit too much (if you are buying them from UK) as we are talking about mini-size glosses here that won't last you long. Other then that, if you don't mind re-applying them so often they look absolutely beautiful. 🙂
They are meant to be semi-sheer so don't expect a full color coverage from them. They look great on any lips, giving you a fresh, more plumped look. I love that they feel so great without that naughty, strong tacky feeling most glosses have.
SHOP THIS POST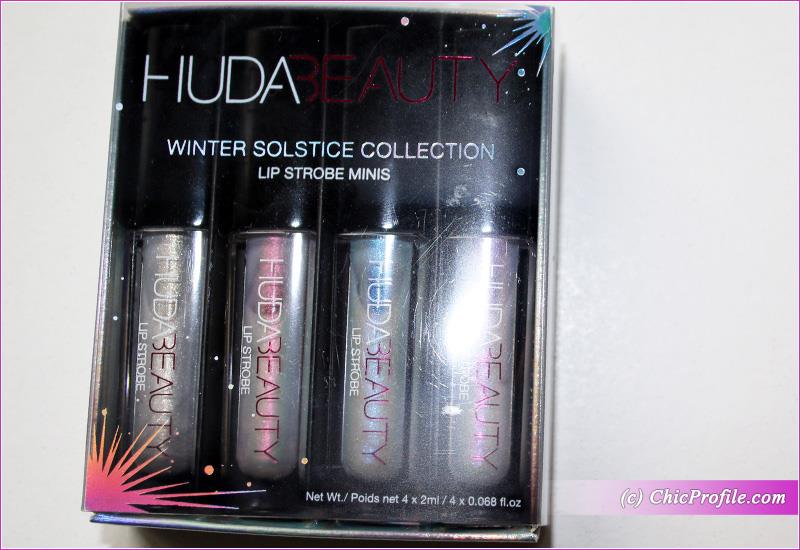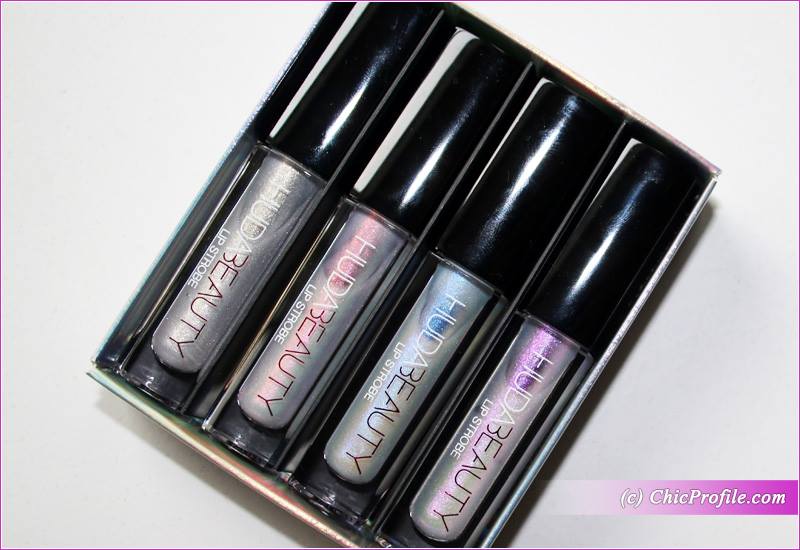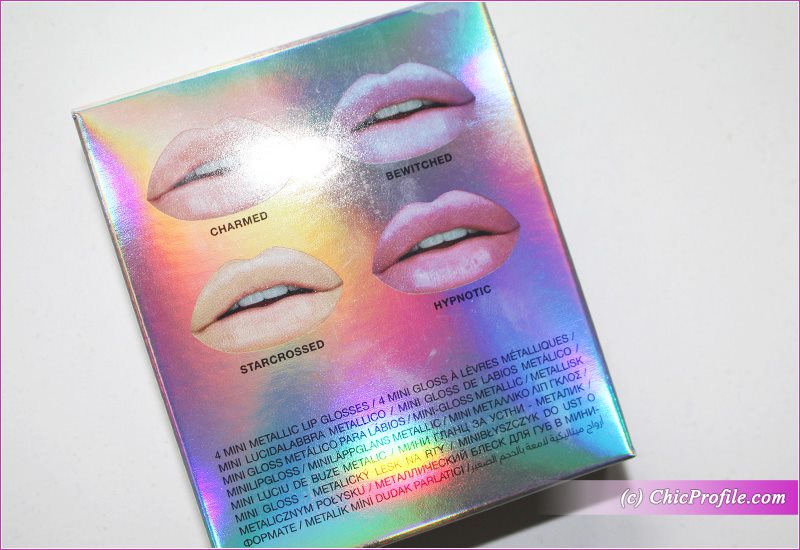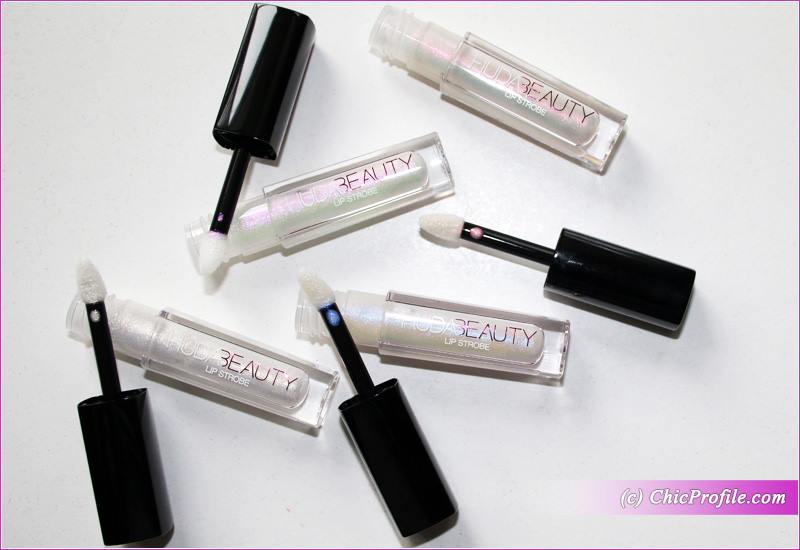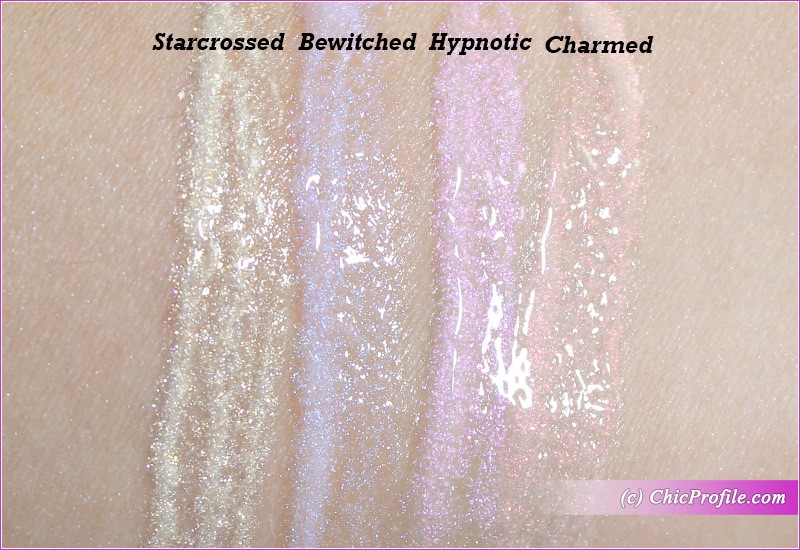 Bewitched Huda Beauty Lip Strobe Lip Swatches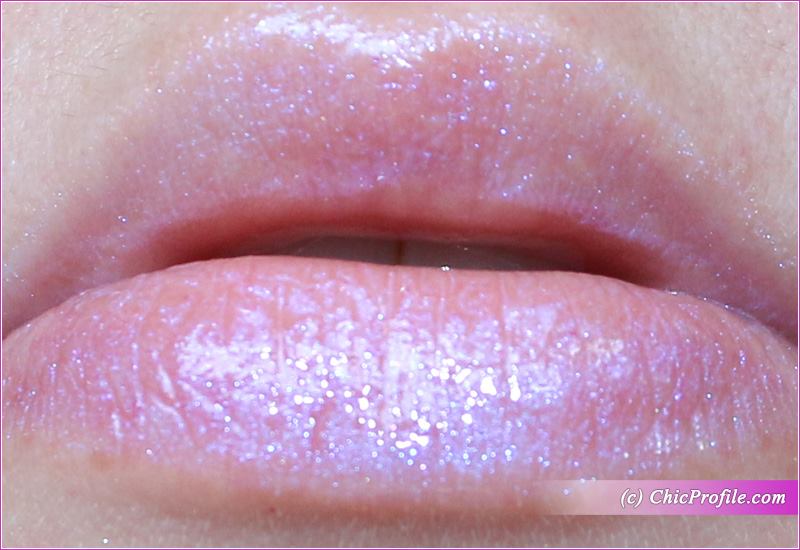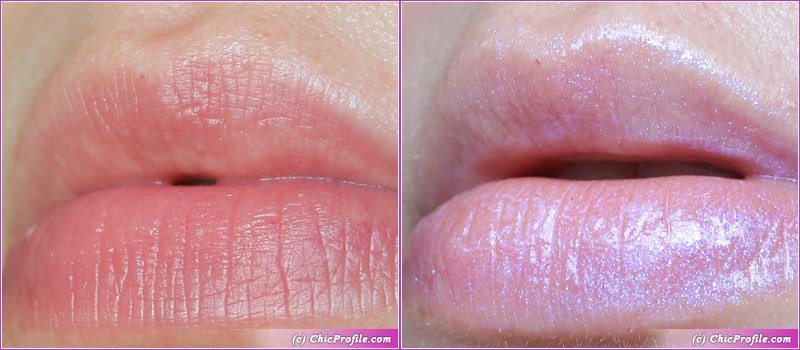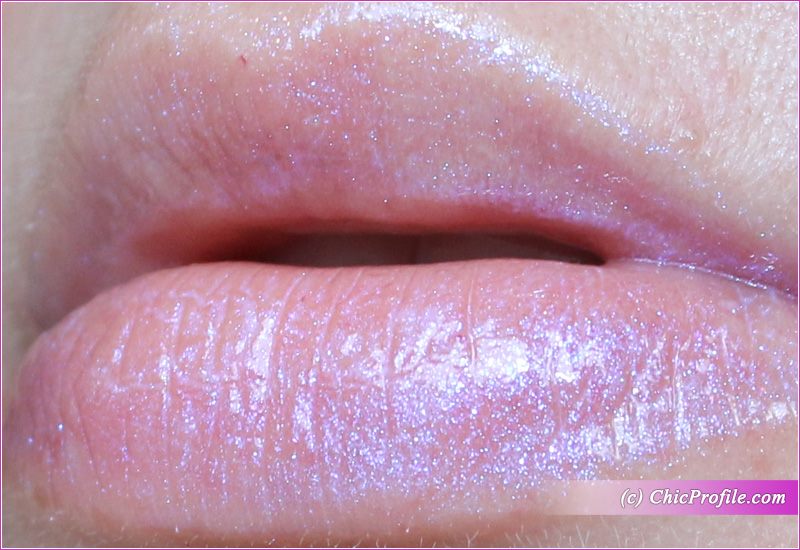 Charmed Huda Beauty Lip Strobe Lip Swatches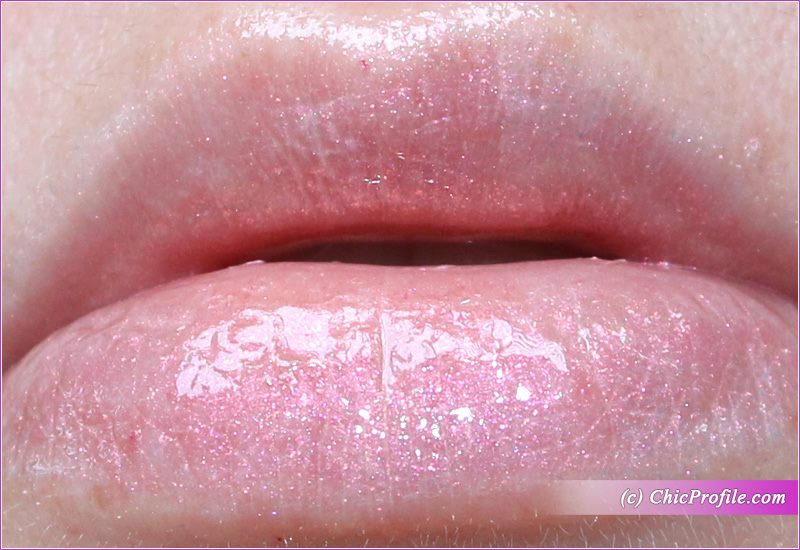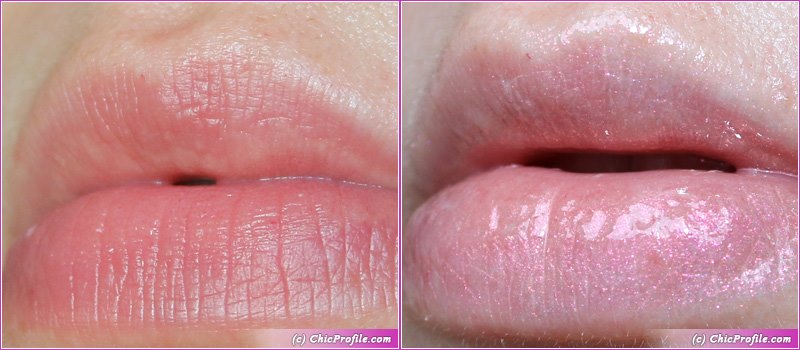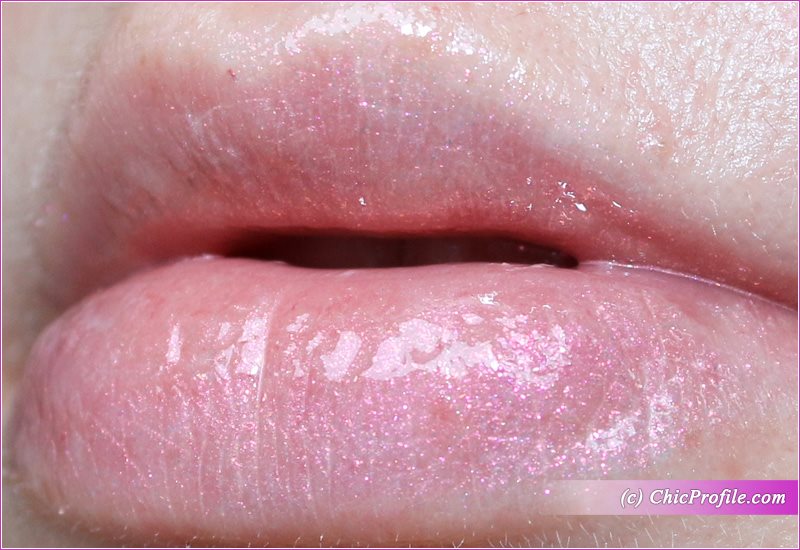 Hypnotic Huda Beauty Lip Strobe Lip Swatches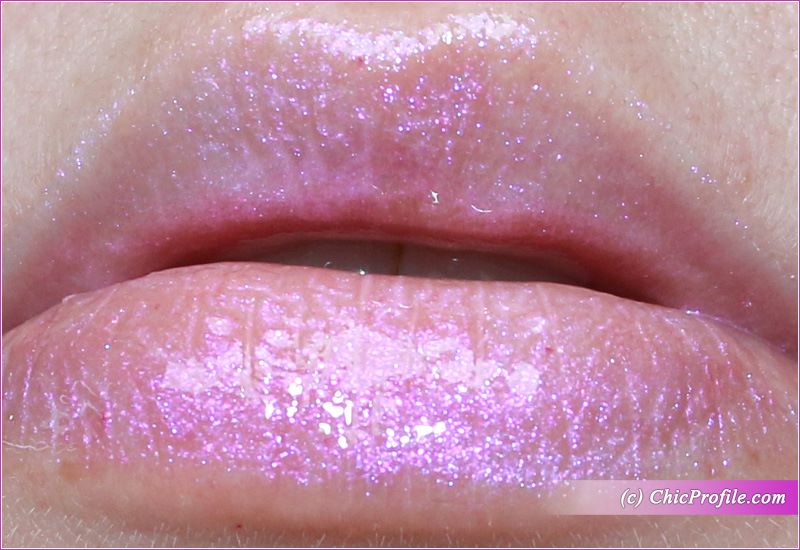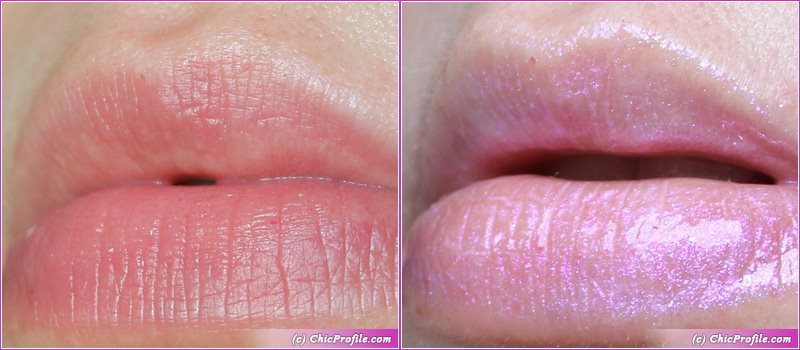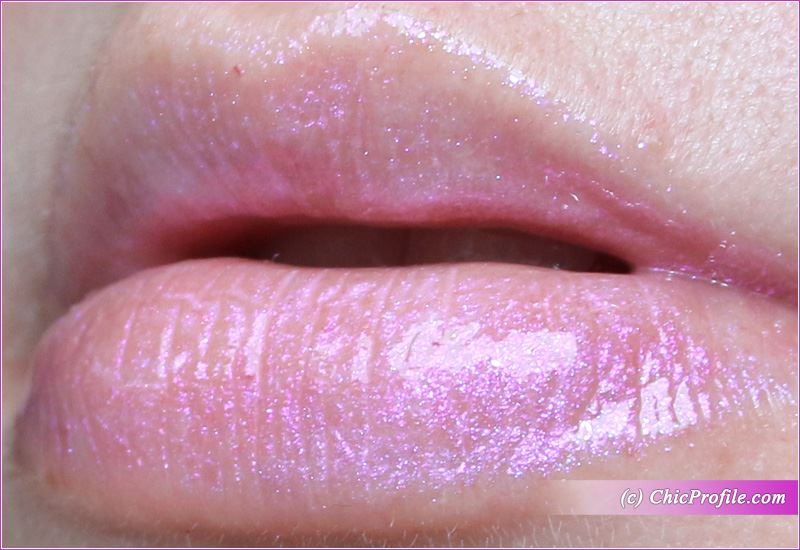 Starcrossed Huda Beauty Lip Strobe Lip Swatches