Hello pretties!
I bought Too Faced Metallic Bunny Melted Metal Liquified lipstick sometime in the summer. I know is not a new thing, as Too Faced Melted Metal Liquified Metallic Lipsticks were released years ago, but I didn't try any metal shades. At my local store there was a major discount at Too Faced products so I took the opportunity to purchase this shade. I don't remember very well but I'm pretty sure I got it for less than £10.00. It was a pink in the end and you know my weakness.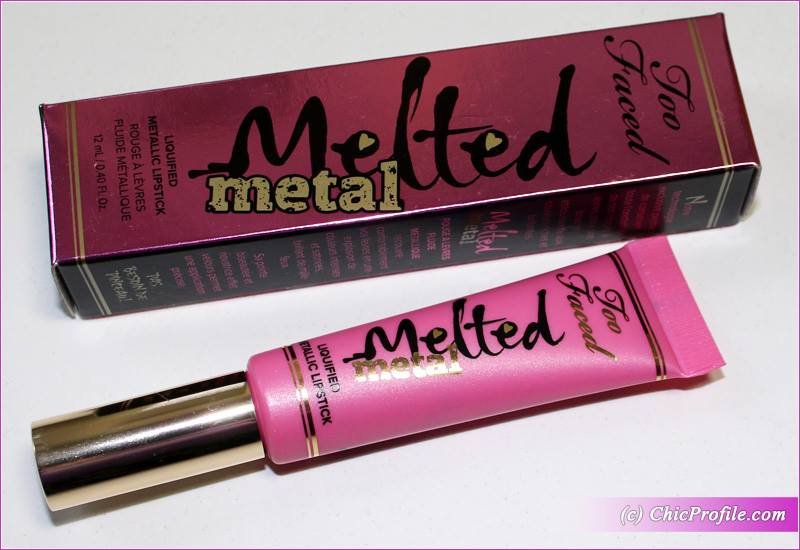 Where to buy:
U.S. – Now at Sephora, Too Faced (on sale now at $18.90)
UK – Now at Selfridges, Debenhams, TKMaxx
International – Now at Sephora
Too Faced Metallic Bunny Melted Metal Liquified Lipstick ($21.00 / €21.50 / £19.00 for 12 ml /0.40 fl. oz.) is a light-medium pink with blue undertones, gold shimmer and a light metal finish. The color is bright with semi-opaque coverage.
Too Faced Metallic Bunny Melted Metal Liquified Lipstick Review
If you are obsessed with pink you will love the shade and even if not, you can still love it. I'm going to tell you why. This lightly metallic pink hue gives your lips a fresh and juicy appearance. Is not very intense or opaque on the lips as your natural lip color will come trough a little bit. Still, the kind of shade that you put on a casual day, for a barbie look, something more girly-girl and feminine. You can easily wear it at school, as is nothing too extravagant.
The texture is very lightweight, a bit liquidy I'd say and emollient. My lips felt so moisturized and nourished, with an amazing feel. I reached for this lipstick even when I had dry lips as I wanted something more than just a lip balm, I wanted color as well.
It's something in between a lip gloss and a liquid lipstick. It doesn't feel tacky or sticky like glosses do but is not as pigmented as a lip gloss. Still, a melted, liquified lipstick description is just right. The metallic finish is absolutely beautiful, especially on a sunny day as it reflects the light and gives various effects. It makes lips appear fuller, healthy and super juicy.
Now concerning the packaging, I'm not really a fan of the squeezable lip product tubes. I like the squeezable tubes when it comes to skincare but not for makeup. Now there's this trend going on where makeup primers, contouring liquids and so have this cushion applicator on top and I don't like it. I personally don't consider it hygienic. I don't like the idea of needing to squeeze product on top of the dry on from the previous application. But hey…this is just me and my fixations. 🙂 Other than this, I'm totally cool with a bright, cool toned pink and a super formula.
I got around four hours wear with this shade without any stain or dry feel. Once I had a meal the color disappeared completely from my lips.
SHOP THIS POST