Hello beauties!
Just in time for the holiday season Huda Beauty Vanity Case drops. Oh yeah, you read that right, Huda is releasing a vanity case where you can store all your Huda makeup and not only. I've seen this case exclusively on Cult Beauty so far, but maybe it will be available to other retailers soon.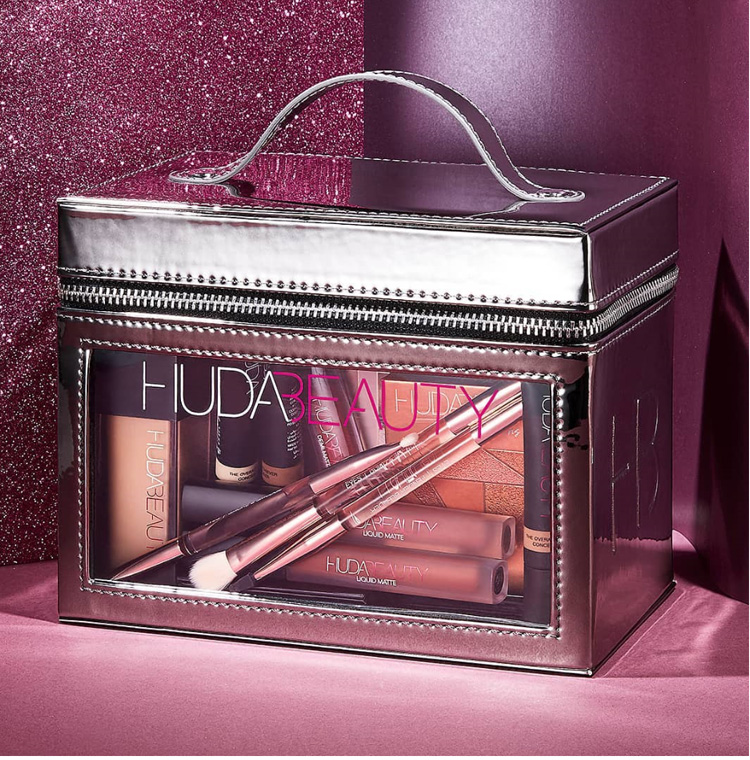 Where to buy from:
UK & International – Now at Cult Beauty (world wide shipping)
Huda Beauty Vanity Case – New – £25.00
If you struggle to keep your ever-growing beauty collection organised (we feel you) you'll love Huda Beauty's Vanity Case. The clever design features dividers to keep your products secure and – if you want – carefully categorised.
It's spacious enough even for serious make up addicts and features a large mirror for application on-the-go, a zip-close for easy sealing and a top handle for carrying. In gleaming silver and embossed with the Huda Beauty logo, this is a great way to single yourself out as a beauty buff while having an ultra-convenient place to store your collection.
I have so much Huda Beauty makeup (all purchased by me) that for sure it would fit perfectly into this transparent vanity case. I'm thinking that probably I have more Huda Beauty makeup than what this case can hold. Surely I'm tempted on getting it….but then again, I'm not a makeup artist that uses Vanity Cases a lot. I do own a couple and use them when I travel.
I feel like I'm in between decisions. I want to get it just because at this point I'm kinda of collecting every makeup items from Huda, but also I'd see myself living without it.
What do you say lovelies? Will you be getting the new Huda Beauty Vanity Case?
SHOP THIS POST