Hello beauties!
When I moved to London, Huda Beauty was one of the brands I wanted to try so badly. Huda Beauty Mystical Lip Strobe was one of the product I bought when I first went to the counter. I also got some Liquid Matte shades and the Rose Gold Textured Shadows Palette (review, swatches). Ever since, my collection has constantly grown as I kept buying all the newly launched products. This reminds me that I still have to go get the new FauxFilter Foundation, brush and makeup base before the new Winter Solstice 2017 Palette will hit counters. Yeah, that's right we are getting a new highlighter palette this holiday season. 🙂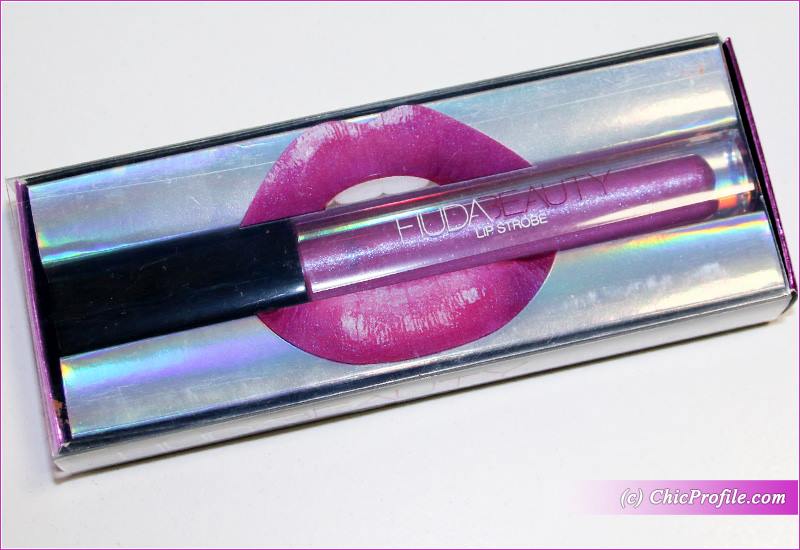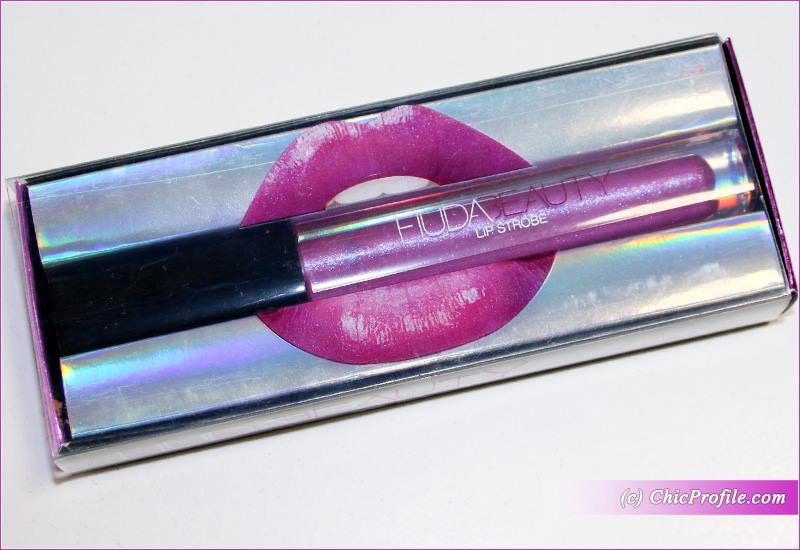 Where to buy:
U.S. – Now at Sephora
UK – Now at Selfridges, Harrods
France – Now at Sephora
Huda Beauty Mystical Lip Strobe ($18.00  / €19.95 / £17.00 for 0.14 fl. oz. ) is officially described as a semi-sheer lilac base with blue pearls. I see it as a light to medium lilac-lavender with pink undertones and lots of lavender and turquoise sparkling particles. The color is wonderful, at least for me as I'm going crazy for pink and purples and you know I'm a lip gloss gal.
Huda Beauty Mystical Lip Strobe Review
Has sheer coverage, which I'm fine with in a lip gloss. The description said semi-sheer coverage so it delivers a little bit more than that. There are other Huda Beauty Lip Strobes that offer a full coverage if that's what you are looking for.
Having a sheer coverage allows me to add it on top of a lipstick or even liquid matte lipsticks and get that sparkling, glossy effect. It looks beautiful nonetheless.
The texture is lightweight, a bit creamy and glides effortlessly across the lips without pulling or dragging. My lips feel very smooth, plumped and juicy. It instantly hides lip lines and even though you may have dry lips it gives a moisturizing feel.
The application went well, the color spread across the lips evenly. The formula has a sweet vanilla scent. It has a non-sticky texture, maybe a minimal of tacky feel, but not something that would bother me at all.
I enjoy the effect of iridescent particles and glamorous high-shine effect. My lips instantly look sculpted and volumized, more plumped and juicy. This gloss is very comfortable to wear and I dare to apply it even on a windy weather.
I can't say that is very long lasting. I get around 4 hours wear, normally, depending if I'm eating or drinking as well. If I have a meal, the color fades but the glimmering particles are still noticeable. Still, I need to reapply the color once I finished my meal, but if I'm having a drink there's no need for a retouch.
I even like the packaging, the transparent tube which allows me to see the color and doe-footed applicator which gives a precise application.
Oh wait! I just remembered I have this photo on Instagram where I'm wearing Huda Beauty Mystical Lip Strobe on my lips. If you are wondering about those curls, I have another review coming up soon. 🙂
SHOP THIS POST