Hello sweeties!
If you are a fan of the brand I bet you've already heard about Huda Beauty Demi Matte Cream Lipsticks coming out later this month. Well, Huda herself teased a couple of shades on her Instagram. I have a few more shades to show you but also I have swatches waiting for you right after the jump.
There will be more than just these seven colors launching on 29 July, including a gorgeous red. Well as you know, I'm more into pink, violet and nudes but also very curious to see how the formula performs. 🙂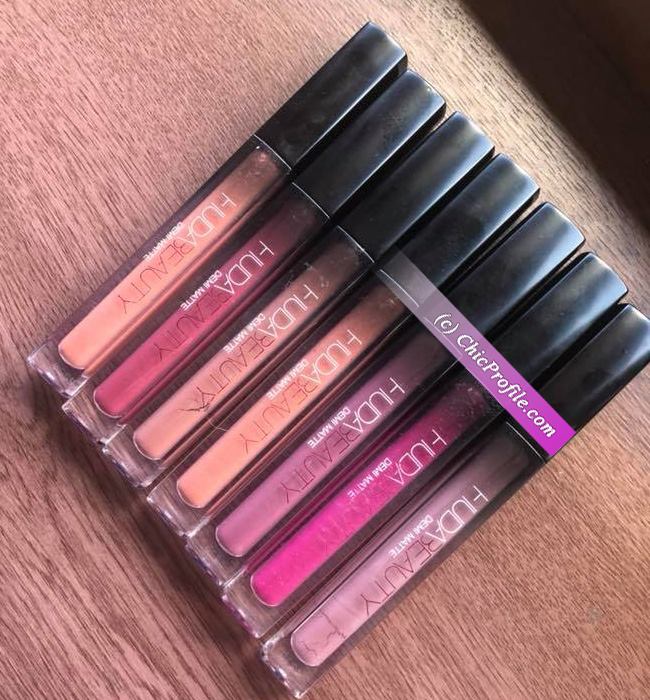 Availability
U.S. Launch Date – 29 July at Sephora, Cult Beauty
UK Launch Date – 29 July at Selfridges, Cult Beauty, Harrods
Huda Beauty Demi Matte Cream Lipstick SWATCHES
These have the same creamy formula of a liquid lipstick with a more forgivable matte finish. If you are not into a completely matte lip look which can have a drying formula most times, then a demi matte cream lipstick can be your next option.
I like the matte finish but I don't know have many favorite matte formulas. Actually I'm quite happy with Huda Beauty Matte liquid lipsticks but I wouldn't say now to a softer version. My all time favorite formula when it comes to mattes is by Giorgio Armani Lip Magnet. I reviewed a couple of these shades already and you can check them out on the blog with lip swatches included. Of course this is more like the luxury version but if you don't want to spend this much, Huda Beauty is the next best thing for me.
Now let's get back to our stars here, the upcoming Demi Matte Cream Lipsticks. Most of the shades are wearable nudes but there is a pink out there and some plums. As I said there will be also a fiery red, but I don't want to spoil the entire surprise of the launch. 🙂
Keep an eye on my Instagram account as I'll be posting about these in my Instastories. Reviews will follow up soon! 🙂