Hello pretties!
Yesterday I took a first look at some of the new Guerlain summer 2015 newness in terms of makeup and skincare. Besides Guerlain Terracotta Summer 2015 Collection (info, photos) the French brand will release at the beginning of June 2015, this gorgeous Terracotta Terre D'Ete powder and Meteorites Oxygen Care Moisturizer & Radiance Booster.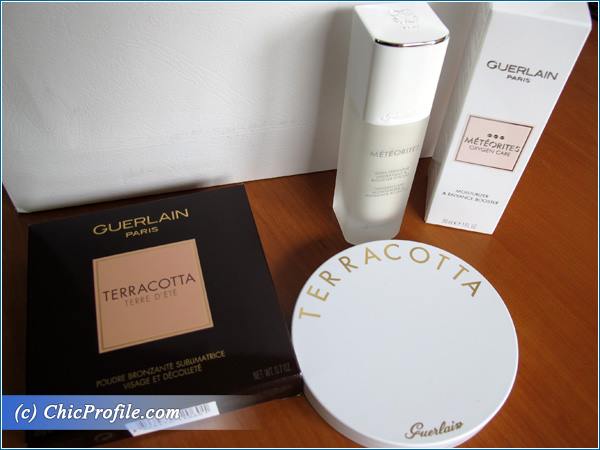 Availability
Romania Launch Date – 1 June 2015 at all Guerlain counters for Meteorites Oxygen Care | 15 June 2015 exclusively at Sephora for Terracotta Terre D'Ete Bronzing Powder
International Launch Date – June 2015
Guerlain Terracotta Terre D'Ete (336.00 Lei for 20 g/ 0.7 oz) is a new and limited edition tan-enhancing bronzer for face and decollete which is part of the annual Guerlain Terre D'Ete Summer 2015 Collection sold exclusively every year at Sephora. I just didn't have the heart to swatch this beauty that was before me and I could only admire the gorgeous sun pattern that makes this xxl powder be a collector's item. If you remember, I was briefly announcing this launch back in the day when I posted about another must have bronzing powder, which is Guerlain Terracotta Joli Teint Powder Duo (review, swatches, photos). The smell of the new Terracotta Terre D'Ete summer 2015 edition is sun-tanned like and so fresh that instantly creates the image of a day on the beach.
On the other hand the packaging is pure white, something totally different than what I would expect from a Guerlain summer makeup product as the idea of a rounded white compact with a mirror encased leads me to the idea of purity, whitening or more like a skincare appropriate rather than a tan-enhancing product. I would have preferred a more summer color appropriate packaging but if you've seen the Guerlain Summer Shadows packaging you will notice the resemblance.
Hitting counters at the beginning of June 2015 Guerlain Meteorites Oxygen Care (310.00 Lei for 30 ml/ 1.0 fl oz) is the first skincare product from Meteorites collection, a moisturizer and radiance booster that comes in a semi matte glass bottle with a mirror-like cap and a pump. The white packaging was perfectly chosen for this new hydrating lotion which will join the permanent skincare line.
Enjoy more photos…