Hello lovelies!
I've been sitting on the news of Guerlain Rouge G Lipstick New 2018 Collection for a while now. I didn't want to post before I'd have the photos so this is the day. I'm super excited about this new Guerlain lipstick 2018 collection that will hit counters in about three weeks here in UK. My heart just bounces when I see these gorgeous lipstick cases. 🙂 I'm not saying I'm not excited about the lip colors, because I am, but I already know Guerlain Rouge G formula is the best.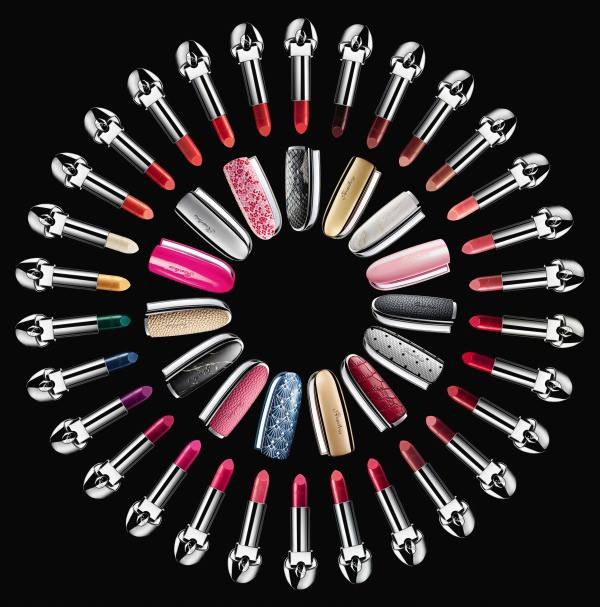 Availability
UK Launch Date – mid April 2018 at Debenhams, Selfridges, Harrods
Guerlain Rouge G Lipstick New 2018 Collection
Needless to say that Guerlain Rouge G Lipstick is an iconic product, a best-seller and has an impeccable formula. If you haven't tried a Rouge G lipstick before, you should definitely do so. The color pigmentation is on point, the formula is creamy and looks amazing on the lips. Let's just say Rouge G is one of the best lipsticks out there.
This Spring the brand revamps its famous lipstick line and adds new shades but also a different type of packaging. The classic Rouge G lipstick has an elegant, chic and very stylish packaging with a mirror encased. With this new launch you will be able to choose from 15 different cases. Wait the best is still to come!
You can actually customize your lipstick. The cases can be purchased separately so you can use the same case with any Rouge G lipstick. Obviously you can keep the classic packaging but these new lipstick cases will definitely make the difference. I'm a sucker for elegant and stylish packaging and I already put a few cases on my wish-list. Won't be hard to guess my preferences if you take a look at the photos bellow. 🙂
The are also 30 New lipstick colors coming our way as part of 2018 Guerlain Rouge G Collection. Eight of these colors will be a limited edition. It's not easy to guess that shades like yellow, green or blue will be available for a limited time only. I have to admit this a bold move from Guerlain to come up with these type of shades.
I can't wait to see them in person as I know it will be difficult to decide which ones to get. I'm already aiming three of those lipstick cases. 🙂
What are your favorites so far? Are you excited about this collection?
Keep an eye on my Instagram as I'll be posting swatches soon!