Hello beauties!
Guerlain Radiance In A Flash is one of the newest products from Guerlain My Super Tips 2016 Collection (preview, photos). When the skin needs a good tightening boost and an instant beauty enhancement, Radiance in a Flash will do the trick! Use at key moments such as the morning after a late night or before a big night out.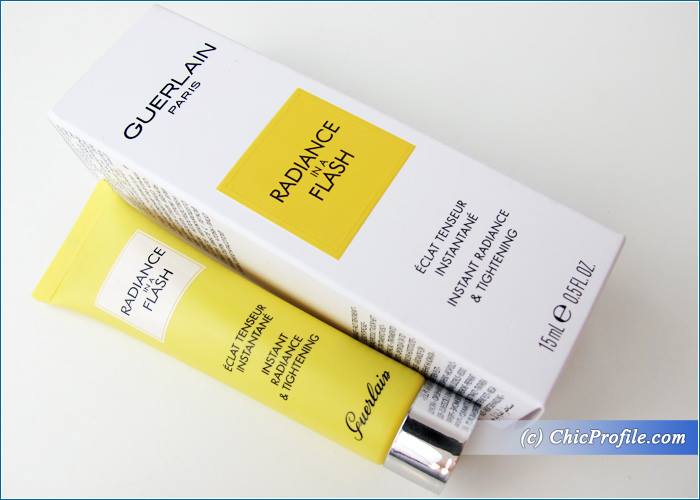 Dining out, dancing until the early hours, taking baby to the nursery, shining at the morning meeting, meeting the afternoon deadline, getting home in time to make dinner for everyone… Our skin sometimes struggles to keep up with our lives! Out of breath, it becomes dull. Our features begin to tense. Radiance fades away.
Availability
Romania Launch Date – May 2016 at Sephora
U.S. Launch Date – Now at Nordstrom, Sephora
International Launch Date – May 2016 at Sephora, Selfridges
Guerlain Radiance in a Flash Instant Radiance & Tightening (150.00 Lei / $29.50 / €29.00 for 15 ml / 0.5 fl oz) is a radiance-boosting, beauty-enhancing treatment that instantly tautens and illuminates facial features. It's the kind of product that you can count on for an instant radiance.
I have a combination skin so I was worried about looking shiny on my T-zone, but after I applied a loose powder, I had no worries for the entire day. Its formula is ambery citrus scented so it gives me an instant fresh appearance.
It works great as a luminous makeup base as well. Whenever you need a boost of luminosity or radiance this is a great product to reach for.
The texture feels like a light gel, with a light golden color and luminous golden particles. It feels smooth when glides across the skin and also gives a tightening effect. The formula contains active ingredients such as Artemisia and Ruscus that boost microcirculation while rosy and golden pearly particles create the perfect bright complexion. Right after the first application my complexion looks more fresh, luminous, radiant and has this healthy glow.
I like to use in the morning, especially on those days when I didn't get too much sleep the night before. I also like to pair it with Guerlain Midnight Secret (review, photos) before bedtime so I know I will look my best in the morning.
Enjoy more photos…