Hello pretties!
Yesterday it was a bit of a rainy day here in Bucharest and so I was in the mood to play with some gray and darker colors for a new makeup tutorial. So it happens that Guerlain L'Heure de Nuit 5 Color Palette was the perfect choice for an evening makeup as the name itself suggest that it has the perfect eye shadows for night hours.
I know how excited you were when I posted swatches of Guerlain Fall 2016 Collection so now it's time for those individual reviews, since I've already played with each product, tried and tested the formulas and also did a couple of makeup looks that I'll be posting after each palette review.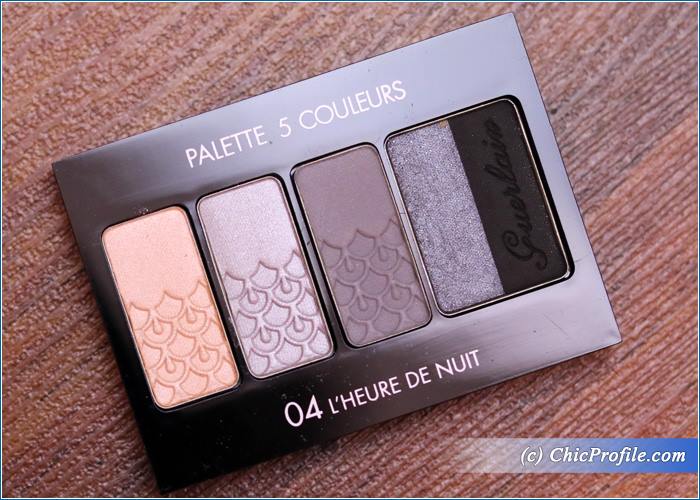 WHERE TO BUY

U.S. / UK – Now at SAKS, Nordstrom, Neiman Marcus, Sephora, Debenhams, John Lewis, Selfridges, Douglas, Escentual, Harrods
Guerlain L'Heure De Nuit (04) 5 Couleurs Palette ($69.00 / €60.50 / 300 lei for 6 g / 0.21 oz) is combination of five eye shadows ranging from silver to light gray and black with different textures from matte to satin and metallic.
I got this palette as a tester but if you want to see the original packaging you check out my review for Guerlain Coque D'Or 5 Color Palette, a newly launched eyeshadow palette part of the same collection.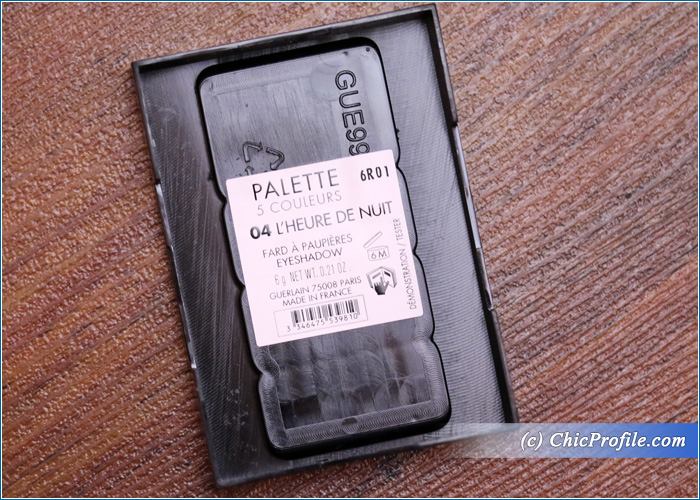 Guerlain L'Heure de Nuit #01 is a very light champagne beige with warm undertones, fine silver and gold shimmer and a satin finish. It has a good color payoff and the color comes to life even without an eyeshadow primer. It adheres well on the skin but its pigmentation it's definitely enhanced with a primer.
It had a smooth and silky texture that was easily blendable and had no fall-out during the application. It's the lightest color of the palette and even though Guerlain suggest to use it as a base color I like to apply it on the inner corner of the lid or right under the brow to add luminosity. I had about 8 hours wear before the color started showing signs of fading.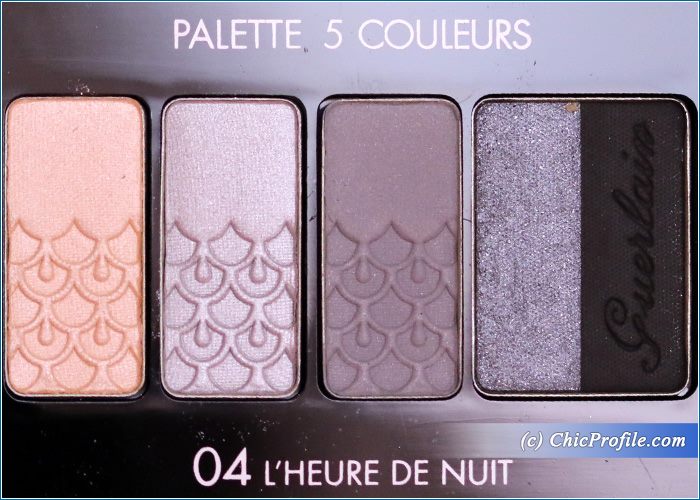 Guerlain L'Heure de Nuit #02 is a light, cool-toned grayish silver with a satin finish. It shows a good color payoff, a decent pigmentation but up to a medium coverage. It's such a luminous color that I like to apply it all over the lid or to add luminosity on the inner corner or the lid.
It had a very smooth and velvety texture and it adheres well even on bare skin. I can say that this is my favorite color from the entire palette if I were to judge by it's formula and texture. It's easily blendable and gave me no fall-out during the application. I had around 8 hours wear with this formula.
Guerlain L'Heure de Nuit #03 is a light gray with cool undertones and a matte finish. This was definitely the tricky color of this palette. It took some struggle to swatch it on bare skin and come up with a decent color payoff. It's very sheer and hardly buildable to a semi-opaque coverage.
Even though the texture felt smooth when I swatch it, I couldn't help noticing a bit of dryness to it as well. It look patchy and uneven when applied so I'd definitely recommend an eyeshadow primer. I had 7 hours wear with this formula.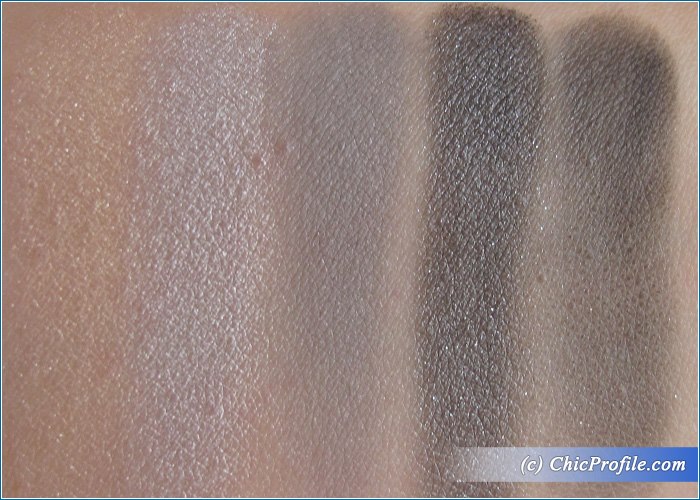 Guerlain L'Heure de Nuit #04 is a medium-dark gray base with silver shimmer. It had a fairly good color payoff but I doubt it was meant to look very rich and pigmented. Its color is enhanced by an eyeshadow primer which really makes the difference when you see it swatched before on bare skin.
It had a fine texture, felt a bit smooth on the skin but I tend to feel a bit of dryness as well. It doesn't apply quite evenly on the lid without an eyeshadow primer so I definitely recommend using one. It was not that easily blendable so I tend to apply it more on the outer V, to darker other colors and give some intensity to my makeup. It gave me around eight hours wear before it started to wear off.
Guerlain L'Heure de Nuit #05 is a dark grayish black with a matte finish. Being the darkest color of the palette it can easily be used for a smoky eye makeup. It had a semi-sheer coverage, looking patchy and uneven when applied.
Once I used my Urban Decay primer potion it started to behave and it was more easy to work with. I applied it on the outer corner of the lid or smudged it underneath my lower lash line as you'll see in my upcoming makeup tutorial. It's not that easily blendable so it works better if you patted on the lid which was not always they way I wanted to work with.
The formula felt so dry and that's why it's so hard to make it to show a good swatch and definitely understandable when it looks so uneven. I had about 7 hours wear with it.
Overall I can say I like these eyeshadows, judging by my color preferences, but I don't think they were meant to be pigmented and look very intense. Definitely you can intensify and darken you makeup using the last two eyeshadows in the palette which are called smoky but you won't get something very dramatic.
I used to wear this color combination even last night and it's indeed flattering for an evening makeup.
Enjoy more photos…