Hello beauties!
Guerlain Fall 2016 Collection (swatches, info) features six new variations of 5 Couleur Palettes and as promised I'll be reviewing them individually. Today I'm presenting my review for Guerlain Coque D'Or 5 Couleurs Palette which comes in this extremely elegant black, luscious compact (hard to photograph by the way).
Each of the 5 shades can be applied alone (wet or dry) or layered to create a perfect harmony. This season Guerlain revamps the format of its eyeshadow palettes and creates the new 5 Couleurs Eyeshadow Palettes which feature 1 base to smooth out and illuminate, 2 nude shades and 2 smoky shades so you can create a smouldering look or perfect smoky eye. Each shade has a different texture so in one palette you'll find matte, satin or metallic finishes.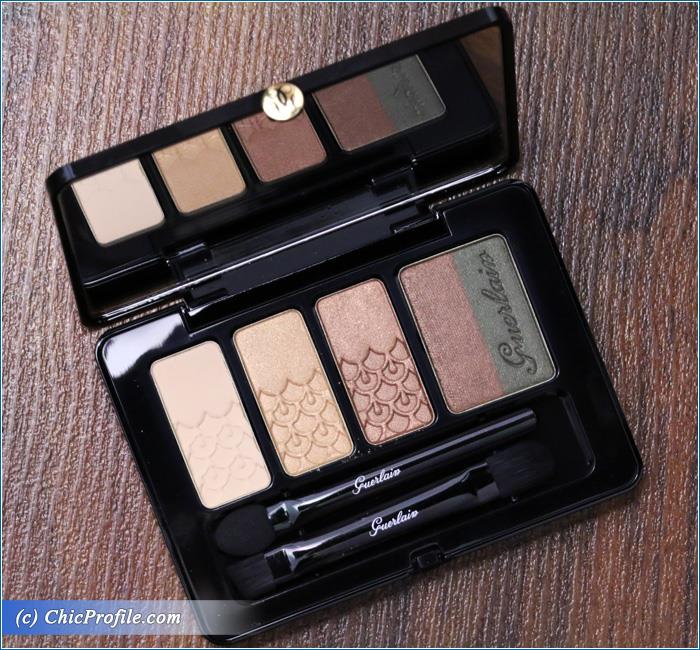 WHERE TO BUY

U.S. / UK – Now at SAKS, Nordstrom, Neiman Marcus, Sephora, Debenhams, John Lewis, Selfridges, Douglas, Escentual, Harrods
Guerlain Coque D'Or (03) 5 Couleurs Palette ($69.00 / €60.50 / 300 lei for 6 g / 0.21 oz) is a combination of 5 eye shadows from nude to smoky and they are enriched with Light Pigments, reflecting light to make the eyes seem more open and brighter. Besides the 5 eye colors the snap shut compact comes with a mirror encased and hold one sponge applicator and dual-ended brush.
Guerlain Coque D'Or #1 is a very light beige with warm undertones and a matte finish. It comes so close to my skin tone that it was actually hard to swatch it and make the color visible. It had a good pigmentation and is the kind of neutral shade that I would use for blending above the crease or illuminate on the brow bone or on the inner corner of the lid.
Having a matte finish makes it perfect for those who have hooded lids as using shimmery shades above the crease are not recommended. It had a soft and silky consistency, very smooth when I swatch it and felt it against my skin.
The texture is very fine and it doesn't feel dry or patchy. It's easy to work with, easily blendable but it doesn't adhere so well on bare skin so I like to use TFSI or Urban Decay primers. I had about seven and a half hours wear before it started to fade.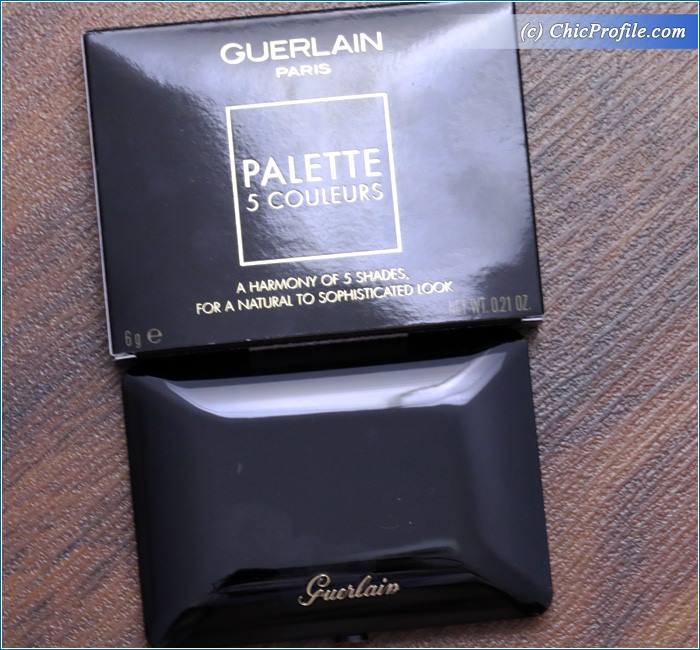 Guerlain Coque D'Or #2 is a warm-toned light gold with silver and gold sparkles and a light metallic finish. Overall it has a smooth texture but when it swatched, I couldn't help noticing it felt a bit dry and slightly gritty. It applies well, but adheres better on the skin on top of an eyeshadow primer.
It has a medium coverage, being perfect as an eye lid color or used for a pop of color on the inner corner of the lid. I had about 7 hours wear with this formula.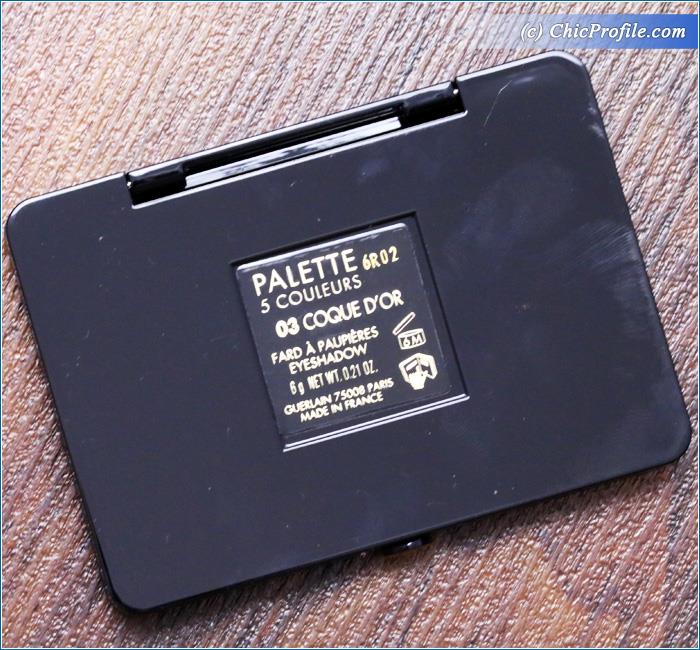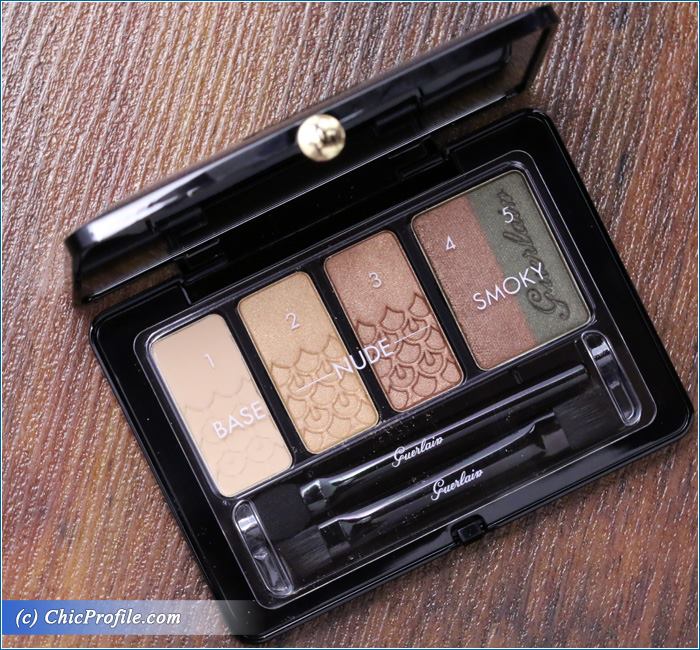 Guerlain Coque D'Or #3 is a medium nude brown with fine gold shimmer and a satin- metallic finish. It has a good color payoff, looking great even without the help of an eyeshadow primer, but definitely being richer and more intense on top of TFSI or Urban Decay primer potion.
It has a very fine and smooth texture, that applies evenly and blends easily. A beautiful color to be used on the lid and will complement any eye color. It has a silky consistency and didn't feel dry at all. It started fading after seven and a half hours of wear.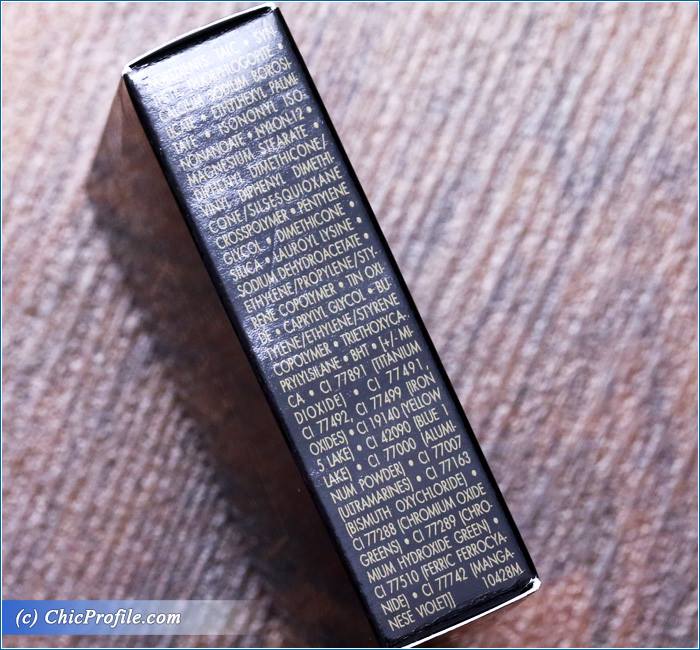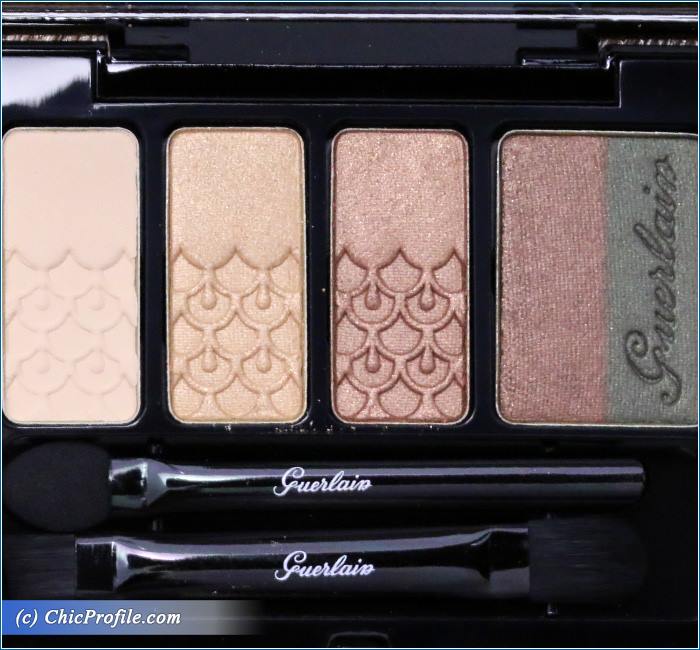 Guerlain Coque D'Or #4 is a dark warm chestnut brown with gold shimmer and metallic finish. It has an incredible smooth and silky texture, just a pleasure to swatch it. It feels so smooth and buttery so be careful to tap your brush and remove the excess before you start applying it on your lids.
It doesn't feel dry, gritty or patchy at all, but you may have to mind the fall-out during the application. I like to use this color to intensity my makeup, on the outer corner of the eye or in the crease, and also goes well with a brown smoky eye. It has a good pigmentation, good color payoff, making it in my opinion the best shade in the palette. I had about 8 hours wear with this formula.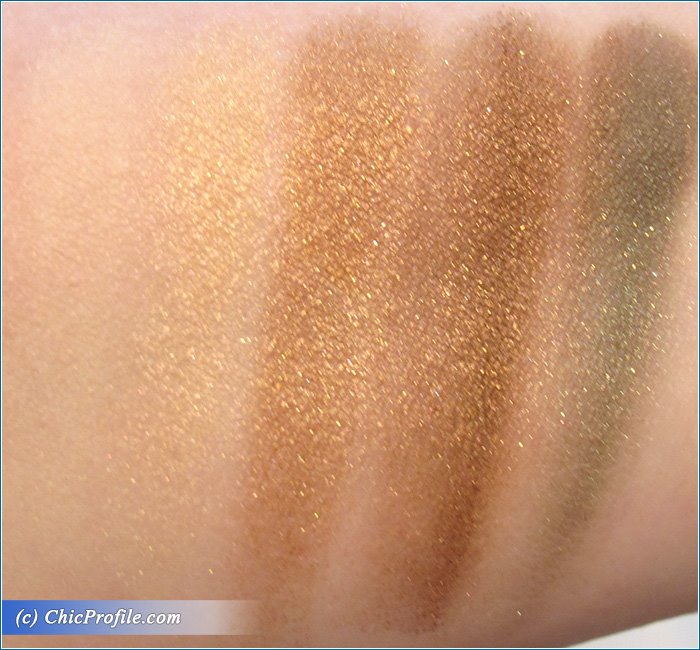 Guerlain Coque D'Or #5 is the darkest and smokiest color in the palette. It's a dark grayish-green with subtle gold shimmer and a satin finish. It had a fairly good coverage, not being to intense or rich without the help of an eyeshadow primer.
You need to layer the color if you want more opacity but you won't get something very dramatic out of it. It had a smooth, fine texture but felt a bit powdery and dry. I used it on the outer V just to intensify my makeup or smudged underneath my lower lash line. I had about 7 hours wear before it started to fade away.