Hello pretties!
Another day, another shade of Giorgio Armani Lip Magnet. I can't stress enough how in love I'm with the lip magnet formula and how much I like wearing this liquid lipstick, so here's a new shade (507) Garconne. I'll be brief in my review this time as I already talked about the formula, packaging and why this product is so amazing in my Eccentrico Lip Magnet review so let's get started with this shade. Don't forget to check out Giorgio Armani Mania Lip Magnet review as well. 🙂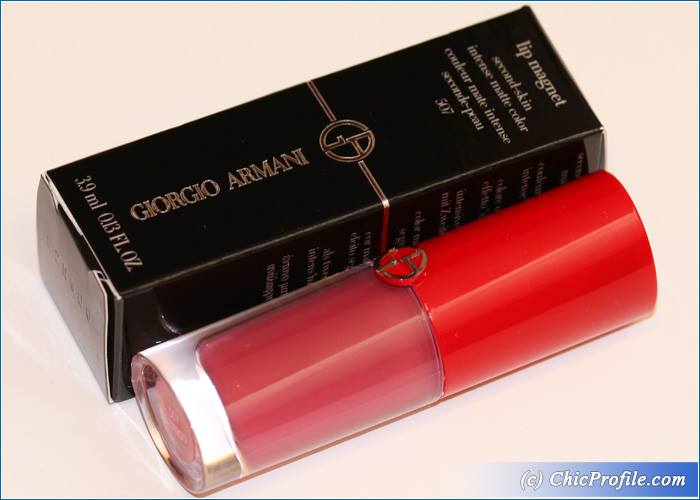 Where to buy:
Romania – Now exclusively at Douglas Baneasa Shopping Center
U.S. – Now at Sephora, Nordstrom, Neiman Marcus, Saks Fifth Avenue
UK – Now at Selfridges
Although the range is a matte liquid lipstick, the formula is enriched with nutritional oils, keeping the lips soft and hydrated, unlike traditional matte lipsticks. Take your pick from the wide choice of colours for each occasion.
Giorgio Armani Garconne (507) Lip Magnet (£27.00 / $38.00 / 163.00 Lei for 3.9 ml / 0.13 fl oz) is officially described as a mauve berry. It's a medium-dark reddish mauve with a matte finish. It has a good color coverage, insane pigmentation and can become opaque on the lips in just two coats.
Even though it might look like a gloss, it's a liquid lipstick, with the rich pigmentation of a lipstick and the long-lasting formula of a lip stain. It will stain your lips and it wears off, but that makes it even more reliable for me as I'm left with an even stain, that doesn't look patchy and can go on for another 2-3 hours. At this point I like to apply only a lip balm or a lip gloss on top of the stain.
I absolutely love how easily and evenly goes on the lips, with a super lightweight formula. I have times when I forget I'm wearing any lipstick at all…it just feels like a second skin. The formula is very thin and since it's a mixture or water, oils and pigments it won't dry your lips and give you that uncomfortable sensation once it dries down matte.
The applicator is absolutely amazing, as its pointed tip allows for a precise application and a flawless drawn of the cupid's bow. If you like matte finish lip colors but you hate to feel your lips dehydrated or see the formula sinking into your lip lines then you should definitely give Giorgio Armani Lip Magnets a try, you will feel in love in just one swipe of color.
Enjoy more photos…