Hello babes!
Get ready for the new Fenty Beauty Beach Please Summer 2018 Collection that's launching one week from now. I have some fresh info for you guys, plus some swatches at the end of the article. Keep on reading to find out more!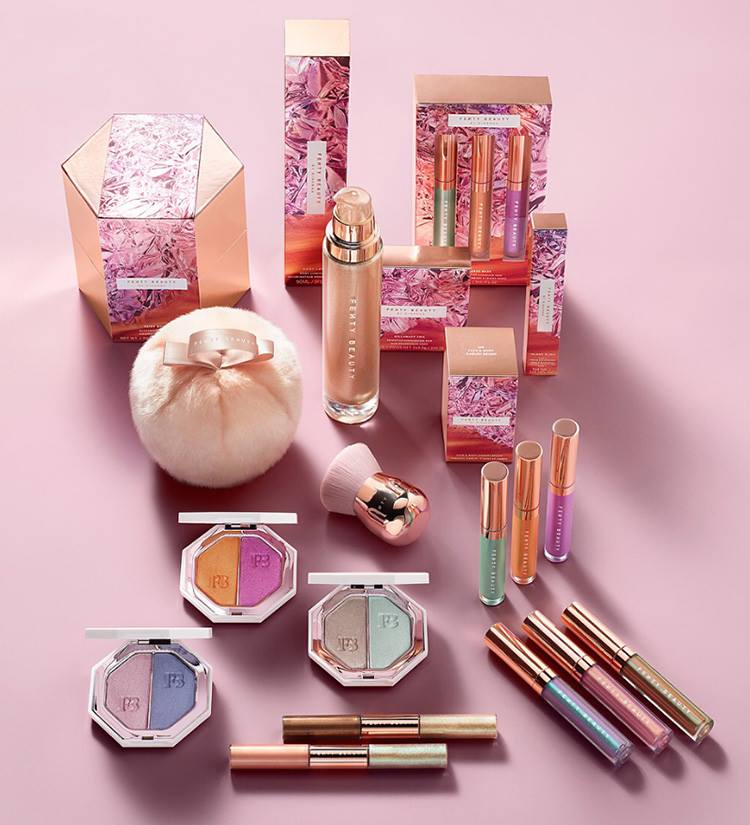 Availability
U.S. Launch Date – 21 May at Sephora
UK Launch Date – 21 May at Harvey Nichols
Fenty Beauty Beach Please Summer 2018 Collection
This is a multi-use product for eyes, lips and cheeks. The duos come in three variations and are super pigmented.
There will be two sets, each one including three shades. Here are some names and you can see swatches bellow!
Snake Skin – holographic burgundy / green shift
Mermaid Thighs – holographic blue / purple shift
Vaycray – holographic gold / pink shift
Single – mint with iridescent glitter
Bilingual – peach with iridescent fuchsia glitter
Ready to Mingle – fuchsia with iridescent glitter
Double-ended liquid eye shadows featuring metallic shimmer on one end and an iridescent glitter topcoat on the other.
I'm truly liking this collection. It's very vibrant, playful and colorful just like a summer collection should be. I feel like I'm taking a breath of fresh air watching Fenty Beauty Beach Please Collection and the crazy shades it features.
If you are color shy, maybe you'll want to look away from this color madness but you can't never know how easily one of the shades can get to your heart. 🙂
I definitely think it's worth checking it over the counter when it launches. Like always, I bet there's going to be a huge queue in front of Harvey Nichols store when this collection launches. 🙂
SHOP THIS POST