Hello beauties!
Over the past few weeks we got to see pieces of the new Too Faced Selfie Summer 2015 Collection being launched. I don't know why Too Faced decided to launch its summer 2015 makeup collection piece by piece and not all together but I do know it all started with Too Faced Cocoa Contour Palette (info, photos) which got my attention somehow as I knew this was not really smelling like a spring launch. I will be posting today about the rest of the products which will be hitting counters soon as for the other products featured in Too Faced Selfie Summer 2015 Collection I've already told about in separate posts. A new interesting palette was the new Too Faced Selfie Powders (info, photos) which I was really excited about at first but later when I read the review on Temptalia's blog I changed my mind about it. The one that I really want to see in person is Too Faced Natural Matte Palette (info, photos) which was released exclusively at ULTA first at the beginning of this month. Let's move on to the new part of this colorful summer makeup collection right after the jump.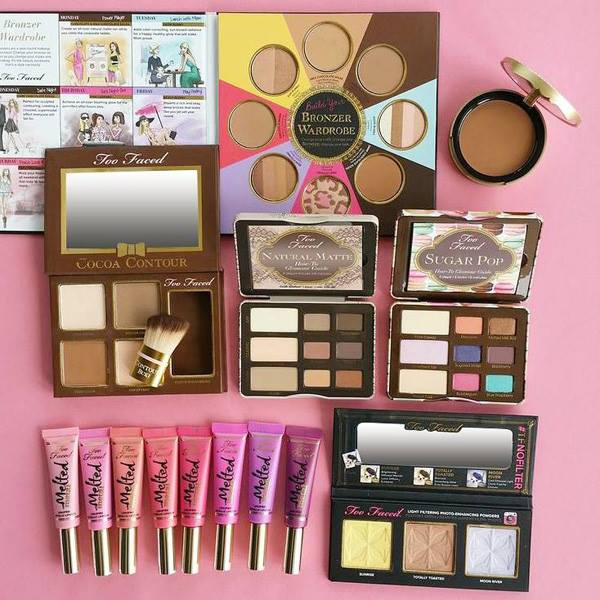 Availability
U.S. Launch Date – now online @toofaced.com | end March 2015 at Sephora, ULTA
Too Faced Selfie Summer 2015 Collection
Too Faced Dark Chocolate Soleil Deep/Tan Matte Bronzer – New – $30.00
Bronzing has never been so delicious. Inspired by our best-selling Chocolate Soleil Bronzer, we created Dark Chocolate Soleil for a richer, deeper matte bronze that indulges your skin in antioxidant-rich cocoa powder. Our shimmer-free, deep/tan matte bronzer is perfect for more sculpted contouring, creating a more dramatic, deep matte bronzed look. It's decadent chocolate scent smells as good as it feels.
Too Faced The Little Black Book Of Bronzers – New – $49.00
The Little Black Book of Bronzers is a coveted collection of our eight unique, iconic bronzers including our new Dark Chocolate Soleil. We created this ultimate bronzing wardrobe to give you a bronzer for every outfit, mood and moment! This limited-edition collection is hand illustrated and features an exclusive bronzer story for every moment and day of the week.
Chocolate Soleil: Antioxidant-rich, cocoa powder-infused matte bronzer that works on all skin tones, perfect for everyday contouring and creating an all-over deep tan.
Milk Chocolate Soleil: A lighter version of Chocolate Soleil that creates a more subtle, all-over warmth, perfect for those with lighter skin tones.
NEW Dark Chocolate Soleil: A darker version of Chocolate Soleil that's perfect for more sculpted contouring, creating a more dramatic, deep matte bronzed look.
Snow Bunny: Four luminous shades blend together for just the right amount of sun-kissed, natural radiance.
Pink Leopard: Trio of skin-brightening and bronzing pigments that combine for a glorious all-over glow.
Beach Bunny: Custom-blend bronzer combines four sun kissed shades for a skin perfecting, summertime tan any time of year.
Endless Summer: Stay all day universal bronzer creates a lit-from-within bronzed glow that lasts 16-hours or more.
Sun Bunny: Original bronzer features slight pink undertone in the dual shade palette that mimics the flush of a real tan.
Too Faced Sugar Pop Sugary Sweet Eye Shadow Collection – New – $36.00

Give eyes some sugar with our colorful palette of nine deliciously enticing, shimmer and glitter shadows in vanilla, chocolate and candy inspired hues that allow limitless, irresistibly sweet looks for eyes that sparkle and pop!
Shades:
Rock Candy
Macaron
Malted Milk Ball
Strawberry Ice
Sugared Violet
Blackberry
Peach Fuzz
Bubblegum
Blue Raspberry
Too Faced Melted Metal Liquified Metallic Lipstick – New Shades – $21.00
Introducing the next innovation in lip color – Melted Metal is liquified metallic lipstick in a tube. We've taken the 90's foiled statement lip and reinvented it with the lustrous look of liquified metal; creating a new form of wearable multifaceted color like you've never seen before. Melted Metal comfortably coats lips in bursts of rich, glazed, metallic color that melts on and makes a statement.
Enjoy more photos…