Hello beauties!
Too Faced Clover Eyeshadow Palette is one of the most desired items from Too Faced Holiday 2017 Collection. Who can resist that cute packaging? 🙂
Whoever said diamonds are a girl's best friend never met Clover – Too Faced Co-Founders Jerrod and Jeremy's adorable fur-baby. Inspired by our mini Chihuahua mascot, this limited edition eye shadow collection features 18 BRAND NEW matte and shimmer shades in exclusive Clover packaging. It's puppy love at first sight! Includes our signature Glamour Guide, with three looks to get you started. To celebrate the launch of our Clover palette we are donating $250,000 to Best Friends Animal Society!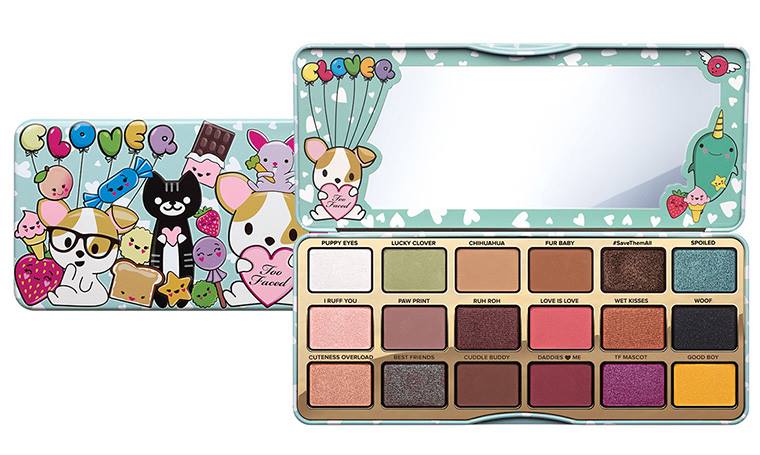 Availability
U.S. Launch Date – Early Access Now at Too Faced
Clover Eye Shadow Palette – $49.00
Inspired by Jerrod and Jeremy's mini Chihuahua, this limited edition eye shadow collection captures the playful spirit of Clover with gorgeous neutrals to match his milk and caramel-colored fur and bright pops of color to match his loveable personality. Plus all 18 new shades are named and packaged with our favorite mascot in mind.
Puppy Eyes
Lucky Clover
Chihuahua
Fur Baby
#SaveThemAll
Spoiled
I Ruff You
Paw Print
Ruh Roh
Love is Love
Wet Kisses
Woof
Cuteness Overload
Best Friends
Cuddle Buddy
Daddies Love Me
TF Mascot
Good Boy
SHOP THIS POST