Hello pretties!
I had my eyes on Estee Lauder Pure Color Envy Liquid Lip Potions since last summer when they launched internationally, but I admit that only last month I got to purchase a couple of shades. I don't know what happened to me since last fall but I'm more into purples than pinks, so the shades I wanted to try first were #430 True Liar and #440 Savage Garden. I will review them separately and today I'll start with the first one and show you even lip swatches. Estee Lauder Pure Color Envy Liquid Lip Potion was launched as a permanent product with a variety of 16 colors. Not all of them are available in Romania (at least at Debenhams) so do check out your favorites in the store.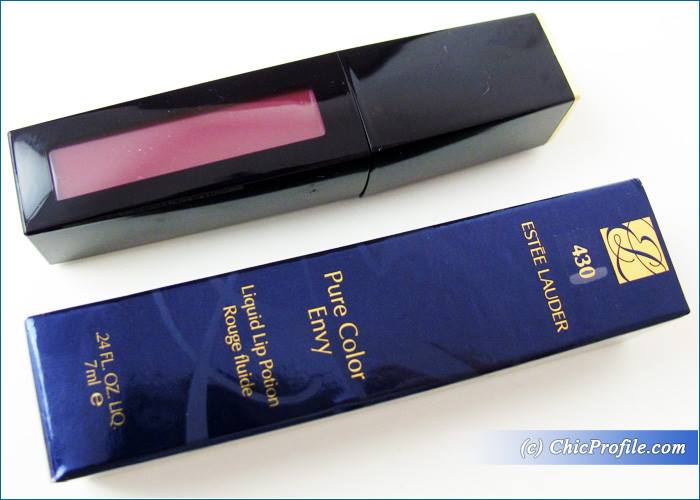 Where to buy:
Romania – Now at Douglas, Debenhams, Sephora
International – Now @esteelauder.com, Sephora, Selfridges
Estee Lauder True Liar Pure Color Envy Liquid Lip Potion ($30.00 / £25.00 / 152.00 Lei for 7 ml / .24 fl oz) is deep dark berry-purple with cool undertones and a semi shiny finish. The color is rich, deeply pigmented and opaque on the lips.
Estee Lauder presents this is a liquid lipstick hybrid that provides continuous moisture. It's the perfect combination between a lipstick which offers a high-intensity color, a lip gloss that provides shine and a lip balm that moisturizes your lips.
The color has definitely an impact on those with fair and light skin tones like me, it may look vampy, dramatic and edgy so I like to keep my eye makeup to a minim as I showed you on this Instagram photo. On those with medium and darker skin tones the color is more forgiving and would look so dramatic.
I love how pigmented it looks on the lips, even in one swipe and glides so easily and smoothly without leaving any lines or appear streaky. The formula definitely feels lightweight but it doesn't dry down completely, so it will always keep a natural shiny finish.
The formula contains a unique blend of avocado, jojoba, and sunflower oil, so my lips never feel dry, quite on the contrary they are hydrated and sometimes I have the sensation that I have nothing on my lips at all except a lip balm. The consistency is creamy, light, well balanced and glides effortlessly across the lip. It goes on wet and lasts for about 5 hours on me, which better than what other liquid lipstick offer but it's not quite the 8 long lasting hours formula that Estee Lauder promises.
Since the formula doesn't dry down completely, the downsize is that it may migrate to teeth and be transferred when you are eating or drinking.
When I wore this color for the first time I went out with my boyfriend so I can tell you for sure that it's not kiss proof at all, but on the contrary it transferred immediately to his lips. So from now when I'll only be wearing this color when I know I won't have to eat, drink or kiss for a few hours at least.
I like the stylish and chic packaging which has a navy color and a small transparent part where you can see the color. I also like the new applicator, more like a dual-sided applicator that allows you to shape and color with precise definition. One side has a rounded tip that follows the curves on my lips so I don't have to necessary use a lip liner, while the other holds extra color to build impact and delivers more pigmentation.
Enjoy more photos…