Hello sweeties!
For me Essence Lip Liners offers the best drugstore quality that you can find, so over the years I purchased and use so many colors. The other week I found myself at Prestige Boutique on the look-out for a new lip liner that will go with my newly purchased Estee Lauder True Liar Pure Color Envy Liquid Lip Potion (review, swatches) that I told you about earlier today. So the closest matching shade that I found was Essence #15 Honey Berry Lip Liner that I'll be reviewing today.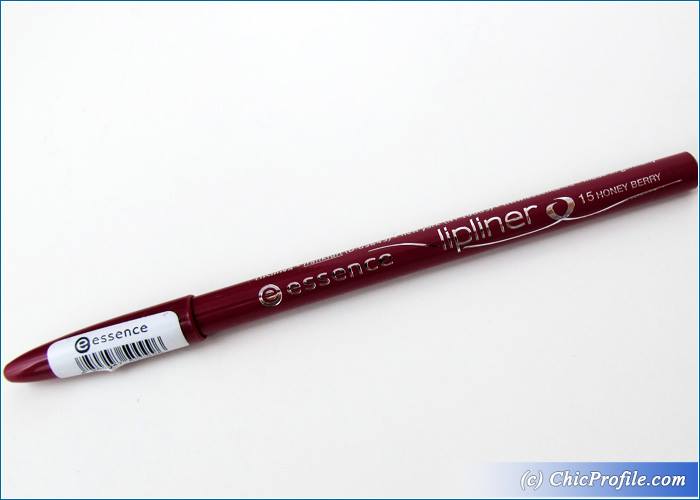 Where to buy:
Romania – Now @boutique-produsecosmetice.ro, @emag.ro and local drugstores like Prestige Boutique (blv Iuliu Maniu, nr.59 Bucuresti)
International – Now @kosmetik4less.de
Essence #15 Honey Berry Lip Liner (€1.45 / 6 Lei for 1 g / 0.035 oz) is a medium-dark raspberry with violet undertones and a matte finish. It has a good color payoff, being opaque on the lips and delivering a rich color in just one swipe.
The consistency is very well balanced, creamy but without being too soft so it will glide effortlessly across the lips. The tip offers a precise application, but I like to sharpen it each time, because I always fill in my lips with this color, not only just drawing a lip contour.
If offers a beautiful semi matte finish, that doesn't look dry or patchy on the lips, doesn't emphasizes lip lines so I sometimes find myself wearing it just as lip color without adding any lipstick or lip gloss on top.
It doesn't transfer on the lips, so it has a quite long lasting formula that will get your through any meal or drink without transferring on the glass. I get about 5 hours wear with this formula and when the color wore away it leaves an even stain behind which persists for a couple more hours.
Personally the only downsize that I can find to Essence Lip Liners throughout the years is that, I'm finishing them pretty quickly, especially if I'm using the same color on daily basis, and not to mention that when you fall in love with one shade (like the famous Satin Mauve) you find out that was discontinued. So now, each time I discover a shade that I like and I'm prone to using frequently I'm making supplies.
Enjoy more photos…