Hello pretties!
I'm super excited to show you my new MustaeV products that I got a while ago and I've been using them ever sins. I'm talking about their amazing, already popular Bloom Pouch and Brush Cleaner Spray. These are two must-have products that should not miss from any makeup artist, beauty blogger or makeup lover stash.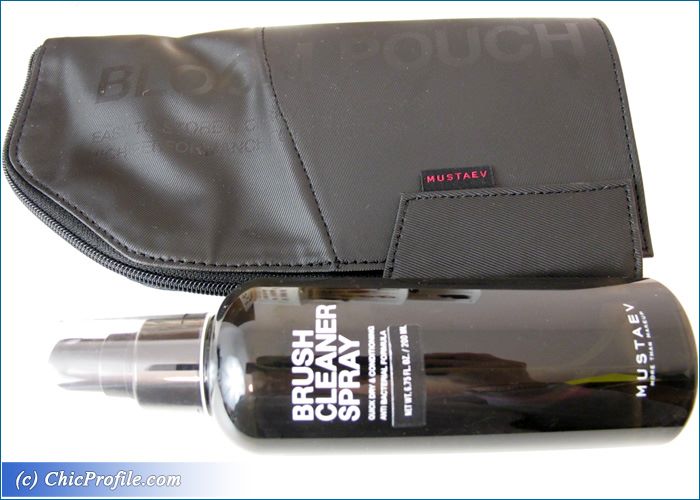 Where to buy:
U.S. & Worldwide – @mustaevusa.com (15% Discount using discount code: chicprofile), @mustaev.co.kr (International Shipping)
I've read about MustaeV Bloom Pouch before on several blogs and I wanted to have it in my stash ever since it launched. It comes available in two sizes Large ($35.00) and Small ($30.00) and the one that you see in the photos bellow is the large one which has a length of 24 cm. Depending on what you want to store in these pouches you can choose your size, but I would definitely recommend you trying out the Large size first.
MustaeV Bloom Pouch was designed to store brushes along with other products. I for example like to fill it with a couple makeup essentials as: two MustaeV eyeshadow quads, foundation and primer, MustaeV Maxi Volume Mascara (review), a lip product, an eyeliner. It's perfect for me to keep inside my makeup essentials when I'm on the go or when I'm away for 2-3 days and I don't need to take my makeup bag with me. While I'm at home I like to use it to store my makeup brushes and place it on my vanity table.
What I found amazing about MustaeV Bloom Pouch is that it can easily be folded to create a standing holder or zipped closed to conveniently store brushes and products. Makeup Artist will surely find this feature so useful and handy, especially when they have to bring their makeup stash with them and do the entire makeup sessions at the client's place.
The small MustaeV Bloom Pouch can store mini size or travel size brushes along with mascara, eyeliners, lip glosses, lipsticks, lip liners and medium size products. Both versions have a magnet which allows the pouch to stand just like a brush holder. I will definitely do a video demonstration so you can see more of this handy makeup and brush pouch and I will update this article afterwards.
MustaeV Cleaner Spray ( $16.00 for 200 ml / 6.75 fl oz) offers a convenient cleansing of you brushes by removing makeup debris and bacteria along while protecting and conditioning the brush hairs. You can quickly start using MustaeV Cleaner Spray to clean your brushes after you've done your makeup but at least once a week you need to deep cleanse them. You can use MustaeV Brush Cleaner Shampoo or any other special shampoo that you have.
The product comes in this plastic semi transparent brown bottle with a transparent cap. It's easy to see how much solution you have left inside and it's easy to spritz it on your brushes for a quick clean.
Enjoy more photos…