Hello beauties!
I wanted Estee Lauder The Makeup Artist Collection for myself since I first posted about this amazing offer. Every year before the holiday season starts, Estee Lauder presents its famous Christmas gift sets and along with them the annual Makeup Case. You've already seen me unboxing Estee Lauder Holiday 2015 Makeup Artist Collection (video) about two weeks ago when I was in London and I'm sure you noticed my excitement as this is one of the holiday 2015 gift sets that I've been planning to buy as a Birthday present (coming up next week) from me to myself.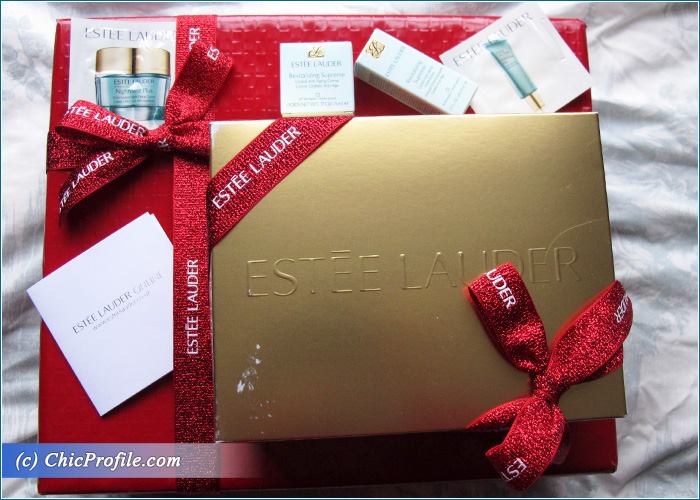 Availability
U.S. – Now at Estee Lauder counters and online @esteelauder.com
UK – Now at Selfridges, Boots, House of Fraser, John Lewis and online @esteelauder.co.uk
Estee Lauder The Makeup Artist Collection ($59.50 / £54.00) is a great deal for your money as you get makeup and skincare products worth more than $350 / £290.
I'll be more than honest with you and admit that even though I don't like red (you know it's a color I rarely use), I don't know how it happened but I got madly, instantly in love with the gorgeous glossy red case and this was one of the reasons why I bought the entire collection.
Obviously as a makeup lover and beauty blogger I also got an interested in the Estee Lauder Holiday 2015 Deluxe Eye Palette which contains a variety of nudes and earthy tones with two blushes of pink and subtle peach. I'm usually choosing a natural makeup (or pink) look during the day and I like to accentuated with more deep brown, copper and bronzy shades for the evening. The packaging of this palette is absolutely gorgeous, just a like a sun spreading its rays and making it look so precious. Most of the shades have a sheer or medium color payoff, but here are a couple of them which are more intense. I feel like this holiday palette deserves an individual review so I'll be posting it later today if you guys want to check it out.
The same packaging is addressed to Estee Lauder All Over Shimmer Palette which is available in a limited edition. I personally feel like the color is a bit too dark for light and fair skin tones so I had to apply it with a light hand but I definitely like the effect and luminosity it gave to my cheekbones.
The Sumptous Extreme Lash Multiplying Volume Mascara is no stranger to my lashes as I've been using and loving this mascara for years and since my old one was almost finish, I was really happy to find a new one in this makeup collection.
The set also contains a mini size Estee Lauder Modern Muse EDP (4 ml), Estee Lauder Advanced Night Repair in a mini size of 7 ml/ .24 fl oz, Revitalizing Supreme Global Anti-Aging Cream (15 ml/ .5 fl oz), Gentle Eye Makeup Remover (100 ml/ 3.4 fl oz), 3 colors of Estee Lauder Pure Color Lipstick in full size (upcoming individual reviews), 2 shades of Pure Color Gloss and a red glossy makeup pouch.
Since I ordered this online I also got to choose my samples so I went for 2 travel size products of EL Revitalizing Supreme Global Anti-Aging Creme (5 ml/ .17 oz) and Revitalizing Supreme Global Anti-Aging Mask Boost (5 ml/ .17 fl oz) and two samples of Night Wear Plus Anti-Oxidant Detox Creme and 3 Minute Detox Mask.
I also got the Estee Lauder Beauty of the Night Collection (unboxing video) which I already showed you in detail on a previous Youtube video but I'll be also posting photos and more details here on the blog later on. I'm currently using the skincare products from this set so upcoming reviews will follow in a few weeks.
Enjoy more photos…