Hello sweeties!
I couldn't help posting again about the new release of Estee Lauder Pure Color Envy Sculpting Gloss and Lacquer, as these kind of lip products are my favorite and if they come in a variety or pink, purple and nude shades then I'm totally sold.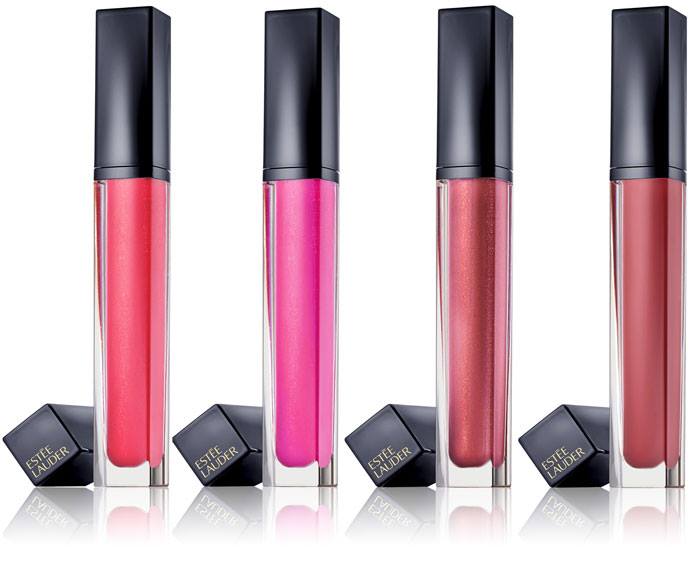 Shape, Sculpt, Magnify. Be Bold. Estée Lauder introduces Pure Color Envy Sculpting Gloss and Lacquer – an enviable lip collection that transforms the look of lips. New high-performing formulas – provide comfort, lasting moisture, and multidimensional lip glazing shine for a look of magnified volume – without the sticky mess. A wardrobe of glowing possibilities designed to be worn alone or over your lipstick, the Pure Color Envy Sculpting Gloss and Lacquer creates a full spectrum lip collection. From subtle to bold, crème to shimmer, gloss to lacquer – there is a finish and shade for every skin tone, every occasion and every desire.
Availability
U.S. Launch Date – Now at Nordstrom and beginning January 2016 at Estée Lauder counters
nationwide and @esteelauder.com
International Launch Date – February 2016 at Estee Lauder counters
Estee Lauder Pure Color Envy Sculpting Gloss and Lacquer Spring 2016
Estee Lauder Pure Color Envy Sculpting Gloss – New – $26.00
Shimmer Gloss Shades:
Nudes to Browns: Discreet Nude, Intense Spice, Wild Mink, Fiery Almond
Pinks to Berries: Shameless Glow, Suggestive Kiss, Jealous Blush, Passionate Fuchsia
Corals to Reds: Shell Game, Seductive Honey, Red Extrovert, Flirtatious Magenta
Mauves to Plums: Inspired Mauve, Reckless Bloom, Plum Jealousy, Berry Provocative
Creme Gloss Shades:
Nudes to Browns: Copper Ego
Pinks to Berries: Eccentric Flower
Corals to Reds: Tempting Melon
Mauves to Plums: Plum Impulse
Estee Lauder Pure Color Envy Sculpting Lacquer – New – $26.00
Lacquer Shades:
Nudes to Browns: Apricot Allure, Potent Petal
Pinks to Berries: Mulberry Tease, Thrilling Flame
Corals to Reds: Wicked Apple, Peach Seduction
Mauves to Plums: Fierce Crimson, Orchid Intrigue
Exceptional Finishes
Headlining the NEW Pure Color Envy Sculpting lip collection, the NEW Pure Color Envy Sculpting Gloss reimagines gloss with a new fluid lip balm texture in a range of lip glazing finishing effects. Featuring a range of 20 shades in a shimmer or crème finish, each high performing glistening shade works with the lips natural silhouette to optically sculpt and magnify their shape and curve for smooth, multidimensional color and enviable shine. Advanced True Vision Technology provides a moisturizing shine with high shine color to accentuate and contour the look of lips. The comfortable
balm texture provides a precise, even application of sheer buildable color, shine and dimension to lips.
The Pure Color Envy Sculpting lip collection is further expanded with the addition of the New Pure Color Envy Sculpting Lacquer in eight seductively rich lacquered hues. Combining the creamy coverage of a lipstick and the highshine of a gloss, lips are drenched in an opulently pigmented lacquer that creates a lusciously brilliant and glass-like glazing finish. Estée Lauder's True Vision Technology provides the ultimate color payoff, while multi-functional polymers seal in moisture and form a color stay barrier to keep brilliant color and impeccable shine looking fresh, supple
and vibrant for a lasting 6 hour wear.
The Pure Color Envy Sculpting Gloss and Lacquer are designed to be worn alone or over lipstick, and the newly enhanced formula saturates lips with hydration for immediate and long term moisturizing benefits. Containing the exclusive Moisture Complex with Hyaluronic Acid, both help to boost lips' ability to attract, capture and seal-in continuous hydration for lips that feel kissably soft, smooth, and supple.
Enviable Packaging
New Pure Color Envy Lip Gloss and Lacquer are presented in a crystal clear, square silhouetted vial with a midnight blue cap in line with the 'iconic' Pure Color Envy family. The new paddle applicator provides versatility across all three distinct finishes and is expertly designed to embrace the curves of lips for precise application delivering perfectly sculpted dimensional color, shine. When applying, the customized paddle features a center reservoir to release the perfect amount of product onto lips for buildable, full color and shine coverage, as desired.
Seductive Shades
Pure Color Envy Sculpting Lip Collection is an expertly curated collection of modern and youthful lip glosses and lacquers in an array of seductively rich hues, from sultry nudes to daring wines. Designed to complement every skin tone, for every occasion and desire, the gloss collection features a total of 20 shades in an assortment of two finishes: a purest of crème and a soft glistening shimmer. The lacquer collection features 8 stunning shades for a wet, lacquered finish.
Enjoy more photos…