Hello pretties!
It didn't took me more than a couple of seconds to decide that I wanted Dolce & Gabbana Intense Colour Gloss in No.65 Raspberry. While I was shopping at Harrods, I couldn't miss D&G beauty counter as I not only wanted to check out their holiday 2015 collection (info, photos) and sniff the new D&G The One Essence fragrance but also to do some makeup purchases and acquire a couple of new lip colors for my luxury makeup collection. Dolce & Gabbana makeup products always meant the ultimate luxurious makeup items, anyone would desire in their collection and I've always been in love with the golden mirror-like packaging.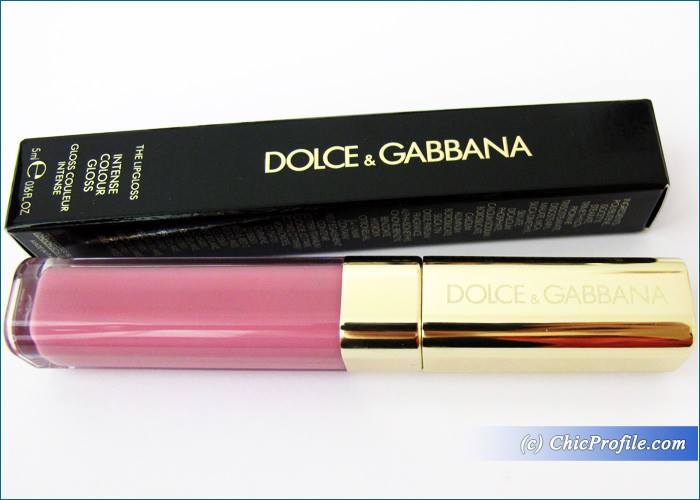 Availability
UK – Now at Harrods and online @harrods.com
U.S. – Now at Sephora, Saks and @dolcegabbana.com
Dolce&Gabbana Raspberry Intense Colour Gloss ($32.00 / £23.50 for 5 ml / 0.16 fl oz) is a cool-toned light lavender pink with a shiny finish. I wanted a lip gloss with an intense full color coverage and a high gloss shine so when I saw this gorgeous shade I knew it was right up my alley.
Indeed the color is intense, gorgeous for everyday makeup look with a luxurious twist. It has a strong rose scent without having any taste. The formula is creamy and fluid and it glides easily across the lips. It feels so soft on the lips without being sticky or tacky and delivers a mirror-like shine.
While I absolutely love the color, I don't like so much how it looks on me as it tends to settle into lip lines and appear a bit streaky. I noticed it does a much better job when I layer it over a similar color lipstick, but when I wore it on its own I don't really like the effect. I would have desired a formula that would simply glide across the lips evenly and without emphasizing the lines.
It gives me such a nice hydration and comfortable feel but I do prefer to wear it over a lipstick pretty often. One of the benefits is the formula has sheer and shiny reflective polymers so it does make your lips look fresh and fuller.
I tend to have about 4 hours wear with this color and after I ate or drink it fades gradually without staining the lips.
The packaging is luxurious and I love the touch of gold while the rest of the tube is see-thru so you can actually see the color and remaining product. It comes with a doe-footed applicator which delivers the perfect amount of lip gloss for one application.
Enjoy more photos…