Hello pretties!
The truth is that since Autumn started I feel guilty of too much shopping and less posting on the blog, and I mean reviews and swatches of the products I bought. Estee Lauder Holiday 2016 Blockbuster (official info, promo photos) was one of this year's holiday goodie releases that I had to have in my collection. I've been buying their blockbuster holiday editions for years and it's kind of a tradition for me, not to mention that the products are mostly full size and you get a great deal for your money. I admit though, this year's blockbuster didn't seem quite appealing to me on the makeup side, but I was sold the minute I spotted the full size Advanced Night Repair Serum and Sumptuous Extreme Lash Multiplying Volume Mascara which is one of my top 3 favorites and I always keep an extra one or two tubes in my drawer.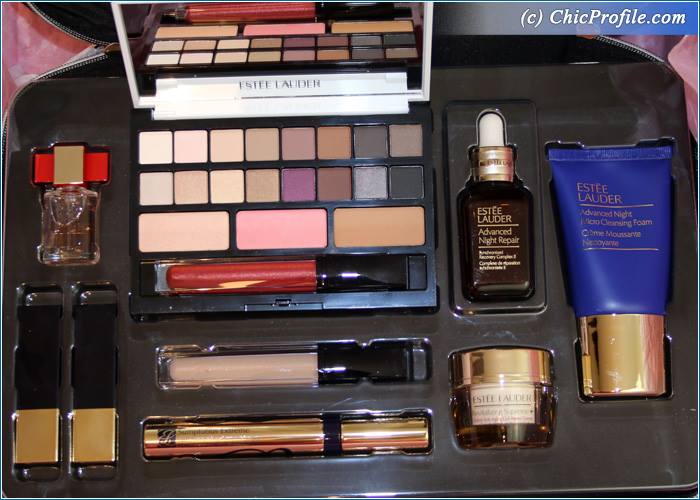 Where to buy:
Romania – Now at Douglas Perfumeries for 550.00 Lei
Estee Lauder Holiday 2016 Blockbuster – Limited Edition – $62.00 / £58.00 / 550.00 Lei
Deluxe Eye Palette with 16 Best-Selling Pure Color Envy Sculpting EyeShadow shades and 3 limited edition Pure Color Envy Blush shades: Luminizer, Peach Passion, Sculpting Bronzer
2 Pure Color Envy Sculpting Lipsticks (full-size) in Carnal and Irresistible
2 Pure Color Envy Sculpting Lip Glosses (full-size) in Red Extrovert and Intense Spice
Sumptuous Extreme Lash Multiplying Volume Mascara (full-size) in Extreme Black
Advanced Night Repair Synchronized Recovery Complex II, 1 oz. (full-size)
Advanced Night Micro Cleansing Foam, 1.7 oz.
Revitalizing Supreme + Cell Power Creme, .5 oz.
Modern Muse Le Rouge Eau de Parfum Travel Spray, .16 oz.
Travel Case
If you haven't experienced that much with Estee Lauder makeup or skincare, then this blockbuster is a great way to do it, because it includes various makeup products and a few skincare items as well, not mention a mini size fragrance. Basically I see this blockbuster as the perfect give for yourselves (exactly my case) or as a luxurious gift that anyone will surely appreciate. You have everything you need here from eyeshadows, powder, blushes, mascara, lipstick and lip glosses to fragrance, face serum and anti-aging cream, but also a makeup remover.
I purchased my Estee Lauder Holiday 2016 Makeup Artist Collection from UK from the @esteelauder.co.uk website and even though they don't deliver in Romania, I found a way to bring it here with more than a month earlier than if I'd got in the Romanian shops. I also the skincare set and as you might now the condition to get the blockbuster was also to purchase any Estee Lauder fragrance so I got myself the Pleasures one.
If you are following me on Instagram I bet you've already seen me opening the package (Instagram video) right the day it came and how excited I was about trying everything. I had time to use all the products ever since and I hope I'll get the time to post those reviews in the upcoming days.
The color combination of the palette didn't impress me much, I mean I already had similar shades and what this palette offers is mostly nudes and browns with a touch of purple. I mean overall it's the type of a classic palette which can suit everyone who wants to achieve a casual, day-to-day or office appropriate makeup look but who can also darken their makeup to make it more evening appropriate if they wanted to.
On a first look the entire set might look pricey but if you only consider the full size ANR then you'll see that you are basically get the rest of the products free. The lip colors, again are not something I'd go for on a daily basis, not even as a first choice for a party but I'm sure they are on someone's else list of favorite colors. The lip glosses were pretty sheer, the white one I was actually wearing it through the day for a natural touch with a bit of shimmer or applied over a lipstick, later on in the evening to give it that pop of sparkle.
Enjoy more photos…