Hello beauties!
Have you done your Christmas shopping, have you chosen the gifts for your family and friends and why not even for yourselves? Well, I kind of did mine earlier this month when I was in London and Estee Lauder Fragrance Treasures gift set is one of my favorite holiday 2015 picks.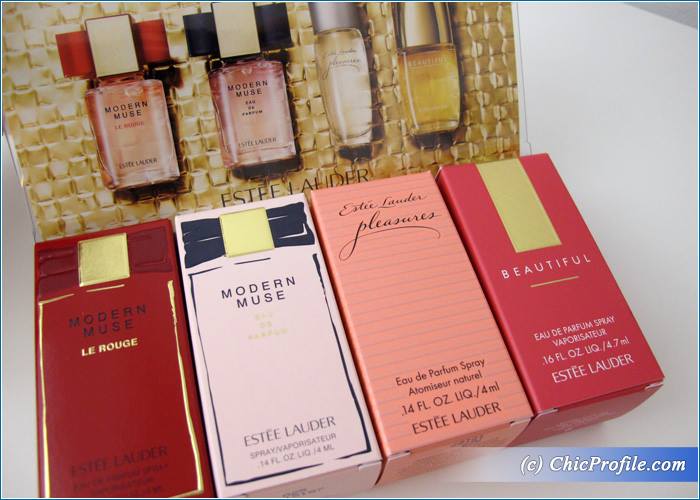 Availability
UK – Now online @esteelauder.co.uk
U.S. – Now online @esteelauder.com
Estee Lauder Fragrance Treasures ($35.00 / £32.00) is a limited edition collection which includes four mini size Eau de Parfum bottles. The variety of fragrances like the new edition of Modern Muse Le Rouge, the famous Modern Muse and classic scents like Estée Lauder Pleasures and Beautiful could represent the perfect gift for you if you can't decide on which one you like more or for someone whom fragrance taste you may not know yet so this way you can't go wrong.
I know quite a few men that purchased the new Estee Lauder Fragrance Treasures set to surprise their loved ones and not to be accused that they haven't gotten the right scent, because this time you have four different fragrance to choose from.
I personally don't go for mini or travel size fragrances but I must admit they are handy when you need to travel and you don't want to take 2 or 3 of your fragrances with you to take up that much space in your luggage and if you are like me those are also 100 ml bottles. 🙂 So this time when I went in London for a quick vacation, I took with me only a mini size fragrance and I knew that this set was already waiting for me there, so no more full size perfume bottles in my luggage this time.
Each mini Eau de Parfum Spray contains .16 fl oz / 4.7 ml so they are quite small indeed, but enough to decide if you like the fragrance or not, in order to purchase the full size. I personally bought the set especially for those two Modern Muse Eau de Parfum editions and because I got this Estee Lauder Holiday 2015 Fragrance Set I qualified for the purchase of Estee Lauder Holiday 2015 The Artist Makeup Collection (unboxing video) which I reviewed and blogged the other day.
Enjoy more photos…