Hello lovelies!
I knew exactly what department stores and beauty shops I wanted to see and buy from right before I came to London, so I had to stop by Harrods just because of my love for Dolce & Gabbana makeup. Obviously I couldn't help myself of spending some change there on these gorgeous pink lip products and I also took a closer look at the new D&G The Essence of Holidays 2015 Collection (info, photos). Once I smelt D&G The One Essence fragrance, I had to put it on top of my "next fragrance purchase" list and I was also able to swatch the new D&G Sophia Loren Lipstick (photos) but decided the color is not for me, but definitely gorgeous and classy for more mature women.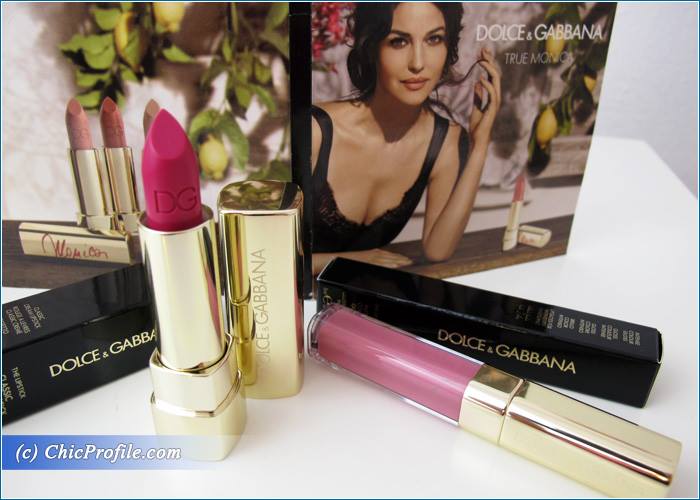 Availability
UK – Now at Harrods
U.S. – Now @dolcegabbana.com and Neiman Marcus
I'm addicted to pink as you well know it so I couldn't leave Harrods without purchasing a bright pink shade of D&G Classic Cream Lipstick in No.255 Shocking and delicious nude violet pink D&G Intense Colour Gloss in No.65 Raspberry.
I'm madly in love with these shades and I admit I wore the lip gloss more than the lipstick (once a lip gloss gal always a fan), but they will be both featured in individual reviews later this week.
I just love the lipstick formula as it's so creamy and has an intense color coverage so my lips are bursting with color, while the gloss is also quite pigmented and gives a nice shiny color coverage while my lips appear fuller.
My friend Gio from BeautifulwithBrains also handed me a sample of the D&G True Monica Lipsticks in Nude Monica, True Monica, Natural and Gentle Monica and I can't wait to give them a try later this week.
Enjoy…