Hello sweeties!
MustaeV Matte Eyeshadow is one of my newest shades that I've been teasing you with lately and also last week when I showed you my latest MustaeV makeup products (swatches, photos). A good shade that will match your skin tone and has a matte finish is a must so everyone should have it in their makeup palette or as a single eye shadows. For me some of go-to matt finish cream shades are Jordana Creamy Vanilla Eyeshadows, MAC Vanilla and the two lightest shades from YSL Nu 10 Color Eye Palette (review) and Lancome My French Noel Holiday 2015 Palette (review) so I definitely had to try one from MustaeV as well.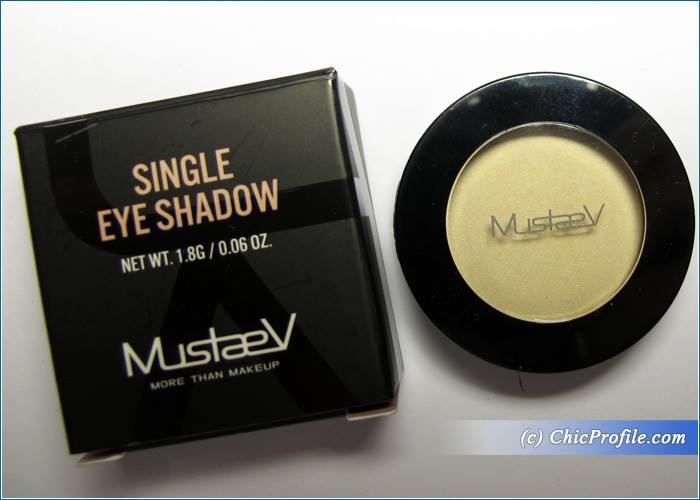 Availability
International – @mustaevusa.com (15% Discount using discount code: chicprofile), @mustaev.co.kr (International Shipping)
MustaeV Matt Eyeshadow ($13.00 for 1.8 g / 0.06 oz) is a natural cream, a light vanilla-beige with a matte finish. This shade matches perfectly my skin tone so it's perfect for blending with other colors or above the crease or even to add luminosity under my brow bone.
It has a medium color coverage, looks very natural on the lid, adds luminosity while it keeps the finish matte and can be used on a daily basis and combined with any color. It's the kind of shade that will complement any skin tone as it can be used by fair and light skin tones as a matching/ blending color and for darker ones to add luminosity on inner corner of the lid or applied on the brow bone.
It has a good pigmentation with and without an eyeshadow primer and bellow you'll find swatches to demonstrate that. The formula is soft, smooth but not very buttery or silky, it adheres well on the lid and it's easily blendable.
It has no fall-out during the application while the sebum control powder absorbs sebum and assist with maintaining a hydrating, non-drying feel, with a long crease-free wear.
Since I got it, I used only this shade and skipped my other favorites and while I was in London I used it every day to the point like I felt I'm abusing it. 🙂 It wears on me from beginning to end without creasing or fading throughout the day. I have about 10 hours wear with this formula before I start noticing a slightly fade of its color intensity.
Now about the packaging, you already know that I love and admire MustaeV also because I find they are the only one so far to pay attention to the packaging and make it so easy to open it. Look at the photo bellow and you'll understand how easy it is to take out the eyeshadow without breaking a nail or damaging your nail polish. As for the case itself, MustaeV always packs its eyeshadows in a single round black plastic case with a transparent lid that snaps shut. Very easy to open, hold and work with and even easier to depot it. Check out my video on how to depot MustaeV eyeshadows.
Enjoy more photos…