Hello lovelies!
Essie presents its new Neon Collection for summer 2014 and it's not the only brand announcing bright nail polishes for the hot season. Essie will also release a Neon cube which will feature four of the new neon polishes, a 12 nail polish display and a 36 nail polish display specially for nail salons.
Attention All Shoppers Heard in shopping destinations around the world, it's a phrase with the power to cast a spell. Shopping is the kind of me-time that is just so addictive and fun. Is there anything more satisfying than finding that essential staple piece for this season's wardrobe? Like scoring that hard-to-find, must-have item that screams, "i'm addicted!" It's chills & thrills when you do! Fashion is life, or is that vices versa? There's a fine line between serial shopper and totally obsessed. But, if you're smart and don't do anything too taboo, you'll be sittin' pretty in your perfect purchases. So get out there and treat yourself to something special – you deserve it!f

Availability
International Launch Date – 1 May 2014 at ULTA
Essie Neon Collection for Summer 2014
Nail Lacquer – $8.50
Shades:
Too Taboo – This vivid intense fuchsia is poised to take the world by storm. Sit back, relax and enjoy the glow.
Chills & Thrills – Wildly sexy. Totally unexpected. This supercharged neon blue violet keeps you on the toes.
Vices Versa – It is so good to be bad in flawless juicy neon lime. Cool and contrary, this opposite attracts.
I'm Addicted – Bright. Hot. Dangerous. Nothing off limits for this decorum-defying neon aquamarine blue.
Sittin' Pretty – To buy or not to buy? Go ahead, splurge! This florescent berry hibiscus is a total must.
Serial Shopper – Full disclosure: this you-know-you-want-me fluorescent fire coral is seriously habit forming.
Enjoy more photos…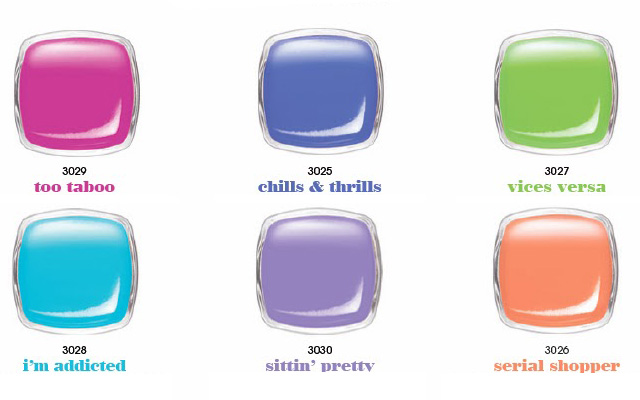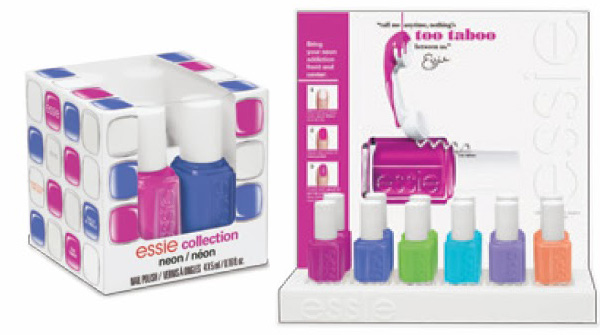 Is any of these neon polishes calling your name?