Hello lovelies!
Essie presents its new Wedding Collection for all brides to be. This year the collection features four new nail polishes in light blue, white and pink shades.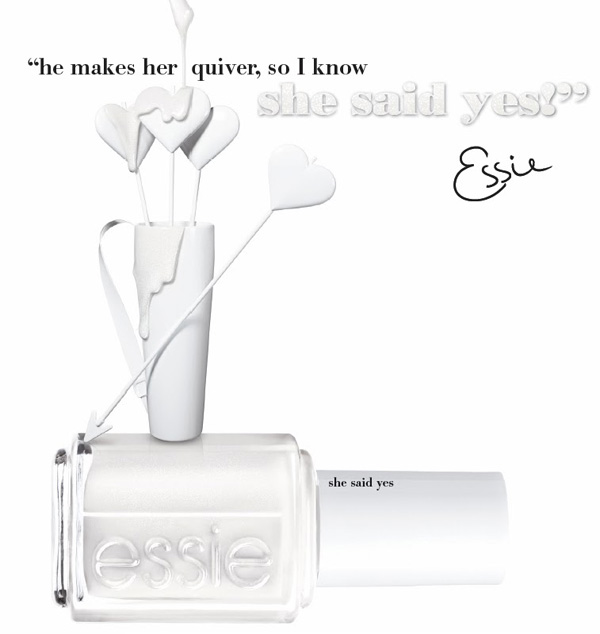 Love is so inspiring and a newly engaged couple is the very picture of romance. The excitement of the moment is so special. How did he propose? Did she say yes right away? And what about the ring? All the details of the proposal never fail to enthrall friends and family. Like nding Mr. Right, nding the perfect nail color is essential for the happy occasion. From the prettiest blue, to the most delicate sheer – go for re ned, radiant shades. Refreshing bridal colors are not only perfect for the wedding day itself, but also create a beautiful backdrop for a new engagement ring. So, whether you're a bride-to-be or just in love with soft, ultra-feminine color, these shades are de nitely an aisle-do!
Availability
International Launch Date – 1 May 2014 at ULTA, @transdesign.com, @nailsave.com
Essie Wedding Collection for Spring 2014
Nail Lacquer – $8.50
Shades:
She Said Yes – She's never looked more radiant than she does in this delicate vanilla sheer with subtle silver shimmer.
Meet The Parents – You are quite a catch in this cool, relaxed chambray. It's that perfect something blue that calms fiancees jitters.
Got Engaged! – Rock this warm nude pink with graceful prismatic sparkles and say "With this bling I'll thee wed"
Love Every Minute – A 24/7 whirlwind romance calls for this absolutely irresistible duchess satin rose coral.
Enjoy more photos…