Hello beauties!
I began this week with Guerlain Red Heels Nail Enamel on my nails, a new spring 2016 Guerlain nail color featured in the recently released and permanent Guerlain La Petite Robe Noire Spring 2016 Collection (swatches, info, photos). Red Heels (003) nail polish is one of the star colors of this collection and even though you know I'm not choosing red nails pretty often, I can't deny this is such a classy and vibrant color and it even attracts attention as quite a few people enjoyed taking a closer look at my nails this week.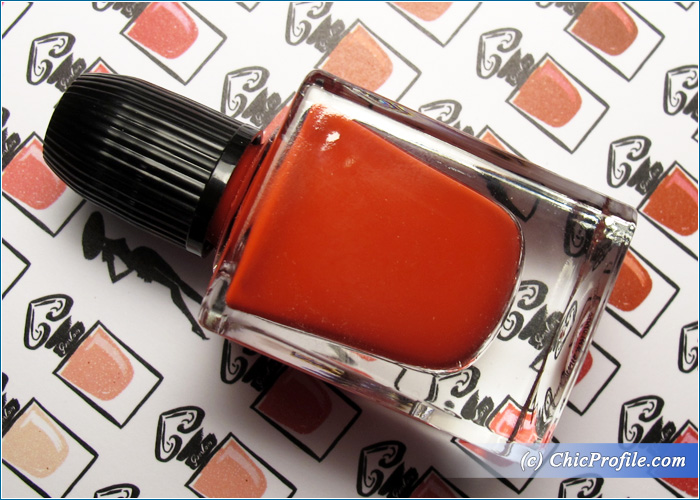 Where to buy:
Romania – Now at Sephora, Douglas
UK – Now at House of Fraser
Europe – February at Sephora, Douglas
Guerlain  Red Heels (003) Nail Enamel (115.00 Lei / €23.00 for 8.8 ml  / 0.29 fl oz) is a medium orange-red with warm undertones and a glossy finish. It had opaque color coverage right from the first layer and delivered a rich, even and vibrant shade.
The application went flawlessly, without bubbling, streaking or pooling around the edges of the nail. The formula is quite well balanced, just a little bit on the thinner side but without leading to a streaky look when applied on the nails. It dries down in a couple of minutes (about 5 min) to a gorgeous glossy finish and leaves your nails surrounded by Guerlain La Petite Robe Noire fragrance which will persists for the next 24 hours. Quite an unique thing to have scented nails of a classic and glamorous fragrance.
The packaging is something that will definitely attract a lot of customers, especially if you can't resist such a pretty, feminine and chic nail polish bottle like this one. The nail polish brush is small and kind of thick but it does a pretty nice job and layers the color easily and I have to say that I'm impressed as I thought it would give me a hard time considering the size of this brush.
I had about 5 days wear with this formula (without wearing a top coat) and I have to apologize as I completely forgot to take photos before removing the nail polish. I used the limited edition Guerlain Nailift La Base (review, swatches, photos) as a base coat, then continued with two coats of Guerlain Red Heels Nail Polish and skipped the top coat as the glossy finish was enough for me. After 5 days wear I still had a bright, opaque color with a natural shine and visible tip wear.
Enjoy more photos…