Hello lovelies!
Did I get too many presents at the #MakeupSecretSantaByBeautyBarometer (movie) Event?! Well…I did…to many to count and too many to review. So in order for you to still find some of these products on the counters as they are limited edition, I want to do some quick previews and tell you a little bit about everyone, until I'll be posting the individual reviews. Douglas Santa Claus was more than generous so I got the new My Favorite Palette, Glitter Brush Kit and two silver sparkling holiday products, a nail polish and a matching mascara. I honestly didn't have time to test everything, except the eyeshadow palette and nail polish that I got to wear once during the holiday season.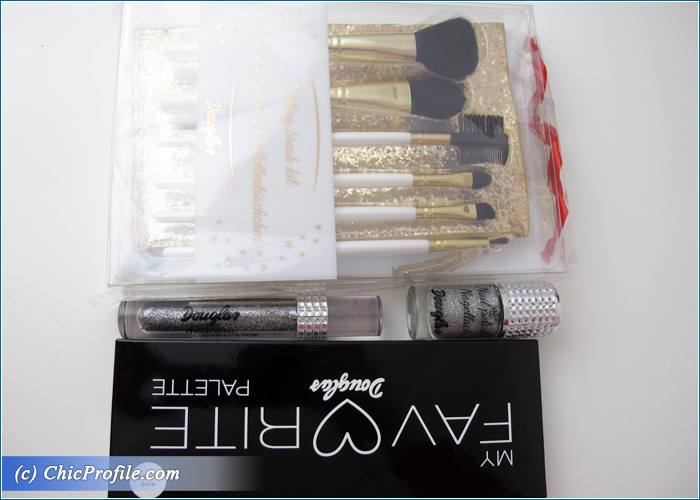 Availability
Romania – Now at Douglas Perfumeries
Douglas My Favorite Palette (59.00 Lei) is a nude eyeshadow palette with 16 shades varying from light beige, to nude, brown, copper, bronze and grey with different finishes from matte to sparkling and metallic. It's quite a versatile palette, which offers a mix combinations of nudes and naturals from the lightest to darkest colors so you can easily create a day to day makeup look or something more intense for evening. I had this palette swatched last month, and maybe not all of the shades have a good color payoff, but I was impressed to see that many of them do, especially those with a frosty and metallic finish.
Douglas Glitter Brush Kit it is surely a limited edition brush collection, featuring 6 makeup brushes for face eyes and lips.
Douglas Silver Sparkling nail polish is absolutely glamorous and can be worn alone or applied on top of your favorite nail polish. I personally like to wear it in a thin layer on top of a black polish. It's a beautiful silver glitter with multicolored particles.
Douglas Silver Sparkling Mascara (45.00 lei for 4 ml) is truly something that will get your makeup to be noticed. Apply it on your bare lashes if you like or over a thick coat of your blackest mascara. This will make your lashes pop with silver sparkling particles and make your makeup look more festive and glamorous. I would see myself using this mascara when I go clubbing. 🙂
Enjoy more photos…