Hello lovelies!
Guerlain Fall in Rose (366) Kiss Kiss Lipstick is a new addition to my Guerlain Kiss Kiss Collection (info, photos). Originally released back in 2014, as a fall collection, the line consists of new and permanent 25 lip shades. Guerlain Fall in Rose Kiss Kiss is one of the most popular color from the Kiss Kiss lipstick line, a title truly deserved.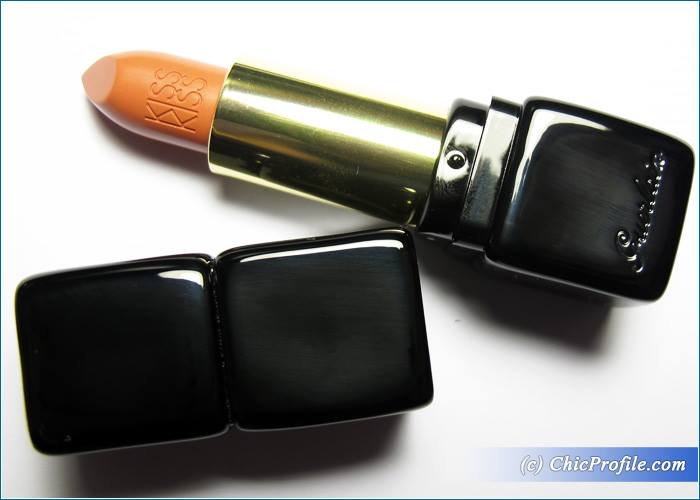 Availability
U.S. & International – Now at Nordstrom, Macy's, Sephora, Douglas, Selfridges, Harrods
Romania – Now at Sephora, Kendra, Marionnaud, Douglas
Guerlain Fall in Rose (366) Kiss Kiss Lipstick (181.00 Lei / €38.00 / $37.00 / £26.50 for 2.8 g / 0.09 oz) is a medium tea-peachy color with a luminous natural shine, satin finish and without any shimmer. Many will say that Fall in Rose is a peachy pink shade, but on me it looks more on the nude peachy, beige side with warm undertones. I don't see it at all as a pink on my lips and that's got to do with my pH as well.
It has an ultra-smooth texture, creamy but lightweight feeling, that glides effortlessly and evenly across the lip without settling into lip lines. The formula is enriched with hyaluronic acid spheres, which gives the lips an incredible lip-shaping and plumping effect. This color doesn't only look natural and very day time appropriate (gorgeous on every skin tone) but it has a flattering luminosity which makes the color special. Lips feel smooth, soft and lightly hydrated.
It delivers quite a good color payoff, with a medium to full opacity, but nothing to intense or vibrant. It's the kind of color that anyone would wanna have in their makeup collection, a classy, wearable and suitable for anyone. If you have a darker skin tone, this would look more like a nude on your lips, a lighter color, but still an appropriate color for a natural look.
The lipstick is violet scented but with no discernible taste.
I had about 4 hours wear with this formula, without leaving a stain behind. My lips were moisturized from beginning to end.
Enjoy more photos…