Hello lovelies!
Dolce & Gabbana Shocking Classic Cream Lipstick is the second shade with this formula that I'm trying out from this brand after only earlier this year I felt in love with D&G Ballerina Classic Cream Lipstick (review, photos). I couldn't pass by D&G beauty counter at Harrods without stopping for a few minutes and swatching some of their lip products. The shade No.255 Shocking got my attention right away and even though I'm not so much into lipsticks I can't deny a gorgeous hot pink like one the chance to look glamorous on my lips.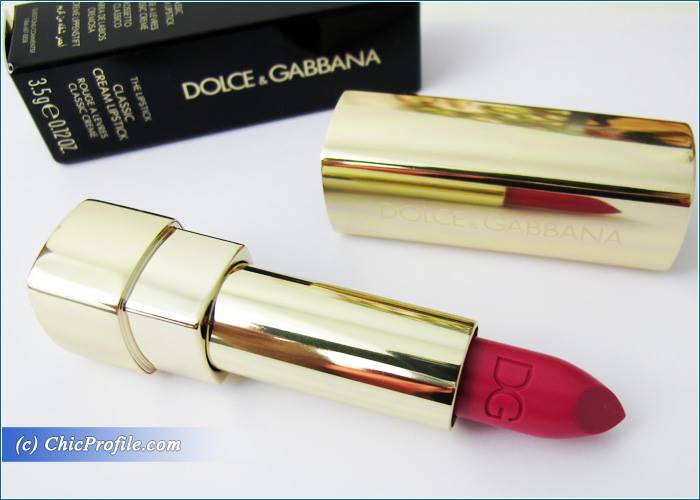 Availability
U.S. – Now at Sephora, Saks
UK – Now at Harrods
Dolce & Gabbana Shocking Classic Cream Lipstick ($34.50 / £25.50 for 3.5 g / 0.12 oz) is a cool-toned hot pink with subtle shimmer and a natural shiny finish. It has a semi-opaque color coverage in one layer but you can intensify the color with a second layer.
I prefer to layer it only once so I get that rosy natural touch, perfect for every day or every occasion. This is the kind of lipstick and color that makes me forget about lip gloss, sometimes. The formula is described as long-wearing, ultra-moisturizing and creamy with a delicate Sicilian rose sent.
The consistency is creamy, light-to-medium in weight and it gives me a moderately moisturizing feel. It glides very smooth across and effortlessly across the lips without sinking into lip lines. I like to use a matching lip pencil after I apply the lipstick so I can keep the lip color in place. The rose-scented formula has no taste whatsoever, but the smell is strong only in the tube and not so much when wore.
On me the D&G Raspberry color lasted for 5 hours and left a very soft stain behind.
I absolutely love this feminine pink shade, which is suitable especially for those with fair and light skin tones. The golden mirror-like packaging is extremely luxurious and I only wish I could have lipsticks like these in my collection. It opens quite easily and it snaps shut when you close it.
Enjoy more photos…