Hello beauties!
I'm happy to finally introduce Numeric Proof as a new brand on Chicprofile! I've known about this brand for a couple of years now but it is only recently that I've began to use their products and get more familiarized with what they are offering and especially how to use them correctly. Thanks to my friend and makeup artist Marian Tanase I've entered the beautiful world of Numeric Proof products and find out not only that we are talking about a french makeup brand created after two years of rigorous research but also that is a brand which offers products for professional high definition makeup. After long hours of talking about Numeric Proof makeup I understood why they are considered one of the most professional makeup brands out there and why it's so important to know how to use the products correctly.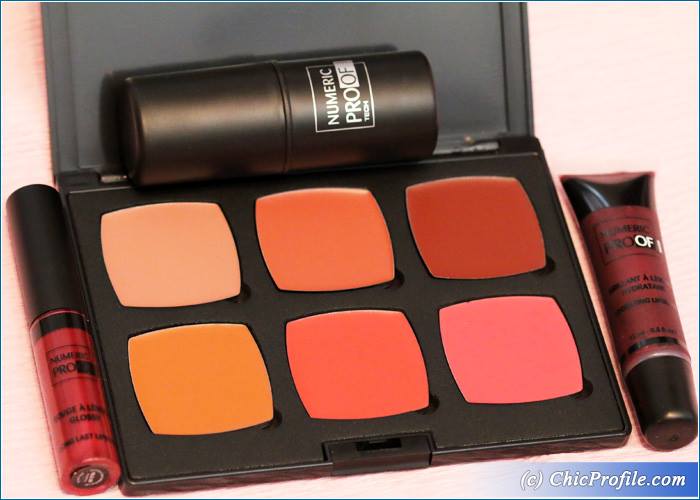 Where to buy:
Romania – Now @adhara.ro
U.S. – Now at @alconeco.com
France – Now at @pleinfard.com
UK – Now @gurumakeupemporium.com
International – numericproof.com (you can find here the availability for each country + online shops)
It's true that some of the products needs a special application technique and you can't just grab them from the store and start putting them on your face without finding out first how they should be applied and what steps you need to follow to achieve a flawless result. I'm no makeup artist so I won't get into details of explaining how some of Numeric Proof's foundations should be used and that's why I decided to choose in the beginning a couple of products that can be used by anyone, from professional makeup artists to makeup addicts and beginners.
The products I choose are versatile, which means that can be used in more than one way, they are extremely easy to use and you don't need any training or extra information before you start applying them.
There's been almost two months since I included these Numeric Proof products into my makeup routine so I'm ready to give you individual reviews with swatches and more details in a couple of days.
I've chosen a couple of basic products that I've been playing and testing for the last few weeks and I can't wait to tell you more about them.
Numeric Proof Blush Creme Palette (380.00 Lei) features six shades ranging from light to dark, which can be used not only for adding a bit of color to your cheeks but also for contouring and highlighting as well as applying them as a lip color and even a creamy eye color. All the colors have a creamy texture with a transparent and luminous finish. They can be used on every skin type and I often tried them to hide my skin imperfections (as concealers and corrector) and to give my skin a lively and fresh aspect.
Numeric Proof Three in One Stick Foundation (155.00 Lei / $30.00 for 10.5 g / 0.37 oz) is a product that got my attention since I first heard about this brand, because I saw what you can do with it in various demonstrations of makeup artists. It's available in 15 shades so there are plenty to choose from and adapt them to your skin color, but you can choose a much lighter or darker shades to easily contour and highlight your face features.
Honestly since I start using it, this foundation has quickly become my go-to foundation when I'm in a hurry and I don't have too much time to apply my makeup but at the same time I want something that will last all day, look flawless on my skin, allowing it to breathe and look natural, transparent at the same time but also gives me a soft matte finish and prevent my complexion from becoming shiny after a few hours wear. I'm so excited about this product, as foundation sticks are easy to use, quick to apply and blend, and not to mention that you can use them as correctors as well and conceal your skin problems.
Now moving on to my favorite part…that is when I'm trying out new lip products…I'm happy to report I had an amazing time wearing the Hydrating Lip Gloss ( 107 Lei for 15 ml / 0.5 fl oz) in LG09 Glamour which may not look like one of my favorite shades, but it was a product that I feel in love with at first application. There's is one thing though that I didn't like about it and that's the packaging, but I will tell you more in my upcoming review.
Numeric Proof Long Lasting Lipgloss (8 ml/ 0.24 oz) in RLG09 Amethyst is an intense color that transfers opaque on the lips and has this amazing matte and metallic finish at the same time. This was one color that got me totally by surprise with how unique it looks on the lips but also how long lasting it is.
So that's it for a quick sneak peek and announcement of Numeric Proof brand on my blog. I've spotted some other interesting products as well, that I'm hoping to be able to test in the future…as I bet you've seen on Instagram my swatches of Numeric Proof pigments. They are absolutely amazing, with intense sparkling colors and super fine texture….but I also wish for that delicate touch on the lips of Baby Doll gloss. If you want to see more of my favorite Numeric Proof products you can check them out on my Instagram profile as I've posted dozen of photos over the past few weeks for you to enjoy.