Hello pretties!
I admit that sometimes I embrace trends just for the sake of blogging…I mean there are products that I know I won't use but I buy them anyway because I'm a beauty blogger and I need to test and review them so I can have an opinion on their performance. I kinda of said that matte lip products are not my thing, not because I don't like the matte finish but the dryness sensation and look of the lips is killing me. With Giorgio Armani Lip Magnets (info, prom photos) I had a feeling that things will be different so I was quite anxious for the collection to launch in London so I can get my hands on a couple of shades. I knew the Armani Lip Magnets will hit Romanian counters as well but I couldn't wait another month to try them on so I had a friend who purchased a few shades for me from London.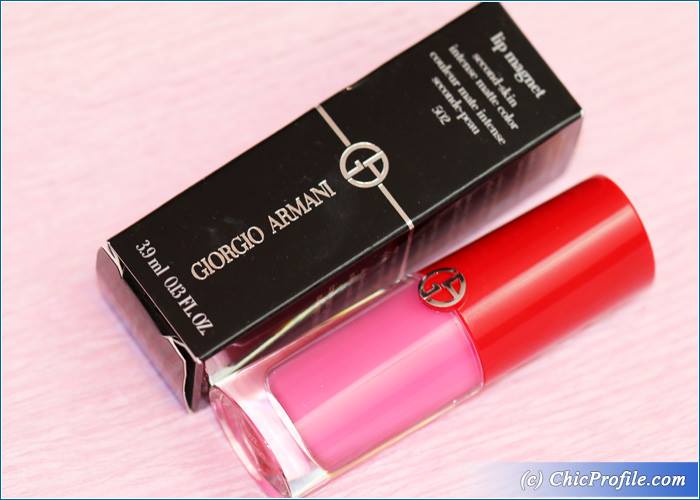 Where to buy:
Romania – Now exclusively at Douglas Baneasa Shopping Center
U.S. – Now at Sephora
UK – Now at Selfridges
Giorgio Armani Mania (502) Lip Magnet (£27.00 / $38.00 / 163.00 Lei for 3.9 ml / 0.13 fl oz) is officially described as a baby pink. It's a bright baby pink with blue undertones and a soft matte finish. It's just my kind of pink color, one that I'm joyfully using during the day or for a casual look. I said I'd give the matte lips trend an ultimate try and if Giorgio Armani Lip Magnets is not going to make me embrace this trend then no other product will. It could be my everlasting love for Armani makeup products or the fact that Lip Magnet is a weightless liquid lipstick with a smudge-proof, ultra-matte finish but I gotta tell you that this product is absolutely amazing.
As I said…I don't like matte lips because I don't like how they tend to look after 2 hours wear…with that formula that sinks into lip lines, dries them out and emphasizes lip lines to the point that I look like I haven't had a glass of water in days.
With Armani Lip Magnet I had a totally different experience! I went with my boyfriend to pick up my London package from my friend and I couldn't wait until I got home so I tried Mania Lip Magnet right away, right there in my car. I was amazed how incredibly lightweight it felt on the lips and how easily it glided on, delivering a burst of pink color. The funny thing is that my boyfriend knows already that when I'm testing a new lip product we are not allowed to kiss for a couple of hours so I can see how long lasting the formula is and how it performs….but on that day, due to the lightweight formula of this liquid lipstick I totally forgot I was wearing any lip color so I kissed him after 30 minutes. He was so surprised and confused at the same time, saying "Wait! Aren't you wearing Armani on your lips, so we are not suppose to kiss?" 🙂 I quickly reached out for my mirror in the bag and took a look, only to notice that my lips were perfectly intact…no color was transferred and they looked just like I was finishing applying the lipstick.
The color is vibrant and shows well on the lips, while the formula is super forgiving and doesn't feel dry for a second even though we are talking about an ultra-matte finish. It dries down to a matte finish in about two minutes and after that your lips can enjoy the color for hours. The consistency is thinner, almost unique to any liquid lipstick I've tried and applies wonderful on the lips. At first you may notice the quill applicator leaves some lines behind but in a few minutes when the color dries down everything will look even.
I'm totally surprised by the new quill applicator design which has an idea precision and allows me to draw a perfect lip contour without needing a lip pencil. I mean this little one is so precise and delivers a bunch of product on the lips in one swipe…it's simply amazing.
I guess the high price it compensated by the quality of this product, its long-lasting formula and color that keep insisting on remaining on my lips even after I had a meal or a sweet kiss. It doesn't transfer, so I know I can wear it anytime I go out as it won't leave any stain on a glass or cup.
For me Giorgio Armani Lip Magnet is an unique product, which allowed me to embrace and love the matte lips trends with its comfort and no-makeup feel. I didn't feel any dryness throughout the wear and even after 8 hours wear my lips didn't feel the need of a lip balm. It's that great…the perfect matte liquid lipstick.
I actually love everything about it and that why I bought another shade when this line was released in Romania about two weeks ago. I'm so curious to know if you had a great experience with these new Lip Magnets like I did or what is your take on these products. Just let me know in the comments bellow.
Enjoy more photos…