Hello pretties!
Is time to meet my new Dior Spicy Sweet Double Rouge launched this month along with other Dior products. Dior Rouge Dior Double Rouge lipstick range offers a variety of six shades. You have LIVE SWATCHES on my Instagram for all the six colors or you can see more photos in this article. I do have to mention that the colors released in UK may not be available in your country. I also checked the availability of these shades on U.S. online shops and they have other colors displayed. So the color range depends from country to country or you may find them in store and not displayed online.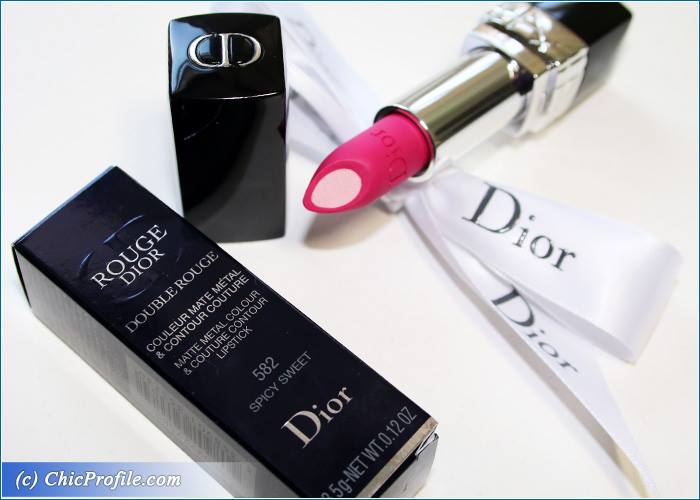 Availability
U.S. – Now at Nordstrom, Saks, Neiman Marcus, Macy's
UK – Now at Debenhams, FeelUnique
Dior Spicy Sweet (582) Double Rouge ($35.00 / £27.50 for 3.5 g / 0.12 oz) is a hot fuchsia-pink with blue undertones and satin finish. It has a good color payoff, looking intense and bright in just one swipe. In one coat has a medium coverage which can be buildable up to full opacity if you prefer.
Dior Spicy Sweet Double Rouge Review
You may think this color is pretty boring already as you've seen it so many times already. I do admit is quite dupable, I have similar shades from YSL and Urban Decay. If you took a look at all of the other shades swatched you will easily notice that Spicy Sweet is the only one who barely shows the gradient effect. That's very true but I like it nonetheless. I can never see a pink in the wrong way but truth be told, all the other shades show the gradient effect impeccable.
The lipstick combines two shades to create a sophisticated finish and an optical illusion of volume. Again, with my color is less noticeable than the others so if you want that ombre effect to show off it won't.
The finish that I got is a nice combination between matte and metal with a highly pigmented color. The outer color has a soft matte finish while the heart color has light-catching particles that delivers a metal finish.
It's very easy to wear, the formula is lightweight while the consistency feels creamy. The lipstick glides effortlessly across the lips, without pulling or dragging and delivers an even color. It feels comfortable throughout the day without any sensation of dryness.
I usually like wearing bright colors like this because they instantly brighten up my complexion and put a smile on my face. I always said, I can't feel sad when I'm wearing pink on my lips. It is such a vivid and playful color that it just makes me smile more often.
You can see me wearing Dior Spicy Sweet Double Rouge right here!
Sometimes all I need is a bright color like this and a natural or simple makeup and I can start my day. 🙂 I took the photo about 4 or 5 hours after the application. I didn't have any meals during this time but I did after taking the photo. Unfortunately I haven't took another photo to show you the result…but I will update when I do.
The color remained on my lips even after I had my lunch and I didn't even need to retouch it. A bit of that sheen and metallic effect was diminished but the color was still wearable for a few more once. Once I removed my lipstick I was left with a pink stain, which I always like. My lips were still soft and I had a comfortable feel throughout the wear.
I'll definitely buy more shades in the future and next on my list is No.288 Miss Crush. What can I do, I have to go with the pinks first. 🙂
SHOP THIS POST

Enjoy more photos…