Hello beauties!
Oh my, oh my! Artdeco Claudia Schiffer Collection Fall 2017 just launched! I'm so excited about this collaboration between Artdeco and supermodel Claudia Schiffer. I'm loving Artdeco products and always followed Claudia's career so I couldn't be more thrilled about this combo. Claudia is celebrating 30 years of modelling career so what best way to do it than creating a makeup line. I think is brilliant! Or am I too excited about the light pink packaging or vibrant colors? I guess you can say that.
Artdeco Claudia Schiffer Collection is available online and honestly I'd have wished to see it in person before ordering the products. As much as I'm excited about the collaboration in general and the colors in particular, I don't know how the formulas are, I haven't seen swatches so I'm a bit in the dark here. I did place a small order though and hopefully next week when the package arrives I can show you swatches too.
I hope you are lucky enough to benefit from this launch so do check your country under the Availability Section. Unfortunately the collection is not available in U.S. and it's a shame as I know my a lot of my U.S. readers were interested.
During my career I've learned so much from working with the world's best make-up artists. I've used those experiences to create a high-quality, modern, easy to use, professional level range, that will enhance your looks and confidence.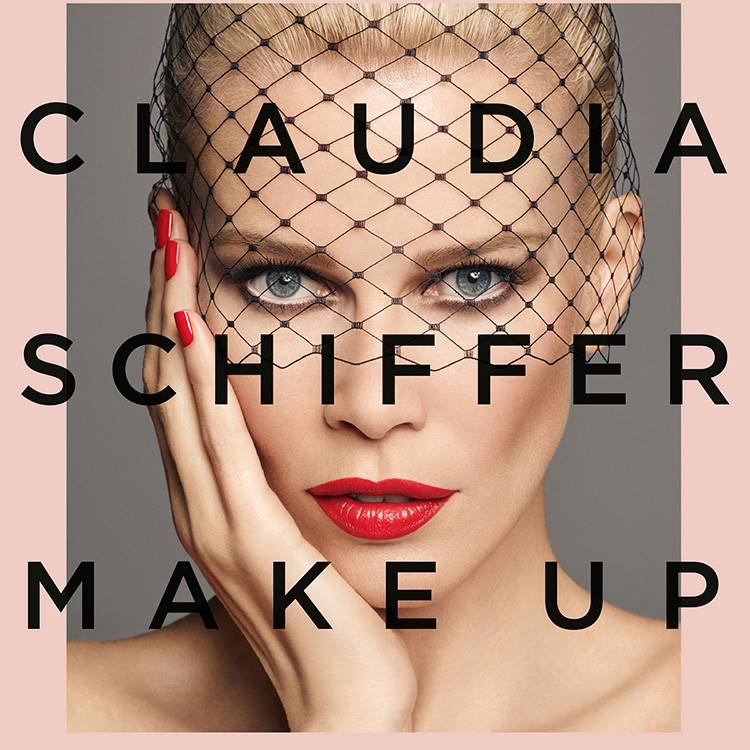 Availability
US Launch Date – December 2017 at @claudiaschiffer.artdecobeauty.com
UK Launch Date – 5 September 2017 @claudiaschiffermakeup.com (Shipping Costs £5.95 | Free Shipping starts at £75.00 purchase)
Austria Launch Date – 5 September 2017 @claudiaschiffermakeup.com (Shipping Costs €5.95 | Free Shipping starts at €50.00 purchase)
Germany Launch Date – 5 September 2017 @claudiaschiffermakeup.com (Shipping Costs €4.95 | Free Shipping starts at €50.00 purchase)
International Launch Date – 5 September 2017 DOUGLAS, @claudiaschiffermakeup.com (Shipping Costs €6.95 | Free Shipping starts at €75.00 purchase) (Belgium, France, Finland, Greece, Italy, Luxemburg, Netherlands, Poland, Portugal, Ireland, Slovakia, Spain)
Artdeco Claudia Schiffer Collection Fall 2017
After 30 years modelling and thousands of hours in the make-up chair I have learned so much about make-up, so it's been great working with ARTDECO on this limited edition collection in which we've included my favourite signature make-up looks, the looks that defined my career, and all the make-up secrets I've learnt over the years. And I've had first hand experience, trying and testing everything, working with the best make-up creators and make up brands in the business. I want to share this great treasure trove of experience with others. Everything I experienced and learned has been poured into every detail of my collection. It is a collection based on this expertise, but with great influence from my personality. Each element is always in line with my credo: simple, yet breathtaking.
FACE
No Colour Setting Powder Sheer Cloud – £36.00
Make-up artists are raving about the No Colour Setting Powder: The sheer, transparent powder creates a polished matte finish while simultaneously infusing your complexion with an incredibly natural radiance. Micro-fine ingredients optimally reflect light so your skin will look finer, super soft and fresh. Once applied, the weightless powder is completely invisible, not changing the colour of your skin or make-up in any way. In addition it combines with your foundation perfectly and makes it last longer.
Contouring Powder – £29.50
Whether you want to quickly give your face that fresh post holiday glow or use advanced make-up artistry to give your facial contours more definition, this brilliant bronzer and contouring powder in one is your make-up must have. Brilliantly blendable, this innovative product avoids tell tale streaks and creates an incredibly even, natural finish.
Desert – Glowing. Healthy.
Tan Lines – Sun-Kissed. Seductive.
Compact Blusher – £29.50
The inspired colour shades of this Blusher range let you create many different, stylish looks. From peach schnaps, a glow-giving apricot hue, to shocking, a bold shade that delivers runway drama. Brilliantly blendable, this ultra fine powder blusher lets you build up the colour intensity step by step and gives an even finish. It never looks blotchy!
Shocking – Unconventional. Ecstatic. Captivating.
Hot Sand – Gentle yet strong. Playful.
Passionfruit – Refreshing. Sensual. Surprising.
Cherry Blossom – Enchanting. Graceful. Subtle.
Sunrise – Glowing. Iridescent. Warm
Peach Schnaps – Fun-Loving. Carefree. Light.
Liquid Lip & Cheek Tint – £14.95
With its discreet colour and flowery fragrance, the Liquid Lip & Cheek Tint gives your face that fresh-looking radiance. It creates a naturally beautiful look, like after a wonderful trip into the countryside. The 'English rose' look appears seductively light, innocently provocative, vividly relaxed. Natural freshness at the stroke of a brush – and long-lasting, smudge-proof and kiss-proof, too! An absolute make-up favourite for all natural beauties.
Fire Island – Invigorating. A lively spark of color.
Sherbert – Refreshing. A hint of liveliness.
Perfect Skin Foundation – £29.50
Perfect Skin Foundation is a wonderfully sheer, long-lasting base that creates a radiant, flawless complexion. Thanks to its fluid formula, it feels airy and light and is easy to apply. It virtually blends into the skin, leaving you looking as if you're not wearing any make-up at all. The smart formula means Perfect Skin Foundation gives skin a flattering satin finish, without ever obscuring its natural glow.
Honey
Milk
Cotton
Sand
Macaroon
Frappe
BB Primer – £24.95
Is a lightly tinted primer that retouches irregularities and gives a soft focus effect.
Illuminating Primer – £19.95
Skin nourishing, highlighting primer. Contains light-reflecting pigments. Infused with natural, nourishing oils.
Cream Concealer – £17.95
This long-lasting concealer makes blemishes (and the traces of last night's party) disappear instantly. The super-light, easy-to-blend formula feels weightless on the skin, brilliantly blending to create a flawless finish. The pro designed non-cake formula means it won't settle in lines and wrinkles and you're able to dial up the concealer's coverage layer by layer.
Illuminator – £17.95
This highlighter will give your complexion that certain 'je ne sais quoi'. Its subtle rosé-coloured shimmer enhances your complexion with a youthful radiant glow. Using the fine brush, you can add flattering highlights precisely where you want them. The Illuminator's lightweight, liquid texture makes it very easy to blend using your fingers.
LIPS
Cream Lipstick – £17.95
This game changing cream lipstick combines highly pigmented colour with a silky gloss finish to create your perfect pout. The breakthrough jelly formula delivers an immediate visual plumping effect, leaving the lips looking gorgeously full and soft. The wonderfully creamy, soft texture feels luxurious and nourishing on the lips and allows for a smooth and even application. Encased in a sleek golden packaging adorned with pretty droplets, this lipstick is perfection in a tube.
Topless – Forthright. Libertarian. Care-free.
Nude – Frank. A subtle provocation. Sexy.
Peach Club – Charming. Cheerful. Easy-going.
Heatwave – Feisty. Fiery. Explosive.
Clementine – Cheerful. Bright. Refreshing.
Caspar – Bubbly. Cheerful. Bright. Constantly on the move.
Poppy Land – Confident. Strong. A bold statement.
Matthew – Seductive. Sultry. Feminine. Mysterious.
Layer Cake – Promising. Provocative. Naughty but nice.
Candy-Cane – Sugar-sweet like candy. Adorable. Graceful.
Cosi Belle – Sheer. Carefree. Playful. Feather light.
Invisible Lip Liner – £10.95
Transparent. Long-lasting.  Contains jojoba oil and vitamin E.
Lip Liner – £10.95
This super soft Lip Liner is the key to creating your perfect pout. A combination of an expertly designed pencil and a colour intense formula means it glides smoothly over lips, delivering a full, opaque, even layer of colour. It also blends easily with any lipstick or gloss to create a professional level finish. The liner can be sharpened with ease ensuring accurate application and precise contouring every single time.
 Praline – Sweet. Seductive. Tempting.
Sunset – Hypnotising. Unforgettable. Enthralling.
Flame – Mesmerizing. Vivacious. Inspirational.
Uptown – Vibrant. Chic. Intense.
Desire – Auspicious. Outrageous. Addictive.
Lip Balm – £9.95
Luxurious lip care product. Intensive protection. Contains natural ingredients.
Liquid Lip & Cheek Tint – £14.95
Fire Island – Invigorating. A lively spark of colour.
Sherbert – Refreshing. A hint of liveliness.
EYES
Luxurious Volume Mascara – £19.95
Combining a creamy texture and an all-rounder brush, Luxurious Volume Mascara gives your lashes sensational volume, outstanding fullness, and intense curves. The brush is made from fibres of different lengths and dimensions so it can coat each individual eyelash from root to tip in lush, jet-black colour. Even with one single coat. For extra-intense volume just layer up coats. Thanks to the natural waxes and oils infused in Luxurious Volume Mascara it has a velvety, smudge-proof texture, which means your lashes stay soft and supple – with zero clumps.
Quad Eye Shadow – £29.50
Cool denim colors, playfully light retro pastels, elegant pretzel shades and delicate beachy hues: Each Quad Eye Shadow is an expert designed color statement in its own right. The four shades include velvety satin and shimmering pearl finishes, designed to harmonise so you can easily combine them all. Thanks to their delicate, ultra-light texture, the eye shadows can be blended seamlessly. The color pigments are embedded in a transparent base, making the eye shadows unbelievably luminous.
Beachy – Lively. Radiant. Carefree.
Pretzel Shades – Tasteful. Graceful. Chic.
Denim – Cool. Iconic. Statement.
Retro Pastels – Refreshing. Exuberant. Playful.
Single Eye Shadow – £12.95
The highly pigmented, easy-to-blend formula of the Single Eye Shadow delivers luminous, pure colour to your lids. Incredible versatile, you can layer the product to build opacity, use it dry for a soft look, or wet for bold intensity and increased longevity. Fine milled ingredients means the Eye Shadow creates an even, flawless finish – without ever settling in lines. The creamy texture and intense colour fast pigments mean matte shades never appear dull, whilst the crushed pearl particles in the iridescent shadows mean unrivalled luminosity.
Bordeaux – Stylish. Elegant. Edgy.
Toast – Warm. Exquisite. Soft.
Freckle – Flirty. Confident. Vivacious.
Bronze – Bold. Glamorous. Seductive.
Forest – Intense. Magical. Lush.
Fern – Fresh. Feisty. Vivid.
Ocean – Refreshing. Powerful. Majestic.
Coral – Delicate. Enchanting. Warm.
Crush – Passionate. Intense. Present.
Rust – Elemental. Bold. Beguiling.
Mistral – Euphoric. Surprising. Elemental.
Mirage – Shimmering. Promising. Provocative.
Cream Eye Shadow – £17.95
With this pot of beautifully blendable creamy eye shadow, you'll always be able to create a professional finish. Whether you want a simple sweep of colour across the lids or a more intricate look, the silky, weightless texture of Creamy Eye Shadow can help you achieve it. The pearly shades contain fine shimmer particles that intensely refract the light delivering a mesmerising shine, whilst the matte colours create a bold and beautiful look. Both contain professional levels of high-quality pigments, delivering lushness, depth and a high colour pay off.
Raven – Dangerous. Dark. Uncompromising.
Steel – Tough. Glamorous. Edgy.
Truffle – Exquisite. Luxurious. Rich.
Gold – Decadent. Divine. Dazzling.
Moss – Earthy. Unexpected. Modern.
Cornflower – Vivid. Enchanting. Surprising.
Tawny – Appealing. Graceful. Inviting.
Cork – Nonchalant. Stylish. Understated. Unpretentious.
Liquid Eye Liner – £17.95
Enviably exact, this quick-drying Liquid Eye Liner lets you draw an accurate, smudge-proof line. It evenly distributes the colour and feels perfectly natural in your hand behaving like a normal pencil. The thinly tapered felt tip adapts to the shape of your lash line, while at the same time remaining stable enough for you to draw a line as thick or thin, as dramatic or natural, as you want. This paraben-free eyeliner feels great on your skin and its lush, intense colour is easily removed, leaving no residue or irritation.
Emerald – Powerful. Profound. Enlivening.
Black Cab – Speedy. Iconic. Intense
Expresso – Strong. Indispensable. Intimate.
Electric – Bright. Bold. Exciting.
Waterproof Eye Liner – £12.95
The revolutionary fragrance free formula delivers a velvety matte line that lasts… and lasts… and lasts – even on the waterline. Designed to dry in double quick time, it becomes completely smudge- and waterproof in seconds. Highly concentrated black pigments give the Waterproof Eye Liner a lush, intense colour that goes on evenly in just a single stroke. Feel good factor: Thanks to nourishing jojoba and rice germ oils, the creamy texture feels super soft on your skin.
Smokey Eye Styler – £14.95
Whether you want to create an eyelid line that is clearly defined or softly blended – the matte Smokey Eye Styler can easily achieve your desired look. Its extraordinarily creamy, beautifully blendable texture glides smoothly on your skin, delivers a lush, even colour from the very first stroke. Due to its intense, matte finish, this soft eye liner is ideal for creating the perfect smokey eye. The in built smudger is great for seamless blending. Life enhancing design: Thanks to its retractable core, this eye liner never needs sharpening!
Noir – Cosmopolitan. Telling. Chic.
Chestnut – Classic. Charming. Elegant.
Cloud – Multi dimensional. Airy. Calm.
Blue Sky – Electrifying. Expressive. Sensational.
Eye Brow Styler – £14.95
The Eye Brow Styler is a complete 2-in-1 product for perfectly shaped and defined brows! Thanks to its clever design you can easily vary your colour intensity and brow shape to create a whole range of looks – from ladylike to dramatic via subtle and natural. The pencil tip's bevelled edges meticulously define and contour even the smallest brow hairs, filling in your brows with maximum precision – making unwanted gaps disappear instantly. Special technology ensures that the wax-based texture can easily be applied evenly and is dispensed in the desired amount. The integrated brush works in, and lightly blends, the colour. Perfect brows every time!
Eye Brow Gel – £14.95
Full, feathered, classic or sleek? This eyebrow styler will give create your dream shape! The quick-drying Eye Brow Gel can be applied on its own or on top of your brow make-up. It sets your eyebrows, giving them a long-lasting shape as well as a natural, well-groomed look. Once dry, the ultra-light, non-sticky product is completely invisible – the truly transparent finish making this gel perfectly suitable for even the darkest brows. Intelligent design: Thanks to its slim shape and optimally designed bristles, the mini styling brush evenly distributes the gel onto your brows for optimal results.
Eye Brightening Powder – £17.95
Tired? Up late last night? This ultra light, loose Eye Brightening Powder delivers the ultimate wake-up call. The hyaluronic acid infused sheer formula contains micro-fine, light-reflecting pigments to create a soft focus effect that makes the eye area appear fresh and flawless. Applied on top of your make-up, this special powder delivers an even, naturally radiant finish, erasing any traces of tiredness under your eyes. Genius: This powder also sets your concealer. It does not accumulate in small wrinkles or pores and never dries out your skin. A universal match: Despite its whitish look, once on the skin this powder is transparent and suitable for all skin tones. Eight hours sleep in a pot!
SHOP THIS POST
Enjoy more photos…