Hello beauties!
No more sneak peek of Dior Cosmopolite Fall 2015 Collection, no more intriguing previews of Dior Cosmopolite 5 Couleurs Palettes as time has finally come for us all to enjoy some gorgeous promo images and see what this collection has to offer. If in my previous article I told you about the new Dior Addict Fluid Shadows today it's time to unveil everything so follow me after the jump and discover the entire collection.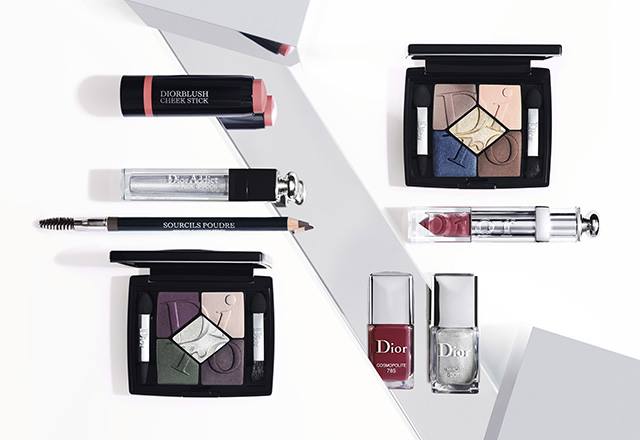 Availability
U.S. Launch Date – 27 July 2015
Japan Launch Date – 31 July 2015
International Launch Date – August 2015
Dior Cosmpolite Fall 2015 Collection
Everything starts with the limited edition Dior Cosmpolite 5 Couleurs Palettes and by know you've already know about two of them #766 Exuberante and #866 Eclectic. The eyeshadow palettes were inspired by Dior women's personality which is in constant motion so she can combine the colors and match them to her culture, her ideals and her light.
The new Dior Addict Fluid Shadows which come in six shades offer a high-shine, long-lasting effect just like Dior's iconic lip gloss, so you will achieve a non-slip shimmer with an intense shine makeup look. Dior Vernis will be available in five limited edition new shades  #701 Metropolis, #785 Cosmopolite, #791 Darling Blue, #982 Black Out, #970 Nuit 1947.
I have my eyes on that gorgeous nude DiorSkin Illuminating Face Powder with a lightweight texture as well as the three new Blush Cheek Sticks which are perfect for sculpting and ad a flush of color to my cheekbones. Another newness will be Dior Fix It, a multi-purpose concealer for face, eyes and lips and I really feel that I would this new Dior concealer in my life.

Enjoy more photos…
Related Story: Dior Designer 5 Couleurs Palettes for Summer 2015
Related Story: Dior Addict Skincare Line 2015
Related Story: Diorshow Summer 2015 Collection