Hello beauties!
Last year Deborah Milano launched eight versions of the new Perfect Smokey Eye Palettes featuring 5 eyeshadows each. I only recently got my hands on two of these Deborah Perfect Smokey Eye Palettes (No.04 and No.06) at the #MakeupSecretSantaByBeautyBarometer (movie) event held last month. Well, I actually won one of these on a giveaway by Beauty Barometer so I thought of place them all together in a preview article, until I'll do individual reviews and makeup looks. I also received No.2 shade of Deborah Absolute Lasting Liquid Lipstick, with a new formula and two steps application. This new duo liquid lipstick has an extreme staying power and comfort, as I could tell right away when I swatch the color on my arm and took some effort in removing it, while it left a stain behind.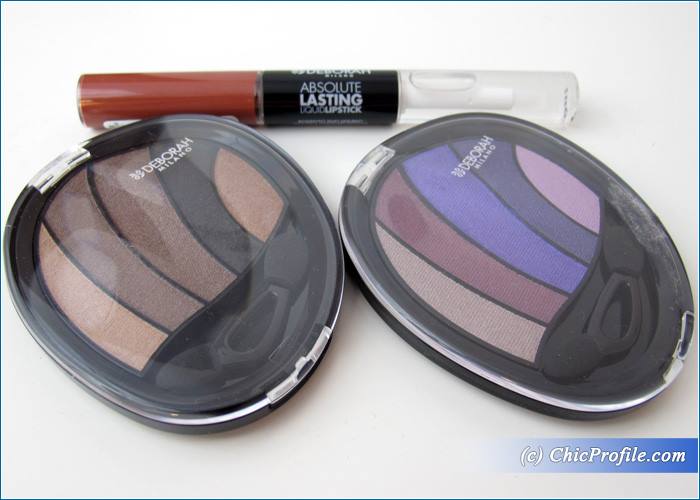 Availability
Romania Launch Date – Now at Kendra perfumeries, Debenhanms
I personally love the color combination from both palettes. Nudes, browns and gray shades are a must for everyone, regardless their eye color, whenever you want a nude, natural or a brown smokey eye look. A purple tone palette is known to be a green-eyed girl best option when it comes to eyeshadows and emphasizing those beautiful green eyes. So I kind of like them both, one for day to day looks and the other one for more dramatic and mysterious night time appropriate makeup.
I actually had the time to swatch both of these palettes about two weeks ago and they have a decent color payoff, not very pigmented and intense as Deborah describes them too be, but with quite a decent opacity considering I didn't use an eyeshadow primer. Each of these palettes retail for €13.00 / 53.00 Lei.
About the Deborah Absolute Lasting Liquid Lipstick I don't have much to reveal yet, since I only swatch the color of my arm but didn't wore it on my lips yet. It's a reddish brown, very pigmented and intense, with a matte finish after step 1 and can be easily transformed to a glossy finish if you are willing to use the top coat. It had a medium creamy-liquidy formula which stayed in place once swatched. It comes with a doe-footed applicator for the liquid lipstick and with a brush for the top coat.
Enjoy more photos…