Hello beauties!
YSL Kiss & Love Holiday 2015 Palette is part of YSL Kiss & Love Holiday 2015 Collection (info, photos) and one of the most glamorous Christmas palettes. The palette is available in a limited edition and its gorgeous golden packaging with red lips layered all over will make quite an impression on everyone that will receive it as a gift. Since it's custom that YSL holiday collections are not sold in Romania, I wanted to get my hands on this palette no matter what as I admit the packaging got me sold.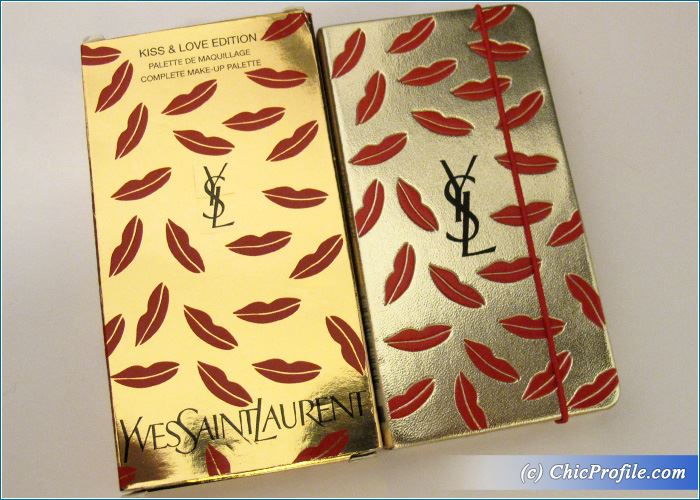 Availability
UK Launch Date – 2 November 2015 at Selfridges
U.S. Launch Date – Now at Nordstrom, Sephora and online @yslbeautyus.com
YSL Kiss & Love Palette ($95.00 / £59.00 for 4 x 1 g/ 0.03 oz – 2 x 1.4 g / 0.05 oz – 1 x 3.8 g / 0.13) contains 4 powder eyeshadows, two lip colors and one powder blush. The packaging is luxurious and resembles a romantic notebook embossed with the iconic Yves Saint Laurent lips. This palette offers a classic combinations of golden nudes with a shimmer metallic finish that will make your makeup stand out  and emphasize your entire look during the holiday season.
YSL Brown Eyeshadow is medium-dark grayish brown with gold shimmer and a pearl shimmery finish. The formula doesn't feel so smooth and silky to the touch, not very powdery but I could feel more of that shimmer finish. It applies well and blinds easily but the color is not very pigmented. It has a light to medium opacity, with a slightly buildable coverage up to a medium color, nothing to intense.
YSL Gold Eyeshadow is a very light gold with golden shimmer particles and a pearl finish. It has more of powdery felling when I swatched it and the formula appears to be a bit dry. The color has a light coverage, doesn't look rich or intense so it's more like a touch of light yellow to add luminosity.
YSL Silver Eyeshadow is light silver with a touch of gold and a shimmer finish. The formula is soft and silky and the best compared to all the other shades. It applies on smoothly, blends easily while the shade has a medium opacity.
YSL Champagne Eyeshadow is a light golden copper with warm undertones and a pearl finish. The fomula is somehow smooth but not as silky and creamy like the silver color. It adheres well onto the skin and it has a good color payoff.
YSL Pure Red lipstick is a medium warm pure red with a subtle glow. It applies easily on the lips, without sinking or emphasizing lip lines and it looks good even on light skin tones. It has a medium opacity, nothing to rich or too extreme, just a perfect pure red for a classic holiday makeup look.
YSL Light Pink lipstick is light pink with a natural sheen. This color is perfect for a subtle, natural or day to day makeup look. It glides smoothly across the lips, changing the lip color but without being too pigmented.
YSL Doux Corail Blush is a light delicate coral with warm undertones and a subtle glow.
I personally don't like the mix of powder and cream formulas in one palette, I know some beauty lovers don't mine, but I would preferred to be somehow separated or at least the lip creams to have a cover to protect them from the powders.
Enjoy more photos…